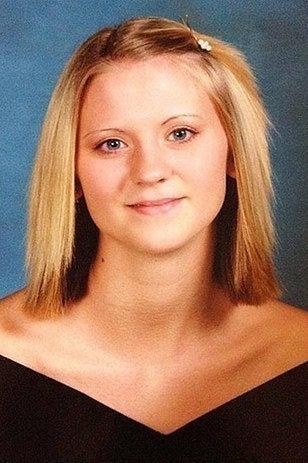 Last August, Quinton Tellis called the 1-800 number on the back of a Chase Bank debit card and asked for the ATM code associated with the account. He didn't know it at the time, but that call would be the beginning of his entanglement in two murder cases.
On Wednesday, the authorities in Panola County, Mississippi, announced that a grand jury had indicted Tellis in the capital murder of Jessica Chambers, a 19-year-old woman who was burned to death in her car in Dec. 2014.
The announcement was met with disbelief by the thousands of amateur detectives who'd taken to the Internet to try to solve the mysterious death. Over the course of a year, they assembled countless theories on what could have possibly happened to the young woman — but none of them involved Tellis — and terrorized many of Chambers' family members along the way.

The official news conference on the indictment Tuesday provided few details on the investigation that led law enforcement officers to charge Tellis with Chambers' death. But a review of social media posts, court documents, police reports, and jail records in two states sheds some light on the suspect's life in years and months before the charges — and suggests that Tellis' cellphone was the key clue that led investigators to connect him not to one, but two murders of young women.
(Unless otherwise stated, all the facts in this article come from the public record. Randall Donald, Tellis' most recent counsel, his mother, and his wife did not immediately respond to requests for an interview.)
Tellis was born on October 6, 1988, in Courtland, Mississippi — the same 500-person town where Chambers spent most of her short life. His Facebook posts show that he thought of himself as religious and that he loved his mother, wife, and siblings.
Court records from Panola County show that between 2006 and 2014, he was convicted for fleeing from a police officer and for two different burglaries — including one in which he stole a shotgun.
A spokesperson for the Mississippi Department of Correction told BuzzFeed News that Tellis spent most of the past five years going in and out of prison. He was last released on probation on October 2014.
It was shortly after that time, according to prosecutors in Panola County, that mutual friends introduced him to Chambers. Local media reported that the two became romantically involved.
Then, on Dec. 6, just weeks after their relationship began, Chambers left her house to go to the gas station and never returned. Members of the local fire department eventually found her a few yards from her flaming car. She was alive, but more than 90% of her body was covered in third-degree burns. She died shortly afterwards.
In the days and weeks that followed, local and federal investigators interviewed more than 130 people — including Tellis — but they didn't find any solid leads.
Six months after Chambers' death, Tellis posted a video to his Facebook page in which he quoted the famous line from the film Sixth Sense: "I see dead people." In June 2015, he also posted, in all caps, that "THE DEVIL CAN DRIVE YOU CRAZY." Two months later, he didn't show up to a meeting with his probation officer.
Public records and Tellis' Facebook page shows that, shortly after he didn't arrive at the meeting, he married Chakita Jackson. The two moved together to Monroe, Louisiana. (Jackson did not respond to requests for comment from BuzzFeed News.)
A few days after Tellis and Jackson arrived in the city, another woman, Meing-Chen Hsiao, went missing.
She was Taiwanese and 34 years old, and she'd come to Monroe as an exchange student at the University of Louisiana. Affidavits filed in the local court show that officers with the Monroe Police Department found her body in her apartment. She'd been stabbed several times — and, according to one of the police officers who worked on the case, her debit card was missing.
Court records show that the MPD then obtained a search warrant to see Hsiao's bank records. They found that someone had withdrawn $1,000 from two different ATMs in the days after her death. The officers then asked the bank for any phone records related to the account.
The cops then discovered that, shortly after Hsiao's death, someone had called the customer service number that is listed on every debit card issued by the bank and had asked for help to access the balance and personal identification number. The number that had made the call was linked to one Quinton Tellis.
On September 14, 2015, prosecutors in Monroe charged Tellis with three counts of unauthorized use of a credit card and with possession of half a pound of marijuana. Tellis was arrested and ordered held in lieu of $50,000 in bail. Court records show that he admitted to using the card.
"It is believed," reads a police affidavit in the case, "that Tellis was involved in Hsiao's murder."
Tellis has not been charged with murder in the Louisiana case. But sometime after his arrest in Monroe, the officers in Mississippi who were working the Chambers case had a breakthrough.
Through an analysis of "technological data" that they said included cell phone records, the investigators were able to charge Tellis.
"It wasn't until we received information from subpoenas and began analyzing information we obtained that certain things began falling in place," John Champion, the Panola County District Attorney, said in his press conference on Wednesday.
The man who answered the only phone number listed under Tellis' name declined to identify himself except to say he was "somebody." All but one of the 19 Louisiana cell numbers associated with his wife's name were disconnected. But the last number went straight to a voicemail recording where a male voice can be heard.
"This is the Cowboy," the voice says in the recording. "Leave your message."
It could take months before Tellis is brought to Mississippi to face the capital murder charge. If he is convicted, he could face the death penalty.