Immigration attorney Victoria Brambl knows Monday mornings are a busy time at the federal courthouse in Tucson, Ariz. That's because the court has to hear the cases of all the people who were arrested for immigration offenses over the weekend. The accused, the vast majority of whom are Hispanic, are marched in groups to the special proceeding courtroom — the only one large enough to hold as many as 70 defendants at the same time.
"It looks almost like a jail," she told BuzzFeed.
Brambl, who has worked with the Federal Public Defenders of Arizona for more than two decades, is an eyewitness to a trend that has changed the face of the American justice system. Immigration offenses now account for 30% of all federal convictions, according to a new report from the Pew Research Center. One of the consequences of this fact is that 48% of all people sentenced for federal offenses in the United States are now Hispanic, while 40% are undocumented.
This wasn't always the case. As recently as 1992, immigration cases accounted for only 5% of federal convictions, while only 22% of those sentenced in district courtrooms were Hispanic. Now, offenses related to unlawfully crossing the border are second only to drug-related crimes — which account for 33% of federal offenses — and Hispanics are sentenced at higher rates than any other ethnic group.
The share of Hispanics among sentenced offenders has surpassed all other groups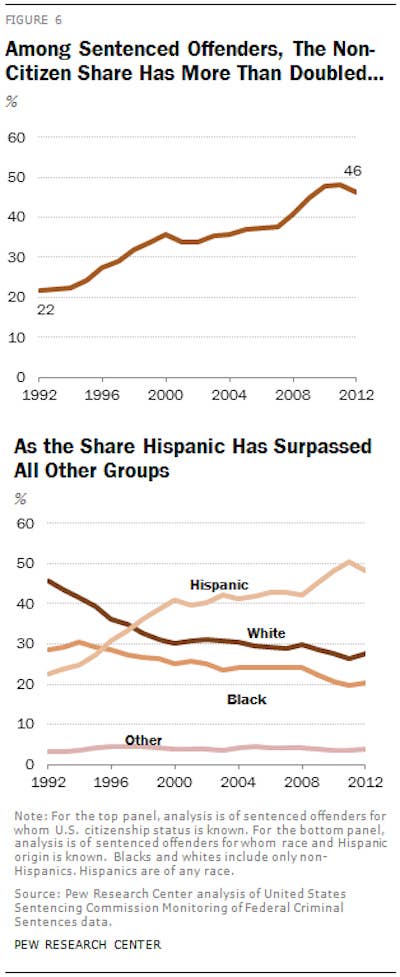 Part of the growth in immigration convictions can be explained by the size of the latest wave of Latin American migrants, who began arriving to the United States in great numbers in 1980s. But studies from the Congressional Research Service and the Warren Institute at the Berkeley Law School highlight the fact that changes in enforcement practices may have also played a role.
The studies identify a set of policies known as "enforcement with consequences" as possible contributing factors to the growing number of immigration convictions. Implemented in 2005, these policies have drastically reduced the Border Patrol's discretion to allow people unlawfully crossing the border to return to their countries without formally charging them with a crime, a practice known as "voluntary repatriation."
Now, under a program known as Operation Streamline, law enforcement officials and federal courthouses are required to criminally prosecute all unlawful border crossers. The program also allows for up to 80 defendants to be tried in a single hearing, which explains why Brambl's Monday mornings are so busy.
The mass hearings held under the auspices of Operation Streamline have irked some immigration attorneys, who worry that it makes it impossible for defendants to receive due process.
"When you witness an Operation Streamline hearing, that's not what you have in mind when you go to law school and you learn about justice and what you think should be a system of fairness," said Mo Goldman, an immigration attorney based in Tucson. "This does not represent the ideals of the U.S. Constitution."
The Department of Homeland Security, which oversees the Border Patrol and other agencies implementing the "enforcement with consequences" policies, did not immediately respond to requests for comment. In the past, the DHS has said that Operation Streamline and other such programs have played an important role in deterring unauthorized immigrants from attempting to enter or reenter the United States.
Immigration enforcement actions, in thousands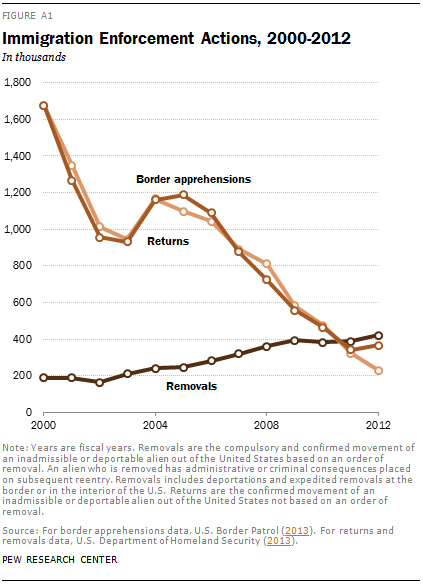 The Pew report also found that one particular offense accounts for a large part of the growth in immigration convictions. Unlawful reentry is a federal felony defined as entering or attempting to enter the U.S. without authorization two or more times. By itself, it accounted for 26% of all federal convictions in 2012.
Brambl said that people charged with unlawful reentry are not habitually tried in mass hearings, which are generally reserved for people charged with federal misdemeanors, such as entering the U.S. without authorization for the first time. Even if they are tried individually, though, defendants charged with unlawful reentry face bleak prospects — 99% of those who are found guilty are sent to prison.
Confronted with the report's findings, Latino advocates raised concerns that many of those convicted of unlawful reentry are not the kind of offenders whose prosecution should be prioritized by the U.S. government.
"Many of these individuals who are being charged with reentry are people who are not violent offenders," said Laura Vazquez, an analyst with the National Council of La Raza, the nation's largest Latino advocacy group. "They are people who have strong ties to the United States. Often they are primary caregivers of U.S. citizens who make the decision to return to reunite with their families and provide a better life for their children."
Federal convictions by offense type, 2012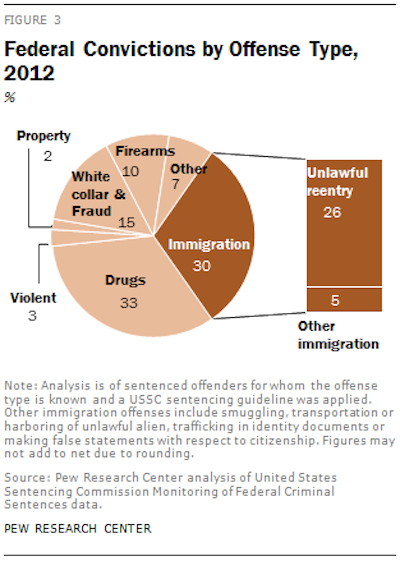 The prevalence of lengthy prison sentences for defendants charged with unlawful reentry places a significant burden on taxpayers. Almost 20,000 people were convicted of that felony in 2012, according to the Pew report.
Considering that they were sentenced on average to two years and that the average yearly cost of keeping an inmate in federal prison is nearly $29,000, the bill for the prison terms of those sentenced for unlawful reentry in 2012 comes close to $1 billion.
For Brambl, the financial cost of imprisoning tens of thousands of people pales in comparison with the scale of the human tragedies that drive unauthorized immigration.
"As defense attorneys, we know the heartbreak that goes into these border crossings," Brambl said. "There is always a desperate, sad, back story. And I think people should hear these stories. You can go into any of our courtrooms today and hear 70 of them."