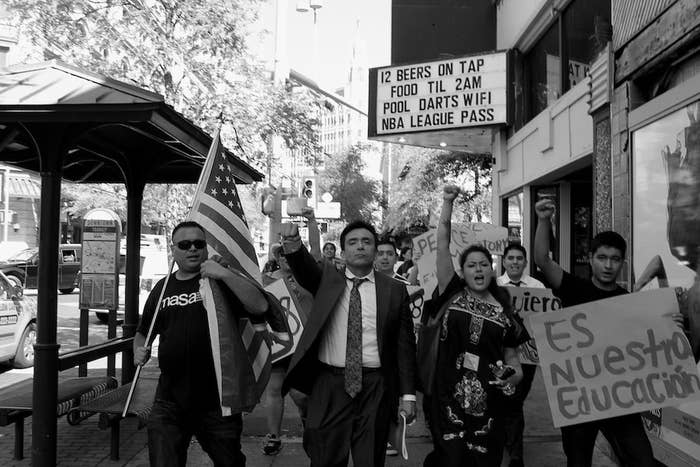 The board of the Houston Independent School District voted unanimously on Thursday to support the creation of a statewide Mexican-American Studies curriculum for Texas public high schools.
"Mexican-American history courses will expose our students to the significant impact that Mexican-Americans have had on the history and culture of Texas," said HISD Superintendent Terry Grier in a statement. "As a district with such a diverse population, it is our obligation to provide students facts and stories that will help them understand that our country and our state's history includes people that look like them."
By itself, the Houston vote does not establish any changes in policy. The final word on whether Mexican-American Studies becomes a subject of study across Texas rests with the state Board of Education, which will next meet on April 8. Still, proponents of the curriculum celebrated the vote as a major victory.
"This is huge, not just for the history that it makes, but for what it means strategically," said activist Tony Diaz. "This is the largest of Texas' 1,200 school districts, and its student body is over 60% Latino. They way Houston moves, the rest of the state moves."
The vote is the latest development in a debate that has for years raged across the Southwest. Conservatives have argued that "ethnic studies" are inherently divisive, emphasizing racial and class divisions rather than easing them. Latino activists hold that Mexican-Americans have played a central role in American history but are nonetheless silenced by traditional curricula. They also say that Latino students deserve to engage with their cultural heritage in the classroom.
Texas public schools can already teach ethnic studies under the "innovative courses" rubric, a broad category of electives that include dance, theater, and advanced science classes. Proponents of the course say that Mexican-American Studies deserves a place in the state's official curriculum, pointing to the fact that 51.3% of Texas' public school students are Hispanic.
Members of the state Board of Education could not immediately be reached for comment. Lauren Callahan, a spokesperson for the Texas Education Agency, said that there were no guarantees that the board would discuss Mexican-American Studies in its April 8 meeting.
"I want to make it clear that we don't know whether Mexican-American Studies will be on the list of courses for which we are asked to develop curricular standards," Callahan said. She added that the Education Agency plays no role in picking new courses, but merely works to develop curricular standards — a process that can take up to two years.
The state board does not hold regular meetings to decide which new courses should be added to the state's curriculum. On April 8, it will discuss new courses on personal financial literacy and statistics — but only because a new piece of state legislation requires the development of those courses. If no member of the board chooses to bring up Mexican-American Studies, it could be years before the subject is discussed again.