Meet The Warlock Who Predicts Trump Is Gonna Lose The Election
He's only been wrong a few times before.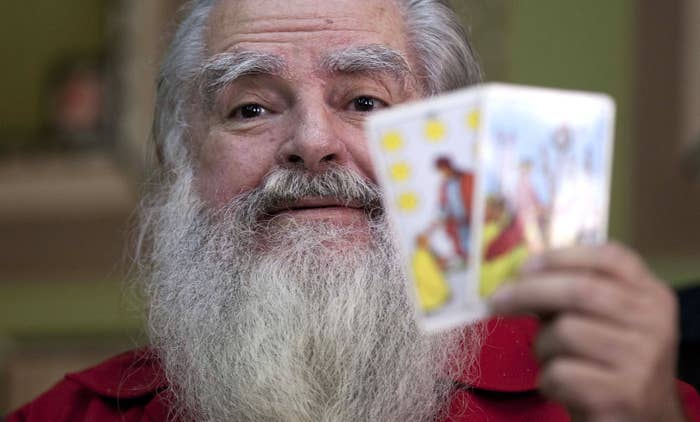 Mexico's pre-eminent practitioner of the divinatory arts released his predictions for 2016 on Wednesday, foreseeing that Donald Trump will not become president of the United States and that El Chapo Guzmán will see his last sunrise before the year is out.
Antonio Vazquez, known as the Great Warlock of Mexico, has been making yearly predictions on world affairs and Latin American politics for over 20 years. He is a frequent guest of popular T.V. shows and has published several books, including the beloved classic Parapsychology Explained To The Children.
Speaking on Univision's "El Gordo y La Flaca," the internationally-renowned wizard used his tarot deck to plumb the depths of the dark future. Asked about Donald Trump — a candidate for the Republican nomination for president who has angered many Latinos with offensive comments about immigrants — Vazquez was unequivocal.
"Two triangles of spades!" the great warlock exclaimed as he flipped through his cards. "The man has countless problems. And see, here is the devil himself! He will never become candidate for the Republican party. And there's more! I'm certain that in December, Trump will fall into a nervous crisis and will probably have to be sent to a psychiatric hospital."
Vazquez also made other predictions. Speaking in Mexico, he told reporters from the Associated Press he believes Joaquin "Shorty" Guzmán also known as El Chapo— the head of the Sinaloa drug cartel who last year escaped from a maximum security prison for the second time in his career — will probably die at the hands of the Mexican authorities before the year is out.
The wizard, however, was uncharacteristically cautious in his assessment of the drug lord's fate.
"If they find him, and there's a great possibility that they will, they will kill him," Vazquez told reporters. "They won't risk losing him for a second time."
Vazquez's predictions have sometimes proven wrong. In 2012, for example, he was forced to shave his trademark hair and beard when he wrongly predicted that Barack Obama would not be re-elected as president.
Whether the Great Warlock will have to once again subject his wizardly beard to the scissors of humiliation depends on the American people — and on the stars.