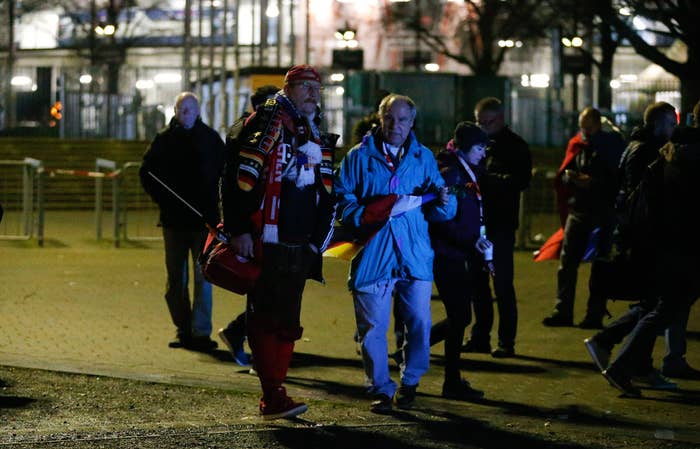 Authorities in Hannover, Germany, placed the city on alert on Tuesday night after receiving "concrete threats" that a bomb could go off somewhere in the area, NDR reported.
The citywide alert was issued after police evacuated Hannover's main stadium. The Niedersachsenstadion was scheduled to host a friendly match between the national teams of Germany and the Netherlands. Fans were initially allowed to enter the stadium, only to be told that the game had been canceled. Chancellor Angela Merkel was reportedly on her way the stadium, NTV reported.
Local police said on Facebook that a suspicious package had also been found at the city's train station, part of which is closed pending an investigation.
Volker Kluwe, the local police chief, called for residents to stay home while the threats are investigated, the Berliner Zeitung reported. Kluwe said police received a call warning of an explosion in the stadium about 15 minutes before the start of the game. The spokesperson said police warned organizers of other large gatherings but did not outright cancel any other events.
"We just want to keep people from being in crowds at this moment," Kluwe said. "The threats we got were meant for the stadium, but we don't know what else could be planned."
Speaking at a press conference, German Interior Minister Thomas de Maizière said he could not give details on the threats.
"My answers would put people in insecurity," de Maizière told reporters. "If we say how we got warned, we will burn our source."

Boris Pistorius, the minister for internal affairs and sport for the Lower Saxony region, which includes Hannover, told reporters police had not found any explosives in the stadium so far.
Witnesses described a chaotic scene as fans who had been allowed into the stadium were asked to leave.

The Germany-Netherlands match is the latest of a number of cancelled soccer games across Europe since terrorists detonated explosives outside a friendly match at the Stadium of France, in Paris, on Friday. Earlier, authorities called off a match between Spain and Belgium that had been scheduled for Tuesday.
CORRECTION
German Chancellor Angela Merkel was on her way to the Hannover stadium. A previous version of this article mistakenly said she was already at the arena.