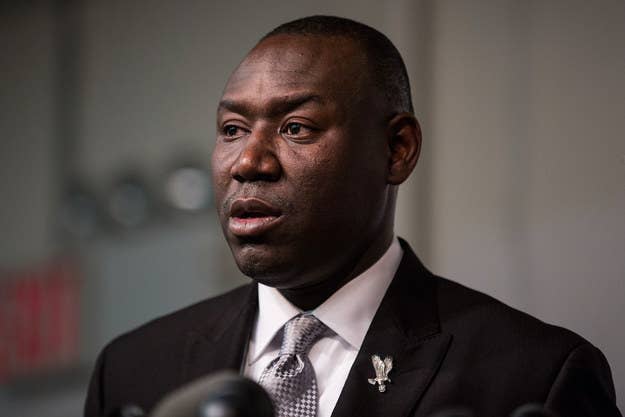 The estate of Tamir Rice, a 12-year old black boy who was shot dead by a Cleveland police officer last year, asked a federal court on Wednesday to force three prominent attorneys to withdraw from the wrongful death lawsuit that the family is pursuing against the city.

In a motion filed with the U.S. District Court for the Northern District of Ohio, Douglas Winston, a representative for the Rice estate, wrote that attorneys Benjamin Crump, Daryl Parks, and Walter Madison had ignored his repeated requests that they withdraw from the case.
"I have determined it is in the Estate's best interest to change counsel," Winston wrote in a declaration attached to the motion.
In recent years, Crump and his partners have emerged as some of the most visible civil rights attorneys in the United States. The lawyers have represented the families of Trayvon Martin and Michael Brown, two unarmed black teenagers who were shot and killed by a vigilante and a police officer, respectively.

Under Ohio law, attorneys are required to formally withdraw from a case after being asked to do so by their client. As of Thursday, it appeared that Crump, Parks, and Madison had not done so. The three attorneys did not immediately respond to a request for comment.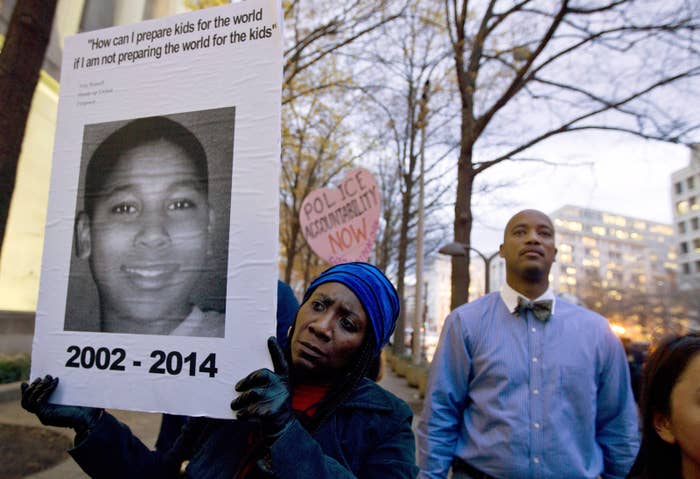 Tamir died at the hands of police last November after a passerby called 911 to alert the cops of a child in a park playing with a gun that was "probably fake."
Video from the scene shows that Officer Timothy Loehmann shot Tamir just seconds after arriving, and that he and his partner tackled and handcuffed the boy's 14-year-old sister, Tajai. Neither Loehmann nor his partner, Frank Garmback, appear to have administered aid to the dying child.

Tamir's gun was later determined to be a toy. He was 12 at the time of his death. After the incident, it was revealed that Loehmann had been found emotionally unstable when he worked for another police department in Ohio.
A month after the shooting, the Cuyahoga County Sheriff took charge of the criminal investigation. In January, the Rice family filed a separate federal civil rights lawsuit against Loehman, Garmback, and the city of Cleveland. The city then tried to get that lawsuit dismissed, drawing criticism for stating that Rice's death had been "caused by his own actions."

Last month, Crump, Parks, and Madison invoked a rarely used Ohio law that allows people to request criminal charges against others in asking a Cleveland municipal judge to consider charging Loehmann and Garmback.
Judge Ronald Adrine issued a statement declaring there was probable cause to charge Loehmann with murder and Garmback with manslaughter, but cautioned that the final decision rested with Cuyahoga County Prosecutor Timotyh McGinty, who in turn said he would put the case before a grand jury.
(As of Thursday, nearly eight months after Rice's death, McGinty had not said whether the officers would be charged).
At the time, Rice's family released a statement thanking Crump, Park, and Madison for pushing the municipal court to release a statement of probable cause. Since then, however, the family's relationship with the attorneys appears to have deteriorated.
"My attorneys did not discuss many major strategic decisions with me about the civil and criminal matters involving my son," Tamir's mother, Samaria Rice, said in a different court filing, according to Cleveland.com. "This upset me greatly."
The legal battles over Tamir's death have taken an emotional toll on the family. In a motion filed to federal court in May, the family said Samaria had been "forced to move to a homeless shelter because she could no longer live next door to the killing field of her son." And the boy's body remained unburied until late that month because the family did not know whether another autopsy would need to be performed.
Wednesday's motion asking the federal court to remove Crump and his colleagues from the case indicates that Winston has hired attorneys Subodh Chandra, William Mills, and the law firm of Emery, Celli, Brinckerhoff, and Abady, as the estate's new counsel.
But in his own declaration, Tamir's father, Leonard Warner, said he would not work with the new attorneys, claiming Winston had been ignoring him while catering to Tamir's mother.

The Rice family's new attorneys did not immediately respond to a request for comment.