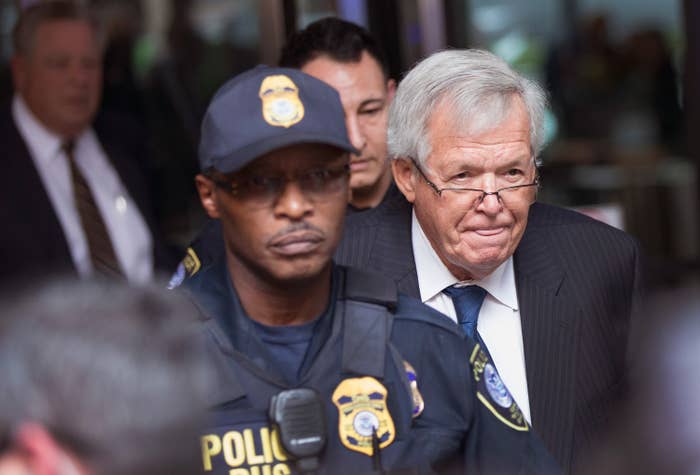 Former House Speaker Dennis Hastert pleaded guilty to financial charges on Wednesday in Chicago federal court, putting a quiet end to a scandal in which he was accused of trying to pay hush money to a boy he sexually abused decades ago when he worked as a high school teacher.
The U.S. attorney for the Northern District of Illinois, the federal prosecutor charging the former speaker, recommended that Hastert be sentenced to up to six months in prison, the Associated Press reported.
The 73-year-old Illinois Republican, who served as speaker from 1999 to 2006, was indicted in May on charges of "structuring financial payments" of $3.5 million to conceal "prior bad acts."
The indictment did not specify the nature of those acts, but sources with knowledge of the investigation told BuzzFeed News that Hastert, a former wrestling coach and high school teacher from a small town outside Chicago, was allegedly paying hush money to one of his former wrestlers, whom he sexually abused decades ago.
Back in May, Hastert pleaded not guilty to all charges. But in September John Gallo, one of his attorneys, told U.S District Court Judge Thomas Durkin that his discussions with Assistant U.S. Attorney Steven Block about a potential plea deal were "linear and productive."
A plea deal allows the former Republican speaker to avoid a potentially embarrassing trial, where details of his "bad acts" would likely be discussed in open court.
But in a statement released after Hastert pleaded guilty, the U.S. Attorney's Office suggested that some details of the accusations against the speaker may still see the light of day.
"As part of the sentencing process in this case, as in all cases, we will provide the Court with relevant information about the defendant's background and the charged offenses," the statement read. "The defendant will have an opportunity to do the same, so that the Court can impose an appropriate sentence taking into account all relevant factors in the case"