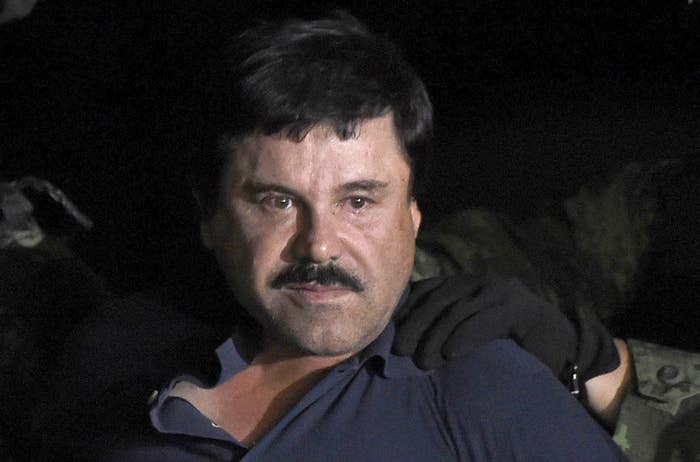 Mexico's most notorious drug lord said Wednesday he wants to be extradited to the United States as soon as possible, claiming that the guards at the maximum-security prison where he is currently incarcerated won't let him sleep.
Joaquín "El Chapo" Guzmán, the former leader of the feared Sinaloa Cartel, has been imprisoned at the Altiplano detention facility since he was re-arrested in January. Previously, he had managed to escape from Mexican prisons not once but twice, bringing intense embarrassment to the government of President Enrique Peña Nieto.
Guzmán's attorneys had originally said they would fight extradition by all means at their disposal, filing no less than nine appeals in Mexican courts. But the lawyers have now changed their tune, saying their client has instructed them to seek out a deal in the American judicial system.
"He has reached the limit," José Refugio Rodríguez, one of Guzmán's attorneys, told the Associated Press. "It is an act of desperation."
Guzmán faces various drug-trafficking and murder charges in seven American jurisdictions. His attorneys will now try to secure a plea agreement that would place him in a medium security prison for a shorter period of time.
The drug lord has said in court testimony that the guards at the Altiplano prison torture him by waking him up and preventing him from sleeping. In the document, seen by the AP, Guzmán complains of constant headaches.
Mexican officials maintain that they only wake Guzmán every four hours for standard prisoner head counts.
Guzmán, who is believed to have been responsible for the deaths of thousands of people, also complained that his visiting hours have been reduced since his recapture. Before he escaped, the drug lord was allowed to speak to his lawyer for an hour and a half every day, the AP reported. He also had a four-hour conjugal visit every nine days.
The Mexican authorities maintain that Guzmán's rights are being given the utmost respect, but point out that he has already escaped from the prison where he is being held and that special measures are necessary to keep him behind bars.