People in Amsterdam threw thousands of tomatoes at each other on Sunday to protest Russia's ban on importing food from the European Union.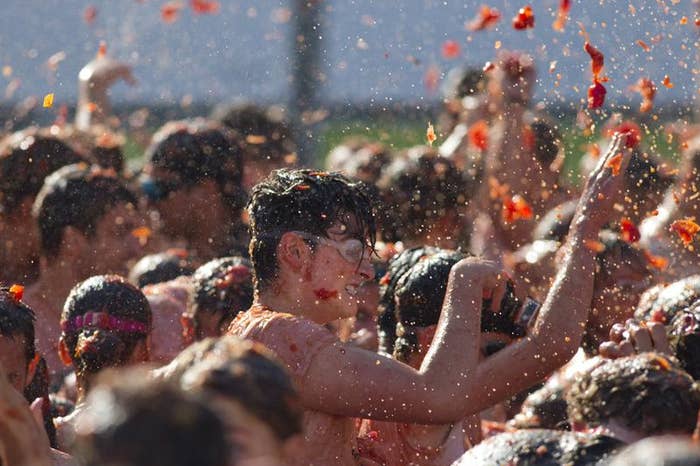 The protest took place in Dam Square, a dignified space that usually looks like this...
...but ended up looking like this.
According to the Associated Press, the "protest" was basically just a messy party:
With music pumping from a podium, the participants — most of whom were wearing white before the fight started — counted down from 10 to zero. Then a shipping container full of the fruit was emptied into the arena.
Attendees came prepared, with some of the brave tomato-warriors donning protective gear.
Whereas others improvised weapons.
Any resemblance to Dionysian sacrificial rites was, of course, purely coincidental.
But for the love of Bacchus, behold those tomato-covered pectorals!
Participants in the protest paid about $18 for the privilege of finding themselves covered in tomato slime. Though roughly 1,000 tickets were sold, only a few hundred attended.
Proceeds from the event will be used to help Dutch tomato farmers who have been hurt by Putin's ban on importing certain foods from the European Union.
Putin's ban is itself a protest against the sanctions the West has imposed on Russia for its involvement in the conflict in eastern Ukraine.
Although the fight only lasted for an hour, the protesters went through 120,000 tomatoes unfit for consumption.