Civil Rights Advocates, Prosecutors Debate Releasing Eric Garner Documents
After grand juries in New York and Missouri declined to indict white cops who killed unarmed black men, many have questioned whether the system is broken.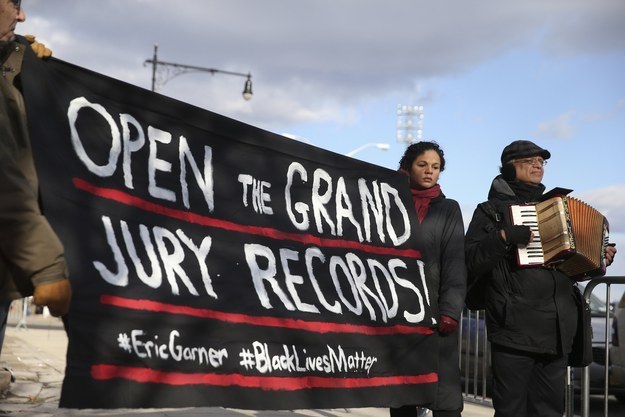 NEW YORK — Civil Rights advocates and journalists debated a prosecutor in a Staten Island court on Thursday, arguing whether documents detailing the secret proceedings that led to the decision not to indict a white cop who killed an unarmed black man should be released to the public.
The National Association for the Advancement of Colored People, the New York Civil Liberties Union, the Legal Aid Society, the city's Public Advocate, and the New York Post are petitioning the Richmond Supreme Court to release most of the documents pertaining to the grand jury proceedings in the case of Eric Garner.
Garner was a Staten Island resident who died last summer during a botched arrest on suspicion of selling loose cigarettes. His death was ruled a homicide by the city's medical examiner, but a grand jury decided to clear the police officer responsible, Daniel Pantaleo, of all wrongdoing.
Daniel Donovan, the Staten Island District Attorney who convened the grand jury that declined to indict Pantaleo, is opposing the motion to release the documents. Judge William Garnett is hearing the case.
Thursday's oral arguments were the latest episode in a renewed debate on the merits of the grand jury system — one of very few parts of American criminal justice that is completely closed to the public.
A grand jury is a group of 23 randomly selected citizens convened by a prosecutor and asked to decide whether a person suspected of having committed a crime should be brought to trial. Grand jurors hear testimony from witnesses and experts and then deliberate in private, without a court reporter.
Because people charged with crimes may well want to harm those who indicted them, the identity of grand jurors — as well as the evidence and testimony they are asked to consider — is a closely guarded secret.
But ever since grand juries here and in Ferguson, Missouri, decided not to indict two police officers who killed unarmed black men last year, many have begun to question whether that commitment to secrecy remains a good idea.
Critics argue that keeping grand jury proceedings secret opens the door for unfairness and abuse — especially when prosecutors are tasked with deciding whether to indict law enforcement officers, who often cooperate with their investigations.
Many have called for reform, including New York Governor Andrew Cuomo, who has proposed to appoint an independent monitor to review cases in which a grand jury decides not to indict a police officer.
But in order for people to be able to decide whether or not reform is a good idea, the petitioners argued, they need to know what happened behind the closed doors of the Garner grand jury.
The main argument expressed by all petitioners was that the decision not to indict Pantaleo had shaken people's trust in the criminal justice system, which made releasing the documents a matter of "compelling public interest."
"Many people have reached conclusions about what happened in front of that storefront," Matthew Brinckerrhoff, the attorney for Public Advocate Letitia James, told the judge. "They cannot understand why the grand jury did not indict. There may be exculpating material that no one knows about, but right now all we have is that videotape."
The petitioners also argued that many felt the Garner grand jury had given special treatment to Pantaleo.
"Let's not drown in abstractions of law," said James Meyerson, an attorney for the NAACP. "If an African American man had choked a white man to death with his friends around him, he would have been indicted in a proverbial New York minute."
Besides asking for the release of the documents, the NAACP is also requesting that Judge Garnett disqualify himself from the case, and that the case be moved to a courthouse outside of Staten Island.
The office of District Attorney Donovan — who is running for congress as a Republican and with the endorsement of at least one police union — rebutted the petitioners by saying that releasing the documents could potentially have a "chilling effect" on prosecutors, who might begin to feel they have to charge people according to public opinion and not evidence.
The DA's office added that grand jury secrecy is an essential tool to get witnesses to cooperate, and that releasing the documents could make it harder for prosecutors to get people to cooperate.
"We all know the adage," said Assistant District Attorney Anne Grady. "Snitches get stitches."
The petitioners countered by saying they are not asking for the release of the identity of any witnesses or grand jurors. They also pointed out that the DA had already petitioned the court for permission to release very limited set of facts about the grand jury processes — including it's unusually large number of witnesses.
Judge Garnett did not say when he would decide whether to release the documents or not. He added that he would make his decision based on New York state law, and not consider the events in Ferguson.
After the hearing, the petitioners expressed cautious optimism.
"Injustice needs to be exposed to the medicines of air and light," Public Advocate James told BuzzFeed News. "Dr. King said that."