Chicago Cop Sues Family Of 19-Year-Old Man He Killed Last Year
The police officer wants $10 million in damages for "emotional trauma."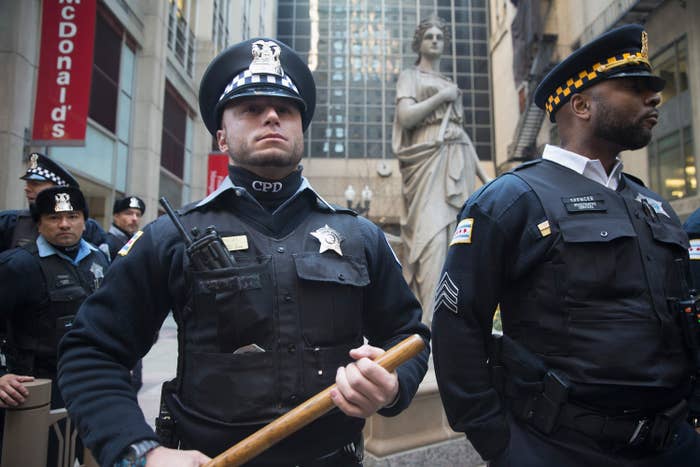 A Chicago police officer has filed a $10-million counter-lawsuit against the surviving family of a black man he shot and killed last year, claiming that the deceased caused him emotional trauma.
Officer Robert Rialmo first made headlines last December, when he killed 19-year-old Quintonio LeGrier and 55-year-old Bettie Jones during an early-morning domestic disturbance call.
Rialmo and his partner responded to LeGrier's house after his father, Antonio, called police to say his son — a college student who had recently developed mental health problems —was walking around with a baseball bat and acting erratically.
Moments later, both the younger LeGrier and Jones, a downstairs neighbor, were dead. The city said Jones' fatal shooting was an accident, while the investigation into LeGrier's death remains ongoing.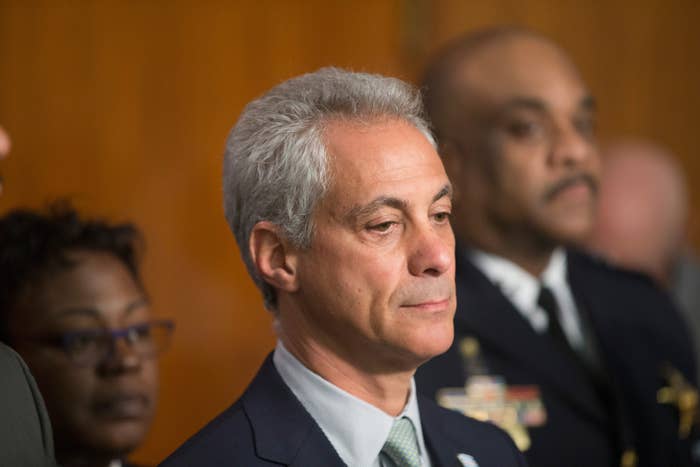 The shooting came just a month after prosecutors charged another officer for the 2014 shooting of Laquan McDonald, a 17-year-old black boy, unleashing a wave of protests calling for the resignation of Mayor Rahm Emanuel.
The officer and the families of those deceased disagree about what exactly happened in those few minutes. In a personal injury lawsuit filed in state court, LeGrier's family said Rialmo fired his gun while the young man was still in the house, striking the college student and his older downstairs neighbor.
In the counterclaim he filed on Friday, Rialmo argues that he only opened fire after LeGrier followed him out of the house and swung the bat at him several times. The officer, who was placed on administrative leave after the shooting, said in his counterclaim that LeGrier blocked his view of Jones.
Asked whether his client's demand for $10 million in "exemplary" damages was meant as a warning to those who file lawsuits against police officers, Joel Brodsky, Rialmo's attorney, said he didn't intend to send a message to anyone.
"Exemplary damages are appropriate because the fact is that LeGrier tried to kill officer Rialmo," Brodsky told BuzzFeed News. "If he was still alive, he'd be charged with attempted murder of a police officer and the felony murder of the woman who died. So if they are not appropriate now, I don't know when they would be appropriate."
Brodsky added that he was asking for a big award because "when you're talking about emotional trauma, it's sometimes hard to put a price tag on it."
The fact that Rialmo is a police officer who had voluntarily signed up to do emotionally taxing, and even traumatic, work did not mean he was not entitled to compensation, Brodsky said.
He also called media coverage of his client's counterclaim "extremely biased."
"Why do we have the headline 'Police officer sues college kid he killed last year,' instead of 'Police officer sues college dropout who tried to kill him with a baseball bat?" Brodksy said.
A spokesperson for the Fraternal Order of Police, the union that represents Rialmo, said the organization was not a party to the lawsuit and could not comment.
"The litigation does not involve us, so we have no insight on why he did it," a union spokesperson told BuzzFeed News.
Emanuel's office also did not respond to BuzzFeed News' request for comment, but a spokesperson for the embattled administration told the New York Times that the city "does not support" the officer's counterclaim.
Reached by phone, Antonio LeGrier declined to comment on Rialmo's counterclaim against his family. His attorney, Basielos Foutris, did not immediately respond to a request for comment.
Read Rialmo's counterclaim here.
Download PDF