CDC To Create "Ebola Response Team" To Improve Hospital Safety
Two days after a nurse who treated the first U.S. Ebola patient became infected with the disease, the CDC said it needs to do more prevent the infection from spreading. It also announced that it is monitoring a total of 124 people who may have come in contact with the deadly virus.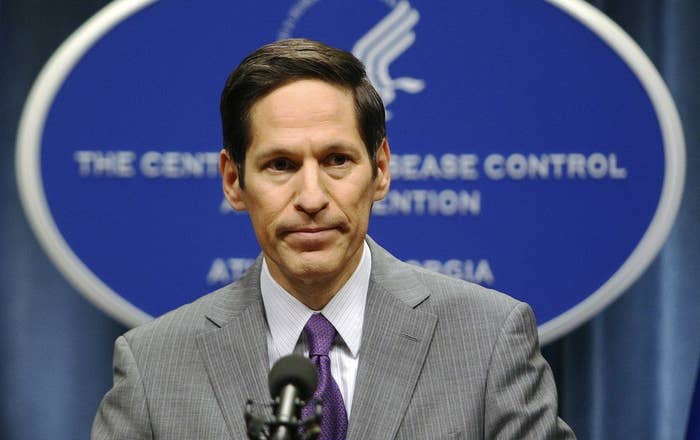 The Centers for Disease Control and Prevention will create an "Ebola response team" to assist U.S. hospitals that may have to deal with patients infected with the virus, agency director Tom Frieden announced on Tuesday.
The team will be able to travel to hospitals across the country to assist them with dealing with the disease, which has killed nearly 4,500 people, most in West Africa, and can kill as many as 70% of those it infects.
Speaking at a press conference at CDC headquarters in Atlanta, Frieden said that his agency still did not know the specific protocol breach that resulted in the infection of Nina Pham, a Texas nurse who became sick on Sunday after treating Thomas Duncan, the first Ebola patient diagnosed in the U.S.
"I wish we had put a team like this on the ground the day the patient was diagnosed," Frieden said at the conference. "That may have prevented that infection."
Duncan, who contracted the virus in Liberia, died last Wednesday. Frieden said that Pham remains stable.
The creation of the new response team will part of a push to improve safety in healthcare centers, Frieden said. He added that ensuring safety in hospital settings is essential in preventing the spread of the disease.
Frieden also said that the CDC is currently monitoring 76 people who may have come in contact with Duncan or his blood while he was being treated at the Texas Presbyterian Hospital in Dallas. The agency is also monitoring 48 people who may have been exposed to Duncan before he was hospitalized.
"I don't want anyone to take out of this that there are 76 exposed people," the CDC director said. "There are 76 people who had some level of contact and therefore, they're being actively monitored."
Frieden added that those being monitored have already gone through most of the virus' incubation period without showing symptoms, which means that they are unlikely to be infected.
There have only been two cases of Ebola diagnosed in the United States. In West Africa, the growth rate of the epidemic could reach 10,000 new cases per week in December, according to the World Health Organization.