Brooklyn DA Speaks Out About New York City's New Pot Policy
Kenneth Thompson has declined to prosecute low-level marijuana arrests since July. The city now plans to stop arresting people for small amounts of pot, a policy he said has "space for improvement."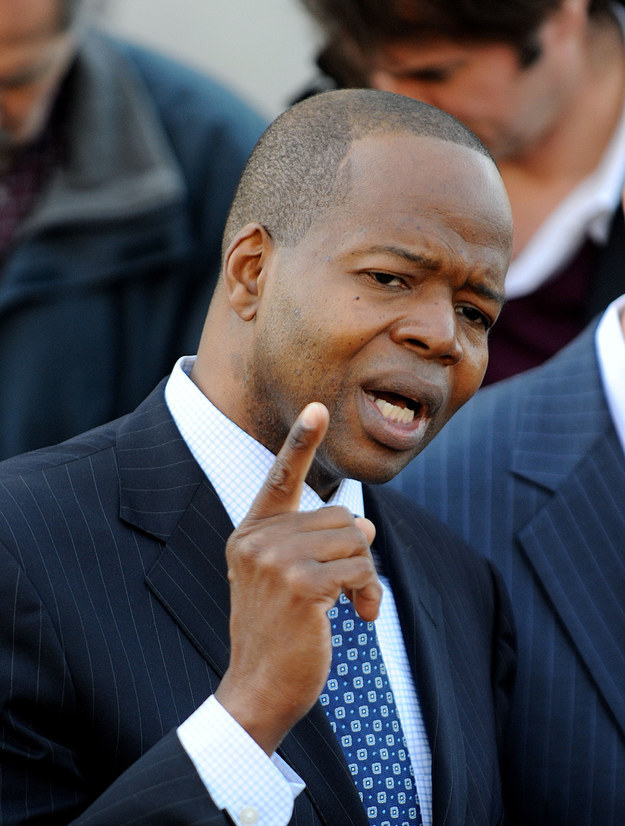 NEW YORK CITY — Brooklyn District Attorney Ken Thompson raised concerns about Mayor Bill de Blasio and the New York Police Department's new policy toward people caught with small amounts of marijuana, though he said he overall supports the plan.
In an interview with BuzzFeed News, Thompson called the new policy "a step in the right direction." He is in a unique position to comment on marijuana arrests: Five months ago, his office began declining to prosecute most misdemeanor marijuana possession cases.
His decision — which has since led to the dismissal of some 850 cases — was controversial. Police Commissioner William Bratton, for example, said at the time that his department would continue to make low-level arrests in the borough, even if most of those arrests would never result in a conviction. Many saw Monday's announcement as a citywide vindication of Thompson's decision.
But on Monday, de Blasio and Bratton said that starting Nov. 19, people stopped with 25 grams or less pot — with several exemptions — will get a summons not unlike those given out for traffic offenses instead of being arrested.
Misdemeanor marijuana arrests have decreased dramatically from their peak of 59,000 in 2010, Bratton said. This year, the NYPD made 28,000 such arrests, even though possessing small amounts of marijuana has not been a crime in New York state since 1977.
"The mayor's policy is a step in the right direction," Thompson said Tuesday evening. "I commend him for that. But there is space for improvement."
In particular, Thompson is concerned about a potential lack of prosecutorial review. When a person is arrested and charged with a misdemeanor, the prosecutor has the prerogative to dismiss the case outright, leaving the defendant without a criminal record and saving money on court time. Thompson's policy does not require defendants to appear in court at all.
That doesn't happen with a summons, which requires the defendant to appear in court in all cases. A defendant can challenge a summons, but a prosecutor can't outright dismiss it.
"The way the cases are being handled now, prosecutors make the decision," he said. "And now the cases are going to be sent to a summons court, and prosecutors don't play a role there. In Brooklyn, we make a decision whether that case should be prosecuted or not."
Thompson added that the one summons court for defendants arrested in Manhattan and Brooklyn, located at 346 Broadway, is overburdened and heavily backlogged. Adding tens of thousands of cases could make it harder for each case to be heard fairly.
"We need to make sure that there are safeguards in place to make sure that everyone's interests are protected there," he said, adding, "We need to make sure there is adequate representation in summons court."
Up to a quarter of those issued summonses fail to appear at their court dates, which automatically results in a warrant being issued for their arrests. This means that there are some 1.2 million open arrests warrants in the city — one for every eight New Yorkers, the New York Times reported.
But perhaps the central question around the new policy is whether it will do anything to address the problem behind marijuana arrests — namely, that police officers in New York stop blacks and Latinos at much higher rates than whites. Advocates worry that the new policy may simply mean discriminatory summonses rather than discriminatory arrests.
Unlike arrest forms, summons forms do not ask for the defendant's race or ethnicity, making it very difficult to track whether the new policy is unfairly targeting people of color. Bratton on Monday said that he would support amending the summons form to account for the defendant's ethnicity. On Tuesday, Thompson echoed his comments.
"I support what the police commissioner said yesterday, that we need to make sure there aren't discriminatory practices here," Thompson said. "And there needs to be a way to track who is getting arrested. The idea of having these summonses ask for the background of people is something that should be done."
Thompson overall said he is optimistic about the possibilities of the new policy. After all, even if it will not reduce the number of people's interactions with the police, it can increase the quality of those interactions, he said.
"When you arrest someone and put them in handcuffs and take them to a precinct, it's different than when you give them a ticket," he said. "And so I would hope that this would improve the relationship between law enforcement and community."