Michele Fiore stood at the front of the meeting hall at an American Legion Post in the small casino town of Laughlin, Nevada, and told the crowd about the circumstances that had led her to run for Congress. The seat, she explained, is currently held by Republican Joe Heck, who's leaving to run for the Senate. The Senate seat, in turn, is being vacated by the most powerful Democrat in the chamber, Minority Leader Harry Reid, who is retiring after more than three decades in Congress.

Fiore, 45, had no need to use Reid's last name or title. Around here, the name Harry was enough. He was born about 40 minutes away from Laughlin and has represented the state for longer than Brooklyn-born Fiore has lived there. A hint of Fiore's New York upbringing came out as she said the name with an extra-long vowel in the middle: Haarry.
"This area is Joe Heck's area," she said. "And Joe is running for Harry's seat, 'cause Harry's retiring." A hallelujah came up from the center of the room.
"Finally!" said Bobbie Burcar, an 82-year-old dealer at one of the local casinos. "I can't imagine how come he hasn't been shot before now."
Fiore laughed and went with it. "I know! I know," Fiore said. "I can't believe he lived this long with all these empty mine shafts. Anyway..."
"Good idea!" Burcar interjected.
"You know, they're abandoned, so it's not like anyone's going to be hiking out there, right?" Fiore said. "And there's a lot of rattlesnakes. So god forbid they did find his body, they'd find lots of poison. So it'd be just perfect."
During her two terms as a Nevada assemblywoman, Fiore has never been shy about how much she despises Washington and the people who run it. She is known widely for her alliance with the anti-government rancher Cliven Bundy and his family. She traveled to his Nevada ranch in 2014 during an armed standoff with the federal government over decades of unpaid grazing fees. She has forcefully supported the Bundy cause ever since, promoting legislation designed to curb federal power on public lands and often speaking on their behalf. Earlier this year, after two of Bundy's sons helped stage an armed takeover of the Malheur National Wildlife Refuge in Oregon, Fiore went there to help negotiate a surrender of the final holdouts after most of the occupiers had been arrested and one of them killed. She told one of the holdouts it was important to avoid more bloodshed: "The only way we're going to be able to write your story and write your book is if you stay alive."

She has also earned the reputation as arguably the most radical, pro-gun candidate running for Congress this year. In an era when the nation faces a seemingly endless string of mass shootings, Fiore has taken positions that set her apart even from most of her fellow Republicans: She advocates the use of guns to fend off the federal government, defend against law enforcement, and even as a way to shut up her own critics.
"Everyone should have a firearm on them. Period," Fiore said recently. "An armed society is a real polite society."

In fact, if you know only one thing about Fiore, chances are it probably involves a photo that went viral last year, showing her surrounded by her mother, daughters, sons-in-law, and grandchildren, all posing in front of a Christmas tree and wearing jeans and red shirts. All except for the three youngest grandchildren were armed. That included her bespectacled 5-year-old grandson Jake, who was positioned front and center gripping a pistol pointed at the ground. Fiore caught flack for letting her grandson hold the gun, but she said Jake had more training with firearms than many adults.
Fiore loved the criticism, and she's already planning on setting up another photo that will involve Jake and guns. She wants the image to show the two of them teaming up on a "tactical reload" with a magazine. "So the magazine will be dropping as Jake will be reloading," Fiore said. "Just to make the liberals' heads implode."

Fiore is the kind of politician who lacks filters and itches for just such a fight. Those qualities have made her a natural fit in an election year that's given rise to plain-spoken, ill-mannered populists. A few months ago, the best-known political journalist in Nevada labeled her the "female version of Donald Trump." It's a term Fiore at first bristled at, but one that she has since embraced as her fellow New York native, whom she recently endorsed, has rolled on to become the presumptive GOP nominee for president. And like him, she doesn't just hit back against her critics; she tries to set fire to everything around them with the kind of schoolyard taunts that are increasingly, incrementally passing for normal, mainstream political discourse.
Like Trump, even if she doesn't win, Fiore has helped to push what have traditionally been fringe ideas and a fringe mentality a little closer to the center.
Few people in the political establishment expect Fiore to win the GOP nomination in the state's 3rd Congressional District on June 14. The National Republican Congressional Committee has named three of her six primary opponents to its Young Guns program, which is designed to shepherd "top-tier" candidates to seats in the House. One of her rivals, Danny Tarkanian, a businessman and son of legendary UNLV college basketball coach Jerry Tarkanian, released his own poll in March that showed him with a double-digit lead and Fiore in a distant second. Tarkanian and another opponent, Nevada Senate Majority Leader Michael Roberson, have also left Fiore in the dust when it comes to fundraising. For all the talk about "the Trump effect" and an angry national insurgency, most establishment Republicans have been cruising to primary victories nationwide.
But while Fiore ran for Congress during the 2010 tea party movement and lost in the primary, she has more name recognition this time around. None one of her rivals have managed to receive the kind of attention she has: She's been profiled by the New York Times. She's argued with a BBC radio host about guns. The Christmas photo of her armed family even showed up in the Sydney Morning Herald.

BuzzFeed News spent three days in May with Michele Fiore as she campaigned for Congress. Like Donald Trump, even if she doesn't win, she has helped to push what have traditionally been fringe ideas and a fringe mentality a little closer to the center.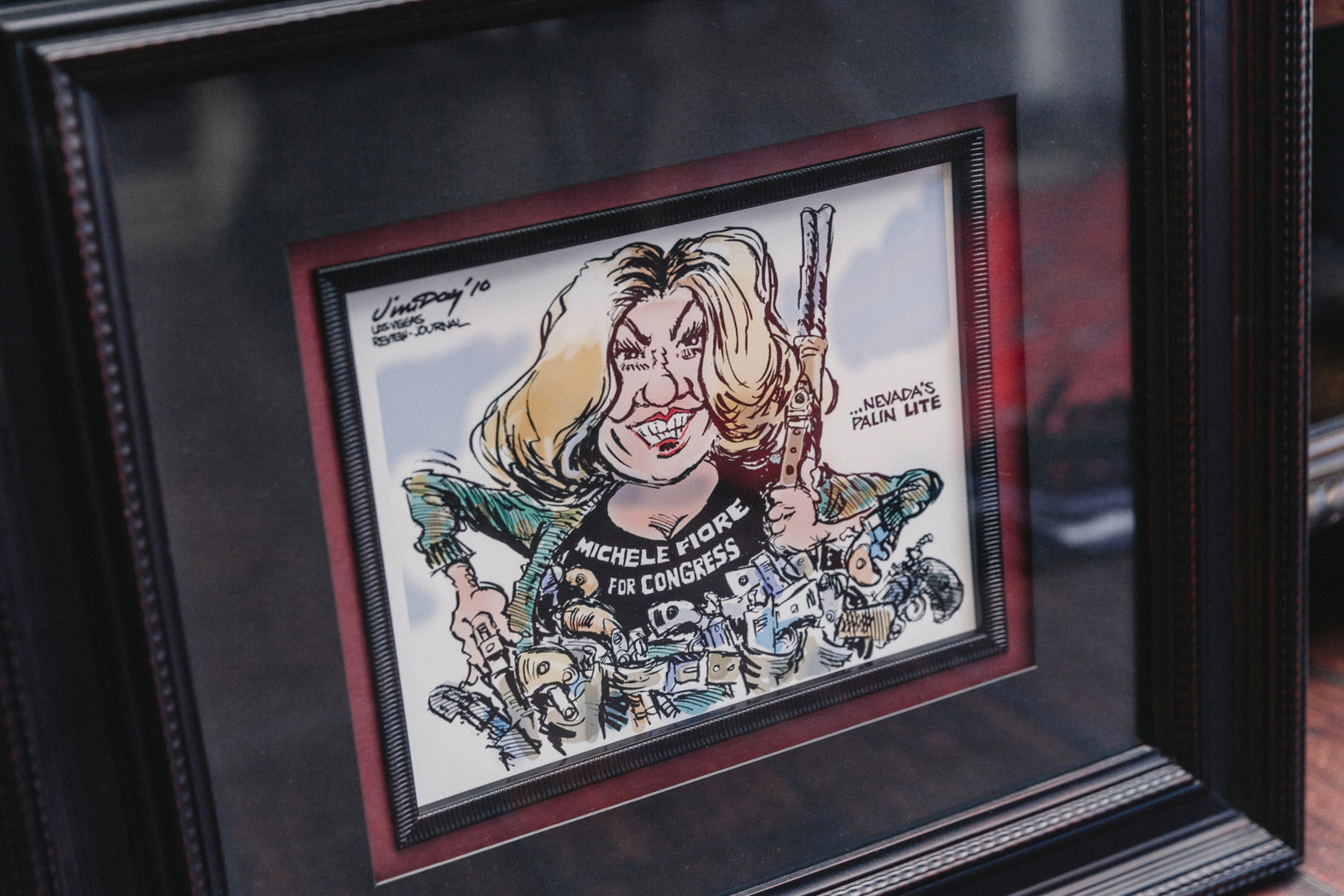 On the morning of May 18, Fiore was getting ready for a debate being held by the Republican Women of Las Vegas. The venue was a private dining room in Maggiano's Little Italy, a wood-paneled chain restaurant on the second floor of a shopping mall that just happens to be across the street from the Trump International Hotel Las Vegas. The 64-story tower, which is adorned at its highest point by the mogul's last name in all-capital letters, looms over the mall and surrounding blocks.

On the drive from Fiore's home to the debate site, she described the weaknesses she saw in her opponents. Most of the criticisms were fairly muted, the kinds of things you'd expect to hear from a conservative running against fellow Republicans: They didn't have the credentials she had; one of them voted to raise taxes; another seemed to perennially run for some office and always lost.
"There's one particular individual in this race that's just vile. She's just vile," Fiore said. "It's Dr. Annette Teijeiro."
Teijeiro, a medical doctor who had spent just a reported $20,000 on her campaign — Fiore had spent more than 10 times that — had managed to get under Fiore's skin. At a previous debate, Teijeiro criticized Fiore for making some incendiary comments last year. The attack prompted Fiore to stand up during the debate, grab a nearby microphone, and angrily tell the doctor her time was up. Teijeiro later posted video of the exchange on her campaign Facebook page with the caption: "Fiore cant [sic] 'stand the heat' and wants to 'fight' Dr. Teijeiro."
"You'll see her performance today," Fiore told me. "They'll say you can't attack folks, but then she'll attack each and every opponent going down the line."
"Do you really want to know what I think about Michele Fiore? I think that she borders on anarchy sometimes."
When we arrived at the venue, Carole Donald, the president of the host group, was greeting the candidates as they walked into the room. After exchanging pleasantries with Fiore, she lowered her voice and leaned into the candidate. "Hopefully this won't be a fight," Donald said.
"You know, let's make sure the moderator understands that you don't allow others to attack," Fiore said.
"He won't. He won't," Donald said. "We've had many a meeting already. It's about issues that are political. It has nothing to do with personal."
Donald went around the room privately warning the candidates to be civil. "They were horrible," Donald said later of the past debates. "Totally contentious and hostile to one another."
Teijeiro gave me an assessment of her rival. "Do you really want to know what I think about Michele Fiore?" she said, eyes widening. "I think that she borders on anarchy sometimes. I think that her views are closer to being a Libertarian than being a true Republican."
A short time later, Fiore talked to two members of her campaign team. "I've figured out who Annette's guy reminds me of," she said, focusing on one of Teijeiro's aides. "Know those little spider monkeys that are just annoying as shit and you just want to smack 'em down? That's who he reminds me of."
"He's wearing a brown shirt. He's vile, just like his master. Very vile," Fiore continued. "My people? They love everybody. We exude love."
Fiore lives in a house on the western outskirts of Las Vegas. The property has high walls and remote-controlled gates. The land is big enough to keep her horses and for her large dogs to roam. It sits outside of the congressional district she's hoping to represent, but she said she might buy property inside the district if she wins the primary.

Fiore has two grown daughters and four grandchildren. She's been married twice and divorced twice. She was born and raised in the Bensonhurst neighborhood of Brooklyn. She was an only child but had two uncles about her age whom she still considers to be like her brothers. Her mother is a lesbian who, she said, has had five marriages over the years. Fiore was quick to point out they weren't "real marriages," legally speaking, but involved vows and ceremonies. Her mother is part of the reason she has supported gay marriage and is generally pro-equality.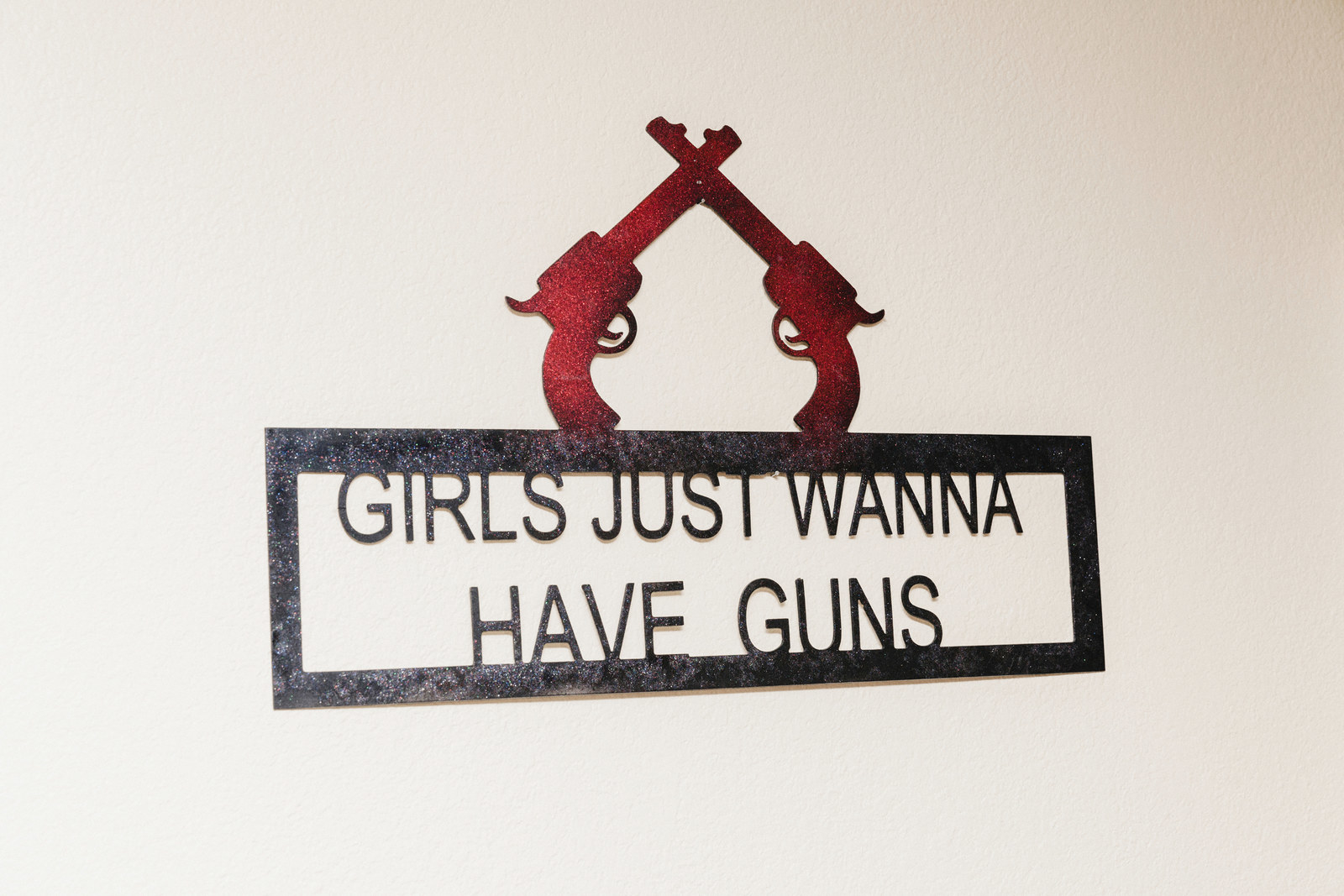 "They try to label you as an extremist. I'm sorry, there ain't no way I'm extreme being raised in Brooklyn by lesbians. Period," Fiore said. "But being a New Yorker, you have a certain confidence about you and you're not going to put up with nonsense."
Her mom, Lill Fiore, worked mostly in sales while Fiore was growing up. Fiore was vague about what exactly that meant, saying only that part of the time was in "pharmaceutical" sales. But she also said that when she was about 4 years old, her mother spent about a year working in entertainment. "She was a professional wrestler who traveled. Now, I'm talking about with like Fabulous Moolah, Andre the Giant, those days," Fiore said. "There was a photo of Andre and me, like my butt was in his whole hands. I was little, so he was kind of holding me up." I asked Fiore for a copy of the photo, but she said it was in storage and would be difficult to find.

In high school, Fiore said she was the singer in a rock band called Times Square. But her budding musical dreams ended after she married her first husband, Timothy Johnson, a sailor in the Navy, at the age of 16. As she tells it, he told her after they got married, "It's the band or me." She chose him, but she now says it was the "first and last time I made a mistake like that."
Her marriage took her to the U.S. naval base at Guantanamo Bay, Cuba, where she had her first daughter at 19. She recalled a time they got into a dispute while he was still stationed at the base and she caused some headaches for his commanders when she tried to leave the island. These days, she said, she's still friends with him despite their divorce.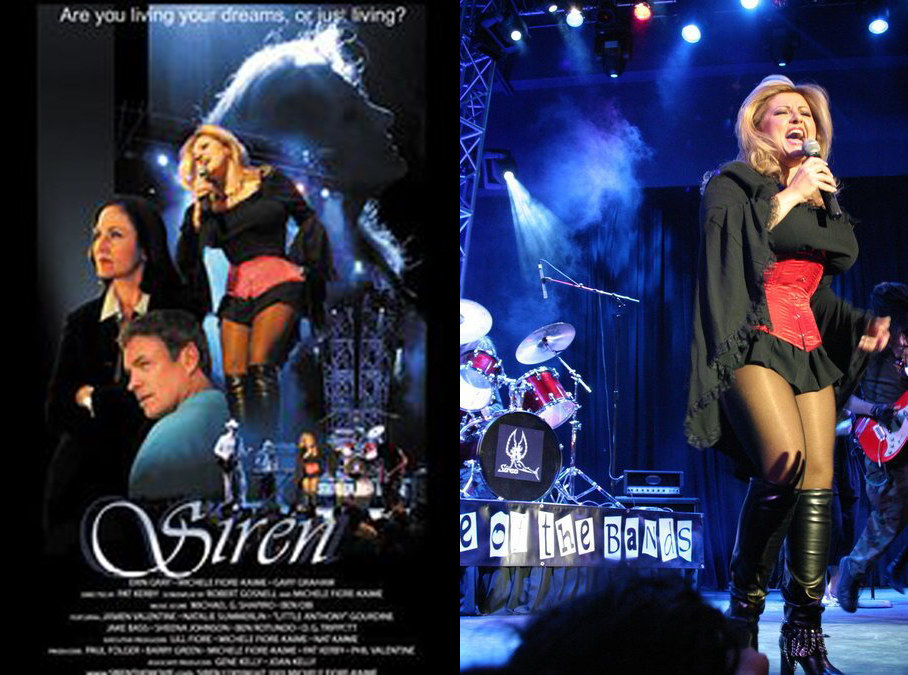 Fiore's dream of being a rock singer came back into her life a decade ago when she wrote and starred in a low-budget independent film, Siren, that she co-produced with her second husband, Nat Kaime, and her mother. Fiore described herself to the Los Angeles Times in 2006 as "an official Sundance reject" after trying to get the film screened at the festival. She ended up setting up her own screenings at a vacant real estate office in town and handed out fliers throughout the festival. In the film, Fiore played the role of Storm Fagan, a wife and mom who decides to try to fulfill her lifelong dream of making it big as a rock singer. She told the Times that she put on 20 pounds for the role and lost 30 during the shoot.
Fiore said Kaime, who she said is 18 years her senior, was her entry point into politics. "I will tell you, to his credit, a lot of my conservative stances stem from spending 15 years with him and me getting mad at him for listening to Rush Limbaugh because I couldn't stand it. I couldn't stand the talk radio."

Fiore eventually began to volunteer with political groups. In 2010 during the tea party uprising, the casino mogul Steve Wynn encouraged her to run for Congress, according to the Las Vegas Sun. She lost the primary, coming in second out of eight Republicans, but went on to win a state Assembly seat two years later.

The debate remained mostly civil. There was only one real verbal skirmish during the 90-minute affair and neither of the candidates involved were Teijeiro or Fiore. In fact, if you didn't know any better, Fiore would have come across almost like a mainstream Republican during the debate. She talked about school choice and fighting against tax increases. She talked about how she understood veterans health care because her oldest daughter was born at Guantanamo Bay.

The day after, Fiore was on the phone with Stewart Rhodes, the founder and president of the anti-government group Oath Keepers. The group is made up of current and former law enforcement and military veterans who have vowed to disobey any orders from their superiors that they believe would violate their oaths to uphold the Constitution. Those include "orders to disarm the American people" and "orders to impose martial law."
The Oath Keepers had been among the militia groups to rally to the Bundy cause in Nevada during the 2014 standoff with federal authorities. But the group's relationship with the Bundys and fellow militias reportedly frayed after Rhodes pulled his followers away from Bundy Ranch amid rumors of a potential drone strike by the federal government. Then it got worse earlier this year when brothers Ammon and Ryan Bundy, along with other militia members, staged their armed takeover of the federal wildlife refuge near Burns, Oregon. Rhodes published an open letter to Ammon Bundy days after the occupation began, suggesting an "honorable exit strategy" to what Rhodes said was a misguided move in the first place.
Support from the Oath Keepers appears to be returning now that members of the Bundy family, including the patriarch Cliven Bundy, have been jailed and charged with federal crimes connected to the 2014 and 2016 incidents. The support, however, may be tentative. Fiore, who has stood by the Bundys through thick and thin, seemed to be frustrated at times with some of things she was hearing during the phone call with Rhodes and the other Oath Keepers.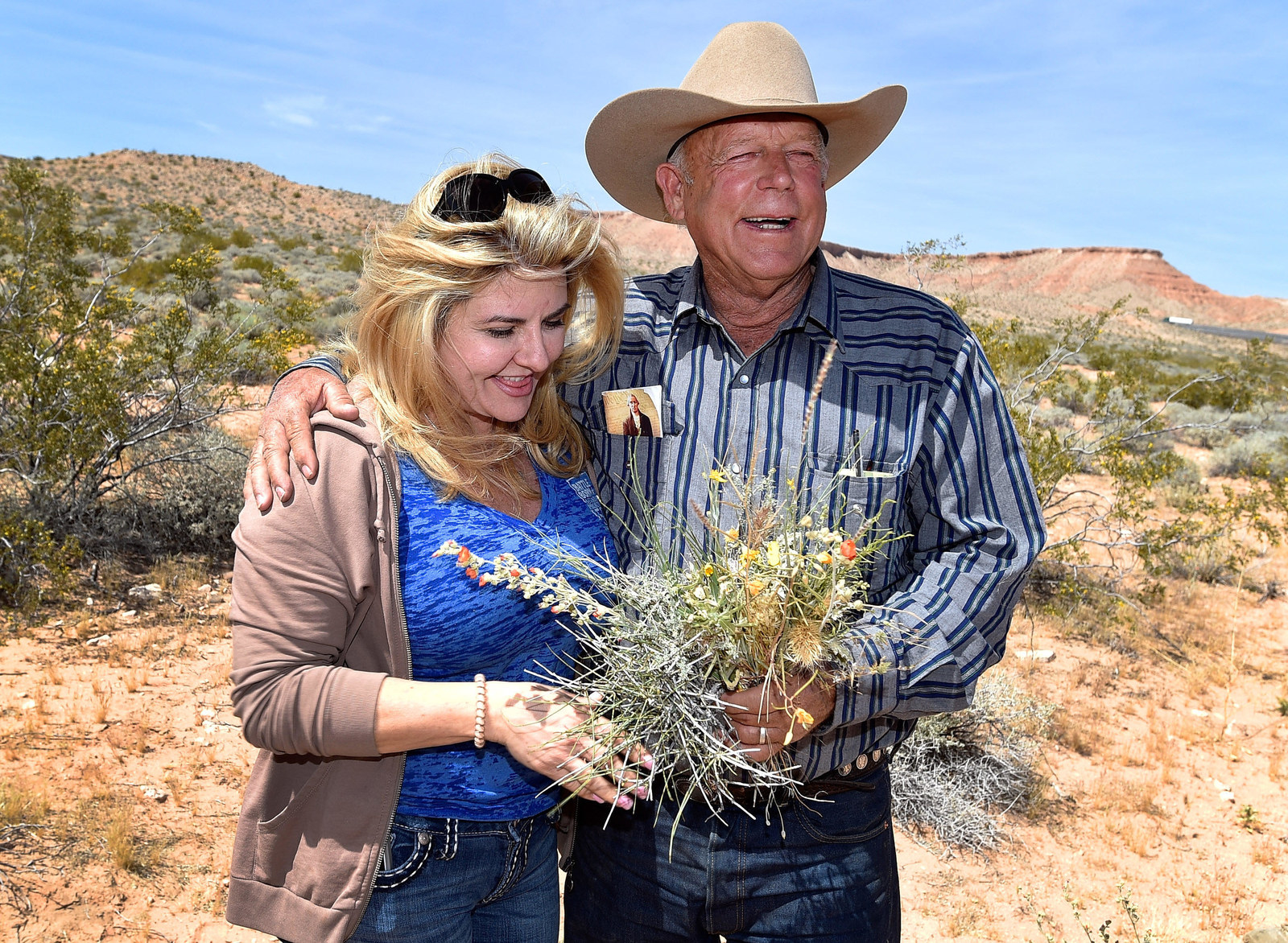 "You guys know a lot more than I, but I just don't think that anyone is going to do that," Fiore said into the phone. "Ryan has eight kids. Ammon has six kids. I think that they really learned their lesson with having to do this."
The call ended and Fiore acknowledged the Oath Keepers didn't exactly have a high opinion of the Bundy family. "I got an earful today," she told me.
She said her contact with the group was part of the plan to bring multiple organizations, including Black Lives Matter and the Nation of Islam, together for what she described as justice reform. She said it's all tied to a larger issue that there are too many people behind bars in America — she estimated there are 17 million people incarcerated in the U.S., whereas the figure widely accepted by reform advocates is closer to 2.2 million — and that she wants to shut most prisons down, a stance that sounds more Bernie Sanders than Donald Trump.
Fiore talked about decriminalizing "smoking a marijuana cigarette" and that she'd be open to the idea of legalizing all drugs. She said she'd been a longtime advocate of justice reform and her stance wasn't prompted by the fact that dozens of people have recently been arrested on federal charges stemming from the standoffs in Nevada and Oregon, although she had them in mind, too.
"My goal is to cut the division by design," Fiore said after speaking with the Oath Keepers. "We are divided by design on purpose, from Republican to Democrat, from black to white."
The phrase "divided by design" was one Fiore kept returning to. She talked so much about love and unity that at times she sounded downright New Agey. She talked about being "attached" to her fellow humans. She also said she studied Kabbalah for three years and traveled to Israel with Madonna, and that she prefers homeopathic medicine over the traditional kind.
"He's a bad dog. I feel like putting his nose in his piss and throwing him outside. Because he pisses everywhere."
Yet there were other times when she seemed to take pleasure in division. She said America has become too politically correct, and she published her own magazine in December, Truth in Politics, that showed a photo of her on the cover along with the headline "Islam Is the Religion of War." She also had a tendency during the time I spent with her to describe anyone she didn't like as a "jerk-off" or "prick" or give them unflattering nicknames.
So it might be fitting that Fiore leveled some of her most caustic and personal attacks on Jon Ralston, the Nevada journalist who labeled her "a female version of Donald Trump" earlier this year. He's been a searing and constant critic of hers for years, publishing satirical pieces caricaturing her and uncovering the fact that at one point she'd had more than $1 million in federal tax liens claimed against her.
"He's a bad dog," she said. "I feel like putting his nose in his piss and throwing him outside. Because he pisses everywhere." In March, she posted a meme on Twitter showing herself lounging with a gun inside Ralston's skull. The text read: "Our Next Congresswoman Michele Fiore Living Rent-Free in Jon Ralston's Head." While she was talking to me about him, Fiore came up with another idea for a meme.
"I just think to myself, this guy has a fantasy of me tying him up and beating the shit out of him," Fiore said. "Jon Ralston's fantasy is Michele Fiore tying him up and pistol-whipping him! That's his fantasy."
"With a water gun!" she added, with a laugh. "So I can squirt him."
"She's obviously very upset because I have exposed and commented on a lot of the things that she's done that's brought her unflattering news attention," Ralston said by phone. He stood by his prediction that Fiore, who plans to serve out the rest of her Assembly term this year, would lose the GOP primary for Congress. "I think what I've exposed is that she has no business being in public office. And she's not going to be in public office for much longer. But I guess it's been fun while it lasted."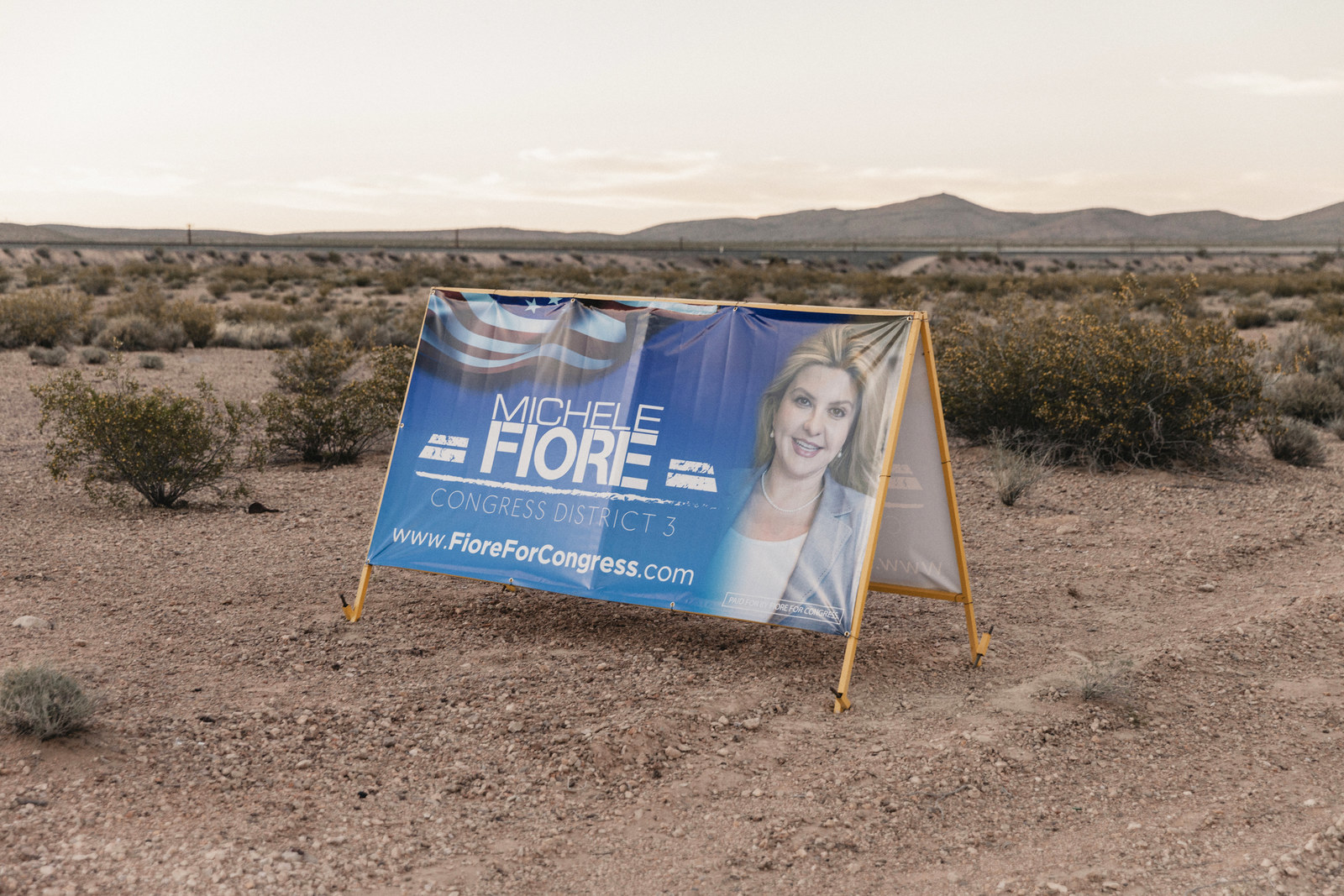 During the long drive from Las Vegas to the event in Laughlin that evening, Fiore talked about one of the central issues of her campaign. She has promised that if she gets elected to Congress, the first bill she'll introduce will be about what she described as a "top secret" legal theory known as jury nullification. Fiore wants to require all courts to educate jurors on the idea that they can ignore the law and find a defendant not guilty, even if there's enough evidence to convict, if they disagree with the law in question.

"With jury nullification, you can say, you know what, that's a dumb-ass law. OK? And I'm going to vote him not guilty," Fiore said. "Jury nullification is basically righting wrong legislation."
Fiore clearly has the Bundys and their allies in mind when she brings up the issue. Outside of Congress, she said she's hoping to raise money to fund an advertising campaign that would explain nullification to the public. The ads would encourage people to serve on juries if they're called and inform them that they can find a defendant not guilty if they disagree with the law. She said she wants the ad campaign to "highly target" Nevada and Portland, Oregon — the two places where defendants from the Bundy standoffs are set to be tried in federal court.
Mark Pitcavage, a researcher with the Anti-Defamation League, explained to me later that jury nullification, at least in practice, has been around since the 1850s. He said "America's longest and most extensive history with jury nullification" involved all-white juries in the South that refused to convict white people who inflicted violence on African-Americans. The flip side of that, however, involved cases in some Northern states in which juries would refuse to convict someone on charges related to fugitive slave laws.
As a political movement, Pitcavage said, jury nullification really came into its own in the 1980s. And it has developed something of an unusual constituency since then. He said its biggest adherents are right-wing extremists, including white supremacists; libertarians; marijuana advocates; and what he called "misguided idealists, who legitimately think it somehow produces a better legal system."
"It's a weird mix of bedfellows," Pitcavage said. "What they all kind of share is the fact that there are laws that they think are unfair or unjust or illegitimate, and since they cannot get those laws repealed through the courts, they want to do an end-run around the laws and subvert them through the jury system."
Fiore's event that night at the American Legion Post had a smaller turnout than she was hoping for. She counted 15 people in the room at one point, which included two of her campaign staffers and me. Fiore told me earlier she was expecting about 30.
Fiore wants to require all courts to educate jurors that they can find a defendant not guilty, even if there's enough evidence to convict, if they disagree with the law in question.
But if anything, the intimacy allowed people to speak their minds that much more. There were multiple conspiracy theories in the air. At least two people, including the casino dealer who earlier had talked about Harry Reid being shot, were sure that President Obama is secretly a Muslim. Fiore's field director, Chance Bonaventura, a 20-year-old who spends much of his time organizing volunteers and knocking on doors, told the group he'd heard Reid had been injured last year not by defective exercise equipment as the senator has repeatedly said, but by his own brother in a fight.
"That's a rumor," Bonaventura said. "I can't say if that's for true."
Fiore shot down her staffer's speculation about Reid's injuries. "I just couldn't imagine that, though," she said from the front of the room.
Fiore's slight defense for Reid, however, made the crowd bristle. Several people went on to say increasingly angry things about the senator. Fiore sounded a little taken aback by the turn. She started talking about how people were tired of Washington's "false promises" as she tried to get back the room.
Another woman in the audience chimed in. "I just hope we can get through this last few years — or months — of Obama without any kind of a civil war breaking out 'cause I do not want him to declare martial law," the woman said.
Fiore hesitated for a moment and stumbled with a response before turning to an issue she knew well: guns. "I really don't think he's prepared to do that because of our Second Amendment and because of the uprising across the nation, including our ranchers," Fiore said. "Because, understand, he cannot turn our military against the American people."
Fiore used the chance to talk about the dangers of federal agencies getting ever-bigger weapons and then transitioned into a discussion of what happened at the Bundy Ranch in 2014. She quickly had the small crowd back with her.
As she talked about the Bundy family, Angelique Zammetti, 51, a hairdresser who lives and works in Laughlin, cut in: "I have followed this story from the absolute get-go. I have listened to over 100 hours of video and watched over 100 hours of video. And everything Michele—" Zammetti paused and caught her breath. "It's just an honor to meet you, honey. It's just such an honor to meet you. I'm so sad this room isn't filled right now. She's the real deal, you guys." She went on to describe LaVoy Finicum, the Bundy ally and Arizona rancher who was shot and killed in Oregon, as "comparable to Martin Luther King."
By the end of the night, Fiore was feeling good. The event had been a success for her. She just hoped there would be more people at the next one.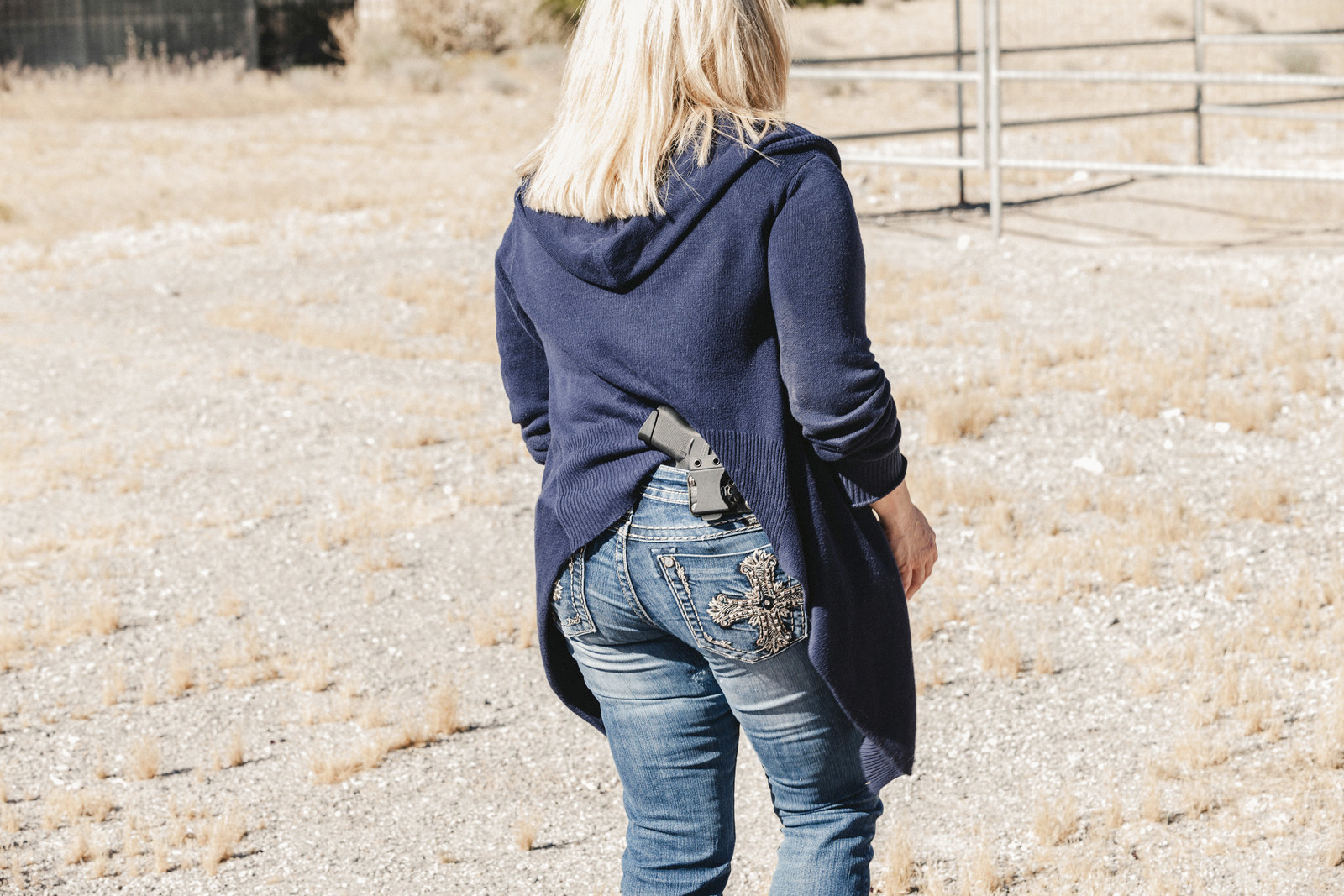 The next day, Jerry DeLemus looked at us through a dull, slightly fuzzy monitor screen, a phone pressed up against his ear, his goatee white and his head bald. He looked thinner than he did in photographs from a couple years ago when he traveled from his home in Rochester, New Hampshire, to Bunkerville, Nevada, where the Bundy family was facing off with the federal government. His appearance might have been because of the jail diet or because he was no longer dressed head to toe in camouflage. Now he was in a bright orange jumpsuit. Or was it red? The screen made it hard to tell.

Fiore and I had arrived at the Henderson Detention Center south of Las Vegas to speak to DeLemus, who was arrested in March for allegedly helping organize the 2014 standoff at Bundy Ranch. Those who have followed the case might best know DeLemus as a co-chair of the "Veterans for Trump" group in New Hampshire, which helped the billionaire eventually win the nation's first primary state. DeLemus was later chosen as one of Trump's alternate delegates to the national GOP convention. He's a well-known New Hampshire tea party activist, and his wife, Susan DeLemus, is a Republican state lawmaker there.
Fiore has been visiting DeLemus in jail ever since he was extradited to Nevada to face federal charges. She's also visited other militia members — she called them "political prisoners" and "cowboys" — jailed for the Bundy incidents. She said she's traveled to Oregon on her own dime at least five times to visit Ammon and Ryan Bundy in the jail they're being held at in Portland. Fiore said she tries to keep her visits a secret to stay out of the media spotlight.
"You need to stay strong," she told DeLemus. She gave him updates about other members of the Bundy group, and they talked about his fellow inmates in the detention center. DeLemus praised Fiore for visiting him and other inmates at the jail. "What an add for Congress that would be," he said.
The tea party activist said he felt a duty to come to the Bundy family's aid in 2014 when he heard about the standoff, saying he'd sworn an oath as a Marine earlier in his life to uphold the Constitution. "As Jesus tells us, when your neighbor says he's cold, don't pray for a coat — give him yours," DeLemus said.
He made a point to say he wasn't some crazy anti-government activist. "I even ran for county sheriff. I ran for mayor," he said. "It's not like I'm an outsider whackball who lives in a shed."
On the way out, Fiore bumped into Tim Wood, 60, of Moapa, Nevada, who was there to visit Eric Parker, another one of the defendants in the case. Wood said he didn't know the defendants personally but wanted to show his support. He was wearing a T-shirt with the Bundy Ranch brand on the chest and the phrase "Political Prisoners."
Wood told Fiore he was organizing meetings in his neighborhood and had been trying to get in touch with her. She gave him her cell phone number and told him she'd be at the next one.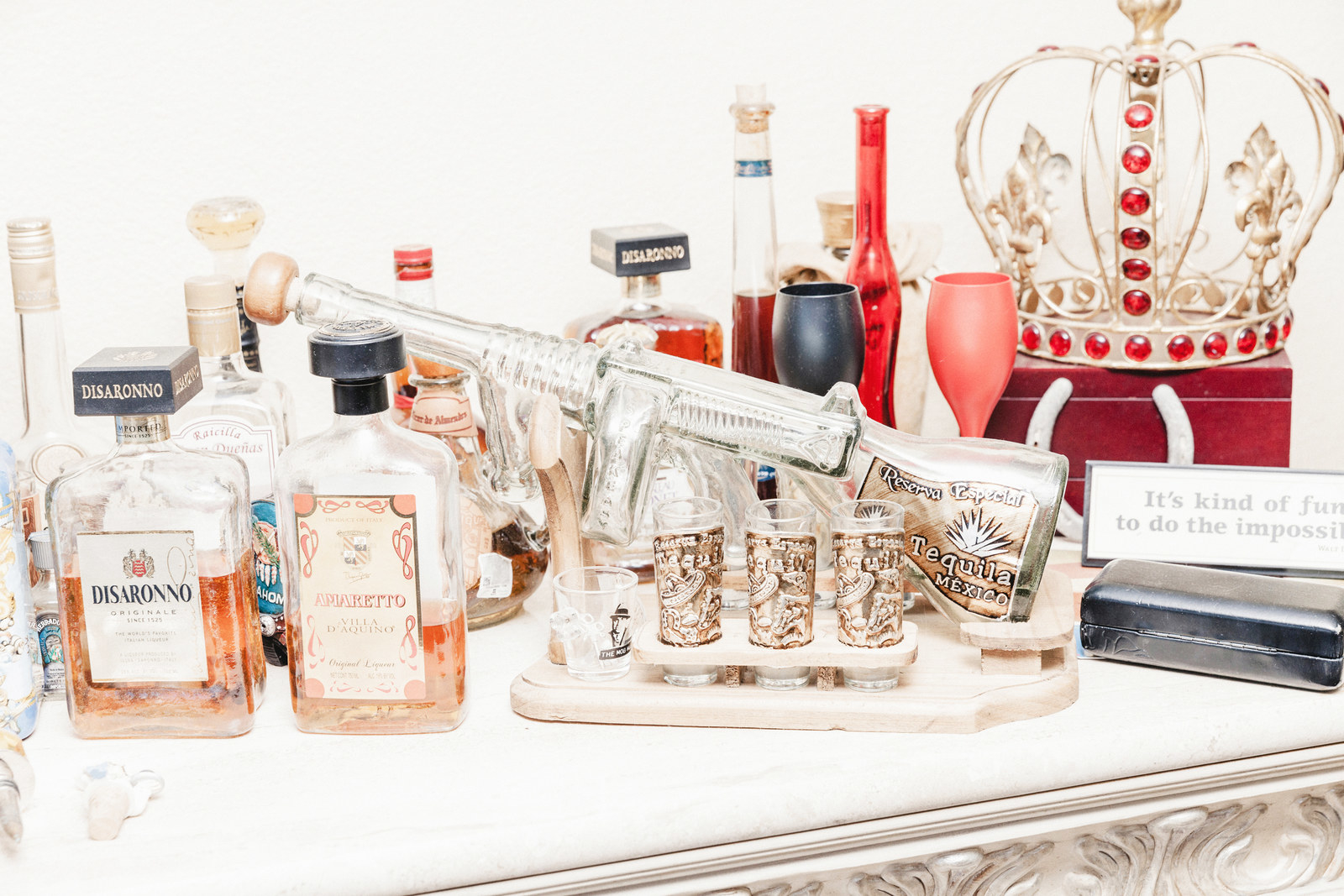 The Green Valley Range was set back in a nondescript office park just a short drive from the detention center where we visited DeLemus. Just inside the front door was the entrance to shooting lanes where instructors taught classes and where the public could shoot targets. This was Fiore's element. You got the sense it was routine for her, like kissing babies can be for other politicians.

The owner, Jerry Tumminia, set us up with four guns. Three were semi-automatic handguns and the fourth was a machine gun that could switch between semi- and fully automatic firing — an H&K MP5 that shot 9 mm ammunition from a 30-round magazine.
Fiore was calm while we took turns firing each gun. She took the air of a baseball coach at batting practice, calling out "Nice!" and "Beautiful!" if I hit the center of the target. She talked about the differences in how each gun felt and how accurate it was. At the end, she grabbed one of the paper targets and autographed it: "Nick you're a great shot XO XO Michele Fiore."
Aside from the Bundys, there's no issue Fiore has embraced as much as the right to carry a gun. She boasts of having an A grade from the National Rifle Association and has been endorsed by the powerful Gun Owners of America, who have been doing robocalls on her behalf. She buys firearms as gifts for her family and staffers and said she carries one with her at all times. She even put together a pinup-style calendar for 2016 with each month showing a different photo of her holding some type of gun. It can be purchased on her website for a $25 contribution to her campaign. On the first day I met Fiore, she gave me a copy of the calendar and autographed it without me even asking: "Nick — We're gonna have a good time. XO Michele."
But it turns out her stance on guns is also the issue that has caused her the most trouble in the campaign. During an interview in April, Fiore said she believed she had the right to point her gun at law enforcement officers if they first pointed a gun at her and it was a matter of "self-defense." She quickly caught blowback for the comments and was forced to clarify them, saying she was only talking about officers with the federal Bureau of Land Management and not all cops.
In late May, a police union sent Fiore a letter calling her comments "utterly irresponsible" and saying she was "unqualified" for Congress. In response, Fiore called the executive director of the union a "coward" and trotted out two endorsements from Nevada sheriffs to prove her law enforcement bona fides. But she didn't back down: As we drove through the congressional district in her Jaguar sedan, Fiore explained to me she was "very friendly with the police" and made multiple references to an "unofficial romantic friend," who she said was a Las Vegas SWAT team member and who even kept a trailer parked on the property at her house.

"If we got pulled over, you know, we're two whities sitting in the front seat. Really, we're not that big of a threat," Fiore said. "And if he's nervous, you know, a cop can draw his firearm for a number of reasons. If he's pulling you over and you don't know the officer, give him the benefit of the doubt that maybe dispatch just dispatched to him there's a murder suspect driving a silver, four-door Jag." But once the officer determines he has the wrong car, she said, he should put his gun away.
I asked Fiore about unarmed black men like Michael Brown in Ferguson, Missouri, and Eric Garner in New York City, whose deaths at the hands of police gave birth to the Black Lives Matter movement. Should they have been armed?
"I think that all of us citizens — Black Lives Matter, ranchers' lives, everyone's lives — need to stand arm in arm and just say enough is enough," Fiore said. "We're just not going to put up with abuse of power anymore."
In the case of Garner, who was originally approached by police for selling loose cigarettes and then put in a fatal choke hold, she called it "heartbreaking." "There's a man now dead over cigarettes," Fiore said. "I'm sorry, that's really just not justifiable."
Fiore talked about scenarios where she could envision pulling a gun on someone in law enforcement. "I don't want bad guys using a badge as a shield for bad behavior." She mentioned cases where officers had kidnapped and raped women at gunpoint, such as a case in California where an officer raped a woman, then shot her to death and dumped her body in the desert.
"When a guy like that is violating my civil rights, then that badge — I'm sorry, it becomes you and me with guns. I would not hesitate to shoot that cop."
"When a guy like that is violating my civil rights, then that badge — I'm sorry, it becomes you and me with guns," Fiore said. "I would not hesitate to shoot that cop."
After we left the gun range and were driving back north toward her house, Fiore said she was going to tell me "a little secret," a plan she was cooking up. She hesitated for a few moments because she said she hadn't convinced her campaign manager, David McGowan, to let her go forward with it. "I'm just so pissed off at someone that I think I want to challenge them to a gunfight," Fiore said.
There's a place called Las Vegas Gunfights where opponents can go into a room filled with barriers and objects, and they can fire live bullets at each other — sort of like a paintball match but with real ammo. She explained that the Simunition rounds used in the gunfight are designed to be nonlethal but can still break the skin and do damage.
She wavered on whether to tell me more. "First I gotta make sure that I calm my team down a little bit about it," Fiore said. "Because they're not thrilled with my idea. Especially, you know, I've got a primary election coming up. I don't think this is really smart. I do have a hot temper." She declined to name the person she wanted to challenge but described him as a "bully jerk-off." She'd told me one of the biggest critics of her comments was a former lieutenant with the Las Vegas Metropolitan Police Department who now acts as a public safety expert for the local media and she was furious about some of the things he'd said about her in the press."He's got a big surprise coming to him soon," she told me. "That's going to be very newsworthy. That probably will go national." But she'd also said the plan was "so crazy that my manager threatened to quit if I did this."
Two weeks later, she said her plans for a public gunfight had been delayed but that she was going to start practicing and hoped to challenge someone later this year. "I think that bringing duels back is in order," she said. Fiore denied that the former police lieutenant was her target and said the "surprise" she'd had in mind for him was that she'd be endorsed by members of law enforcement — although it's unclear why her manager would threaten to quit over that. "You know, he's egotistical, but he's not a big enough fish for me to waste my time," Fiore said about the ex-lieutenant. "When I challenge someone to a duel, it will be somebody in my own arena."
On that final drive back to Fiore's house, I brought up the topic of Harry Reid again and asked whether it had been appropriate to joke about his death at the campaign event in Laughlin.

Fiore said the discussion with her supporters was lighthearted and never went into a realm where she felt like anyone was taking it seriously. As for her talk about Reid's body ending up in a mine shaft, she compared it to her days growing up in Brooklyn when people would joke about dumping a body in New Jersey. She said she picked up the Nevada version of it years ago when she was volunteering for the Trauma Intervention Program of Southern Nevada, going out to scenes of horrific violence when someone had been murdered or had killed themselves and counseling the victims' families as they were dealing with the tragedy.
One day at a particularly awful scene, Fiore said, she told an officer there that she would take matters into her own hands if something like that ever happened to one of her loved ones. "So one of the cops said to me, 'You just call me if this ever happens. We have a system. There's a lot of abandoned, empty mine shafts.'" She's used the line ever since. But when I pressed Fiore about using it in reference to the Senate minority leader, she said she had no problem with it.
"He's literally referred to me personally as a domestic terrorist," Fiore said. (Reid described armed supporters of the Bundys as "domestic terrorists" in 2014, but I could find no record of him ever saying it specifically about Fiore, and she later told me she couldn't point to such a moment.) She said if she'd thought anyone was taking the conversation too far, she would "rein it in fast."
"Our Second Amendment isn't for hunting."
Two days before the Nevada primary, Fiore's anger was showing following the terrorist attack at a gay nightclub in Orlando. "If you don't have a gun, buy one," she said from a campaign stop in the town of Cal-Nev-Ari, population 244. "If you've never shot a gun, take a class. Our Second Amendment isn't for hunting." Employees and patrons should have been carrying guns, she said. "Those individuals — if they're not drinkers and they're not people that get intoxicated — absolutely should have a firearm on them," she said.
She lashed out at the people who were pointing to the deadliest mass shooting in American history as a byproduct of America's gun culture, for which she is literally a poster girl in the calendars she's passing out on this penultimate day of her primary campaign, and for which she plans to advocate long after the primary returns come in.
"The more this anti-gun movement goes along, the more innocent folks are going to get killed," Fiore said. "Because bad guys go, 'Oh great, Americans are so damn dumb. They're taking their guns away. They're just sitting ducks. Let's just go kill them all.'" ●