The Sexquester Hits D.C.'s Craigslist
Congressman Underwood, Zooey Barnes is on line one.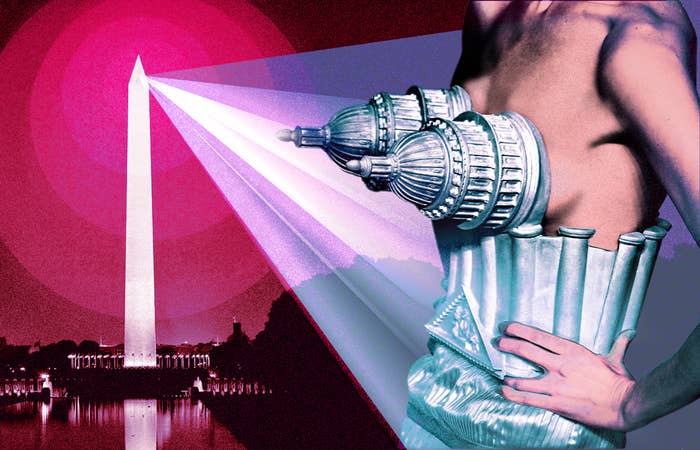 WASHINGTON — The lonely and the randy around Washington are using the "sequester" as an excuse to have sex, extramarital affairs, volunteer their uterus to incubate other people's babies, and to generally stretch the boundaries of their sexual experience.
With the spending cuts under the sequester hitting the D.C. area the hardest — thanks to the legions of federal workers, military personnel, and contractors in the area — residents are finding themselves with a lot of time on their hands, and they're turning to Craigslist in droves.
There's the 48-year-old man who might actually be a superhero, promising a "a very muscular body that is the result of working out 3-4 times per week at the gym" and he's "able to leap tall buildings in a single bound."
"Not much time left," he cautions would-be partners in his ad, noting his offer is perfect for, "but not limited to, lobbyists."

When BuzzFeed asked him for comment, he responded, "Why are you writing an article now? By the time it's published, the whole country will be shut down, no one to work the presses."
Other area residents are combining sequestration mania with the region's notorious inability to deal with snow into a super-packed sex pitch.
"Does all this sequestration panic have you down in the dumps?" asks one Reston, Virginia, resident. "What about the snowpocalypse? Let's get each other off today before it all goes south."
And, don't worry, ladies. If you are concerned about whether your needs will in fact be met, Reston has a strict ladies-first orgasm policy.
Then, there is the 51-year-old African-American gentleman advertising his services for a married woman "looking to dally," and promising to "take you to vistas you've read about but didn't think were accessible (and could discuss Kant, the economical of the sequester, or the comparative virtues of anime/hentai)?"

If Baltimore, Maryland, is too far for an interested D.C.-area married woman to travel to have an affair, there's always this 45-year-old winner from northern Virginia who is willing to meet your every need with his "talented tongue" and claims to be up for anything.

There is also the twentysomething "straight curious horny" young man who was heading home from the bars last week, looking to explore a little guy-on-guy action. "[T]his is for real," he says. "Sequestration started tonight :)"

In another corner of the District, an "intense dominant" is advertising for services of a submissive or even a couple of submissives.
Like many other Craigslist regulars, the dom, and other advertisers in this story, use a key word to ensure applicants are not spammers, but are, in fact, humans. In this case, the dom channels every D.C. nerd when he requests that all the interested parties title their replies "sequester."

Or this young woman, who, facing a furlough and with "student loans, rent, car insurance, health insurance, food, soap, eyeliner (survival people)" offers to "cook a baby" for you.
To be clear, she says, this is not a sex ad. She is simply offering her uterus to be artificially inseminated.

And finally, there's the guy who simply asks that some lucky woman come "sequester with him."

Whatever your tastes, sequester-era Craigslist appears ready to use spending cuts as an excuse to request no-strings, no-judgment, end-of-world, mind-blowing, no-name sexy time.