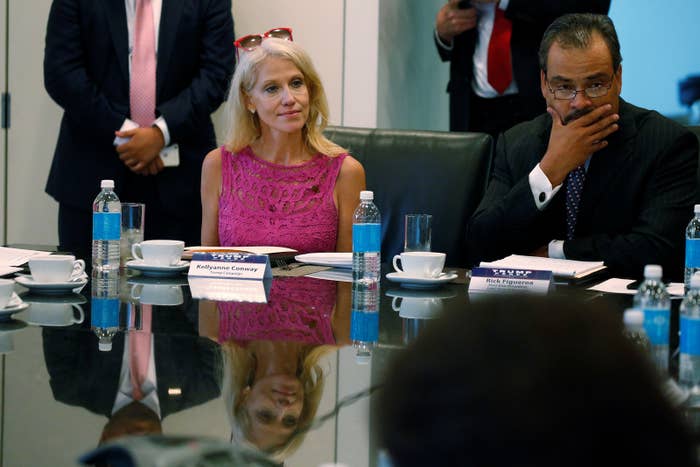 Donald Trump campaign manager Kellyanne Conway conceded Wednesday that the campaign has stumbled in recent weeks under an onslaught of negative coverage about allegations of Trump's unwanted sexual advances and his feud with GOP leaders.
Appearing on Fox News personality Brian Kilmeade's radio show on the eve of the final presidential debate in Las Vegas, Conway was pressed about Trump's drop in the polls.
"We have taken a little bit of a hit," Conway admitted. "We've got a lot of negative coverage, and Hillary Clinton's campaign is leading with scarcity as a strategy."
Conway implored Trump to stay on the issues during Wednesday's debate: "The issue set still favors him. If he can focus on the issue sets, on showing the real contrast with her on the big issues of the day...then he wins."
Conway also pushed back against Marco Rubio's admonition to GOP leaders not to discuss John Podesta's hacked emails, claiming that they shed light on Hillary Clinton. "People have a right to see who they are because with Hillary Clinton, it's always behind closed doors, it's always in secret that we learn what she really thinks of people," Conway said.