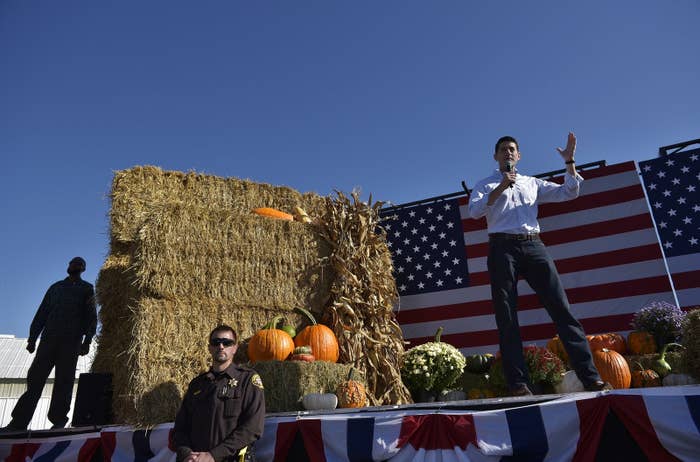 In an interview that aired on Sunday, House Speaker Paul Ryan reiterated his support for Trump and said he had a "tremendous opportunity" at Sunday night's showdown with Hillary Clinton.

Though the interview aired Sunday and includes reference to "tonight's" debate, it was recorded on Wednesday, according to a Ryan spokesman.
"This is the town hall format, and I think it gives an opportunity to connect individually with citizens," Ryan told radio host and former New York mayoral candidate John Catsimatidis. "I think this gives Donald a tremendous opportunity to do that."

Asked what advice he would give Trump before the critical debate, Ryan said, "I think Mike Pence set the tone the right way. I think Mike Pence showed what we can accomplish and what our principles are."
The video featuring Trump's vulgar comments was released on Friday, and Ryan sharply criticized the nominee, though he did not withdraw his support.
In the interview, Ryan added that he would be criss-crossing the country in the next 30 days campaigning on behalf of vulnerable Republican candidates and promoting his "Better Way" agenda.
"Go to Better.GOP and look at the reforms we're offering that can be accomplished with a unified Republican government — with a Republican president, a Republican Senate, [and] a Republican House," he said. "We are offering the country better ways to fix our country's big problems."
"We are and he is on board with this, and we do talk regularly about this and everything else," Ryan said of Trump, when asked about the nominee's support for the agenda, before talking about his relationship with Mike Pence.
This interview was recorded last Wednesday, but aired on Sunday. This story has been updated to reflect that.