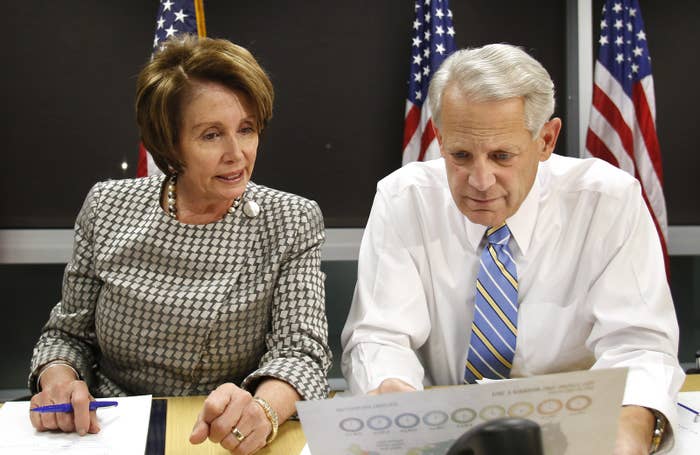 Democratic leaders began Wednesday to pick up the pieces of Donald Trump's stunning repudiation of Hillary Clinton on Tuesday and chart a path forward under a President Trump and a Republican-controlled Congress in January.
New York Rep. Steve Israel, the former chairman of of the Democratic Congressional Campaign Committee, said the party "needs to do some serious soul-searching" in the wake of Clinton's defeat.
"We've got to learn again how to connect with working-class voters," Israel said in an interview with progressive radio host Bill Press. "We've lost sight of how to connect with that middle-class anxiety."
"I think we had a perfect storm of misreading that anxiety, that anger, that resentment that's out there," Israel told Press.
Israel argued that Democrats could no longer rely on their ground game to overcome weaknesses with working-class voters, particularly in the Rust Belt states, which Trump marshaled to decisive victories in Ohio, Pennsylvania, Michigan, and Wisconsin.
"We need to take our head out of these polls and feel what the American people are feeling. There's a sense of disconnectedness, of economic trauma, complete breakdown in faith in all institutions," Israel said.
Israel took solace in the national popular vote total, which Clinton carries by 200,000 votes early Tuesday afternoon.
"A significant number of Americans did not want Donald Trump as their president and do not subscribe to his polices. We've got to rebuild based on what really is a new silent majority of Americans who disagree with Donald Trump, Israel said. "There's frustration in these numbers but also opportunity"
Israel added that Democrats will have to use every tool at their disposal to block Trump and a Republican Congress from undoing President Obama's policies.
"Thankfully — I never thought I'd live to say this — the filibuster is going to stop some extremely bad things from happening. We're going to have to use those tools."