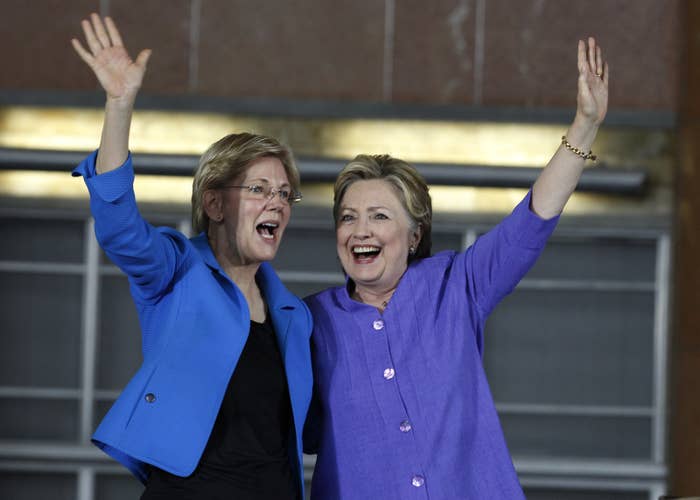 A new round of hacked emails from Hillary Clinton campaign chairman John Podesta sheds light on Clinton's relationship with Massachusetts Sen. Elizabeth Warren, as well as Warren's initial wariness about Clinton's economic plans.
In a January 2015 email from chief Clinton speechwriter Dan Schwerin to top Clinton advisors, Schwerin shared details of his meeting with Warren aide Dan Geldon. The conversation, Schwerin noted, followed a Clinton-Warren meeting in which Warren gave Clinton a "list of people they do like" to advise her campaign and serve in a potential administration.
Schwerin noted that Warren's camp "seem wary - and pretty convinced that [Bill Clinton Treasury Secretary Richard Rubin] folks have the inside track with us whether we realize it yet or not - but open to engagement and to be proven wrong. He mentioned that everyone will be watching carefully any leaks about who HRC is meeting and talking to."
Schwerin described the meeting as a "polite and engaged but not exactly warm conversation." Geldon "was intently focused on personnel issues, laid out a detailed case against Bob Rubin school of Democratic policy makers, was very critical of the Obama administration's choices, and explained at length the opposition to [Obama Treasury nominee] Antonio Weiss," Schwerin wrote.
Over the past several days Wikileaks has release emails from the account of John Podesta, the Clinton campaign chairman. The US government, in a statement last week, blamed Russia for a series of hacks on Democratic Party officials, stating, "the recent disclosures of alleged hacked e-mails on sites like DCLeaks.com and WikiLeaks and by the Guccifer 2.0 online persona are consistent with the methods and motivations of Russian-directed efforts."

Schwerin told Geldon that the Clinton campaign had reached out to many of Warren's favored candidates and that he would continue to stay in touch.