Election Forum At Orthodox Synagogue Exposes Rift Among New York City Jews
Brooklyn assemblyman Dov Hikind won't vote for either candidate and plans to write-in House Speaker Paul Ryan for president.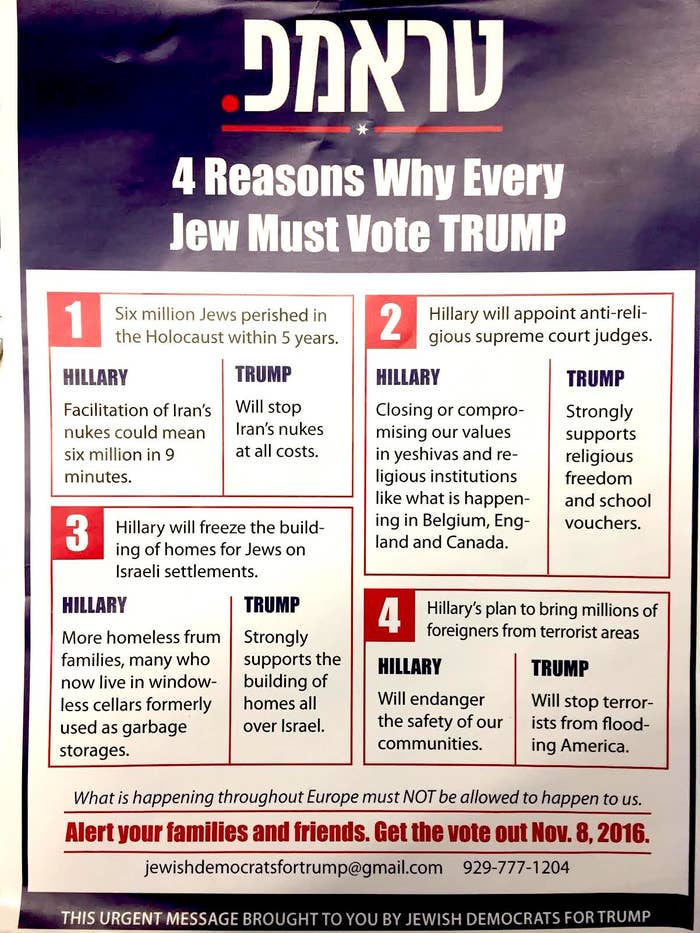 Flatbush, Brooklyn isn't exactly a crucial swing district, but Orthodox Jews gathered at a synagogue here Monday night nonetheless to debate the candidates — and offer a glimpse of a growing community's political leanings.
More than 100 people came to Talmud Torah of Flatbush for "Election 2016: The Jewish Perspective," a panel moderated by local radio host Leon Goldenberg. The event included New Jersey Rabbi Menachem Genack, who spoke in defense of Clinton, and Brooklyn assemblyman Dov Hikind, who said he plans to write-in Paul Ryan for president on Nov 8.

But while there were no Trump supporters on stage, the audience had its share, including Heshy Friedman, a member of "Jewish Democrats for Trump," a group that is running ads in Jewish newspapers in swing states including Florida and Ohio.
Rabbi Genack, a longtime Clinton supporter, noted that he had voted Republican the last three presidential elections, but would vote for Clinton on Nov. 8 because of her advocacy for Israel as First Lady, senator of New York, and secretary of state. Clinton distinguished herself from Obama during her tenure at the State Department and would be a stronger ally to Israel than the president, Genack argued.

"This notion that Hillary is Obama is inaccurate," Genack said. Clinton shared an "emotional bond" with Israel and "will hopefully move the party back to the center because she's a moderate," the rabbi told the audience.

Hikind, a Democrat whose political roots are in pro-Israel radicalism, took swipes at both Clinton and Trump and told audience members to vote their conscience. Hikind argued that Clinton's approval of the 2015 Iran nuclear agreement disqualified her for the presidency and Trump's lack of foreign policy knowledge made him a threat to Israel. Instead, Hikind announced he would write-in Paul Ryan for president.
"This is the kind of person we really need," he said of Ryan.

Hikind, who earned headlines in 2013 for dressing up in blackface to a party and once suggested Jewish support for Obama was "a disease," said he often crossed party lines to vote Republican. "Today, Republicans are our best friends. They really are our best friends."
Both men offered scathing criticism throughout the evening of President Obama's approach to Israel, his contentious relationship with Prime Minister Netanyahu, and the Iran deal. "Obama is a disaster for America," Hikind exclaimed. "We both agree that the Iran deal was a terrible deal," said Genack.
Hikind saved some of his sharpest comments for Bernie Sanders and the liberal wing of the Democratic Party that he believed was increasingly hostile toward Israel. "Progressive Democrats scare the daylight out of me," Hikind said. Sanders "represents everything that endangers the well being of the Jewish state."
American Jews traditionally vote for Democrats, though a 2015 Gallup poll showed that nearly 30% of Jews identified as Republican—up from 22% in 2008 and with Orthodox voters leaning more toward Republicans.
Like Assemblyman Hikind, much of Flatbush's Orthodox community still identifies with the Democratic Party but supports national GOP candidates.
Friedman, the "Jewish Democrats for Trump" activist, said he voted Democrat in local New York races but supported Republicans at the top of the ticket.
Ayton Eller, another Flatbush resident who identified as a Democrat, wore a Trump logo on his skullcap.
"I'm an American Jew first, and I'm voting for Trump because he's a strong supporter of Israel," Eller said. "When Clinton was New York's senator, she pandered to Jews. As soon as she became secretary of state, she flipped her policies and opposed Jewish settlements. She supported the Iran nuclear deal, which is a catastrophe for Israel that legitimizes Iran."
One "Jewish Democrats for Trump" flier Friedman's group passed out read "4 Reasons Why Every Jew Must Vote TRUMP" and included a message at the bottom, "What is happening throughout Europe must NOT be allowed to happen to us." Another made reference to the Holocaust: "Hillary's facilitation of Iran's nukes could mean six million in 9 minutes. Never again dare we remain silent."