"Veterans For Trump" Co-Chair Claims Clinton Has Parkinson's Disease
"I believe she has pneumonia caused by Parkinson's disease," Daniel Tamburello wrote.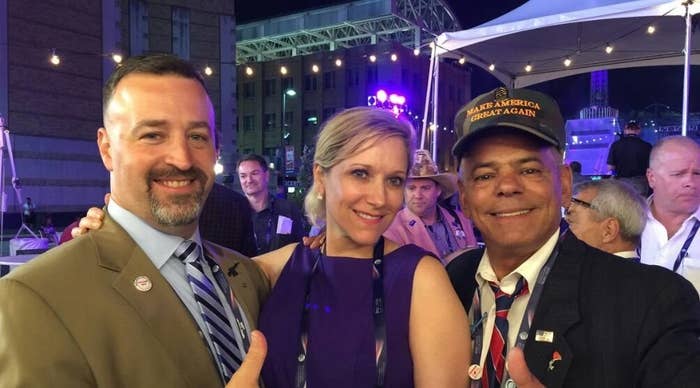 A co-chair of the "Veterans for Trump" coalition wrote on his Facebook page on Monday that he believes Hillary Clinton has Parkinson's disease.

"They may have admitted HRC has pneumonia, but that's not WHY she has pneumonia. I believe she has pneumonia caused by Parkinson's disease," Daniel Tamburello wrote.
Tamburello, who is a New Hampshire State representative and was a Donald Trump delegate at the Republican National Convention, explained that his father has Parkinson's disease and that he is familiar with its symptoms.
The Trump campaign announced in July the formation of the "Veterans for Trump" Coalition and that Tamburello would be the group's co-chair. Neither Tamburello, nor representatives for the Trump campaign, responded to request for comment.
Bloomberg reported on Sunday that Trump would remain quiet on Clinton's health. Tamburello wrote his statement on Monday, a day after a video of Clinton struggling to walk as she left the 9/11 memorial went viral. The Clinton campaign later announced that she had been diagnosed with pneumonia on Friday.
Clinton campaign spokesman Brian Fallon said on Monday that Clinton has "no other undisclosed condition" and that she will resume campaigning later this week.
Also in his post, Tamburello wrote that people with Parkinson's and pneumonia have a high mortality rate and speculated that Clinton was hiding a medical device under her clothes.

"This in a combination with her recent fondness of mumus, makes me think she is concealing a deep brain stem battery pack that counters her tremors from Parkinson's (my dad has this battery pack too)," Tamburello wrote.