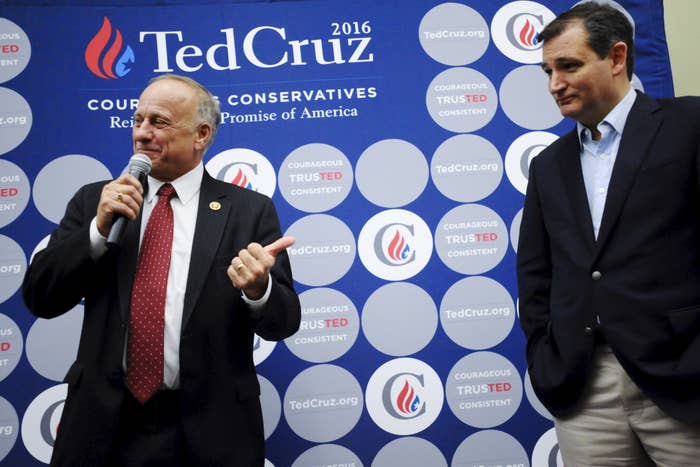 Republican Rep. Steve King of Iowa, a supporter of Ted Cruz's now suspended presidential campaign, said in an interview on Wednesday that Donald Trump must reach out to conservatives after running an insult-heavy campaign.
In a radio interview with Jeff Angelo, King also said that he'd have to talk to Trump before coming out with a strong endorsement for him.
"I've never seen a nominee pour out so many insults on other people as Donald Trump has," King said. "This isn't the day to highlight all those and grind through all that, but I'll say this: Donald Trump will have to reach out to conservatives and do some convincing."
"You're the candidate, you're gonna have to convince people to come behind ya. There were five to six million conservatives who didn't come out and support Mitt Romney, and he might have been the nominee today had he been able to get conservatives to come out and vote for him. So I wanna hear some things from Donald Trump on how things will be and how he will do."
King clarified though that he was not a part of the "Never Trump" movement and was open to being persuaded by Trump and potentially working with him to craft a policy that could lead to a Republican victory. He said he would want an opportunity to speak with Trump before an endorsement.
"I don't expect him to apologize for all the insults he's thrown out, there's no pattern of that taking place," King said, "so let's figure out how this is gonna happen going forward. There's some things I'm uneasy about, but I don't think this is a good day for me to go down that list. Donald Trump is a phenomenon that we've never seen in politics before."