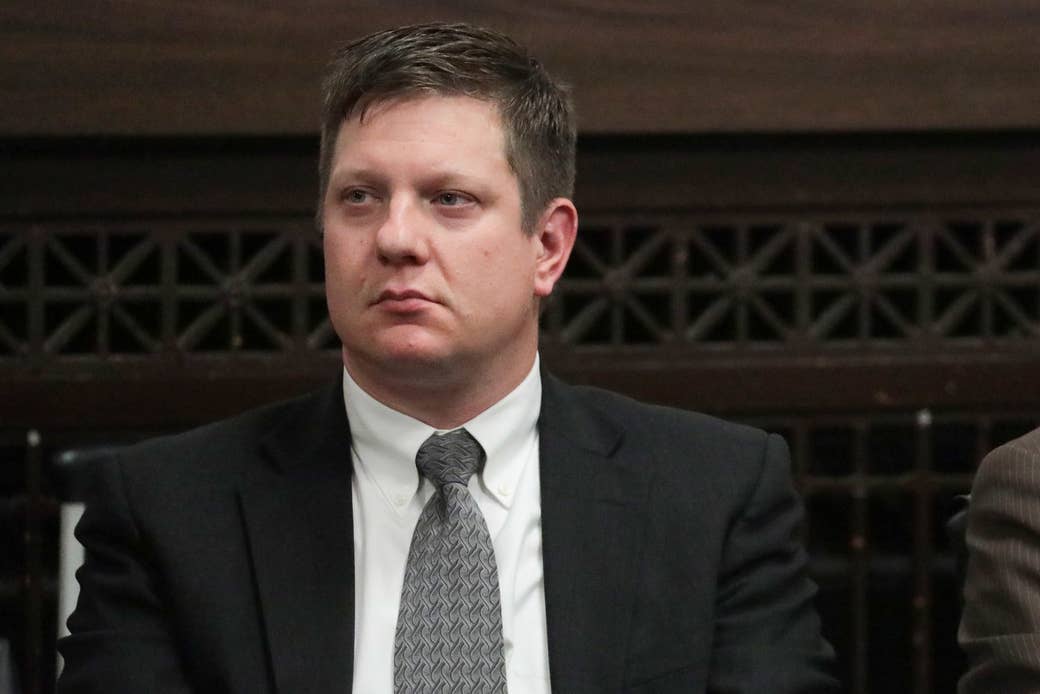 The afternoon of the verdict in Chicago is cool and crisp — an unquestionably Midwestern fall. The sky is overcast and gray. I'm driving to deliver a set of my books to the organization Liberation Library. According to its website, Liberation Library "provides books to youth in prison to encourage imagination, self-determination, and the outside world of their choosing." This means that young people who have been put in cages can choose literature to serve as a lifeline to imagine a world beyond their cages. Some of those young people have asked for my book, and I am happy to be a lifeline.

I deliver the books quickly and jog down the stairs and back to my car to turn the radio on. I want to hear it for myself. I want to feel whatever this moment has in store firsthand. I don't want it through timelines or pundits or news alerts or shouts in the street. I want to hear the jury foreman say their piece in real time.
As I turn the ignition the radio broadcasts the judge articulating the conditions for the charge of second-degree murder. He explains this technicality for the courtroom, so they can understand how this charge is distinct from first-degree. Then he yields the floor to the jury.
I have to pull my car over after driving a shaky two blocks. I'm breathing too hard to navigate. The jury spokesperson announces "guilty" for second-degree murder. The spokesperson reads each count of assaulted battery, saying "guilty" for each of the 16 gunshots. I tear up. I don't mean to cry, but my body reacts to the recounting of what each bullet took from Laquan and from us.
I want to feel joy. I want to feel vindication. I want to feel righteous relief. I want to feel the satisfaction in knowing that the work of organizers, activists, artists, and so many everyday people across the city and country was not in vain, that there was restitution for the theft of a young man's life. I feel all these things, vaguely, but mostly I feel sad.
The final charge was official misconduct. This is the only charge for which Officer Jason Van Dyke is found not guilty. This not guilty rattles in my chest. This charge reminds me that this officer's conduct, though judged criminal, was not judged outside the bounds of acceptable behavior in the police system.
Jason Van Dyke's conviction is right, but obscures larger truths. The mayor fought against releasing the video of McDonald's murder. The police department covered for Van Dyke. Our justice system is set up to strip life, possibility, and self-determination from black people. Jason Van Dyke overstepped in that mandate and so he will have those things stripped from him, but he is collateral damage. Van Dyke still served Laquan a life sentence on Pulaski Road in 2014. Laquan is still gone from the people who loved him.
The guilty verdict given to Van Dyke is necessary and so infuriatingly insufficient. The young man who was snatched with bullets will not reanimate with the clink of Van Dyke's cell. The stripping of life from black people in Chicago and beyond will not stop at the sentencing hearing. The use of bullets, bars, and intimidation to determine the lives of the oppressed will not end after today.
I feel no joy at this historic verdict — Van Dyke is the first Chicago police officer to be convicted of murder in 50 years. It is a sham that this verdict took the full force of citywide outrage to achieve charges and then a conviction. It should not take the continued martyrdom of black people to expose this country's moral bankruptcy. Laquan deserves to be here without us knowing his name for something done to him rather than for something he did for himself. This is the fundamental struggle of black people in this country, to be able to do for ourselves despite all that has been done to us.
I hope this verdict brings some closure to the people who loved Laquan. I hope this verdict makes Chicago rethink budgets that fund police above all else, a tax that my communities pay in fear and blood. I hope this verdict opens a small window through which we might reconsider, as a society, what justice looks like.
I hope that we can have better visions for liberation than cages. I hope that the young people who will grow up where Emmett Till and Laquan McDonald and Rekia Boyd and I grew up will have their chances for libraries and for liberation. I hope that we can make a way forward with new institutions that don't murder us as part of their "official conduct."●