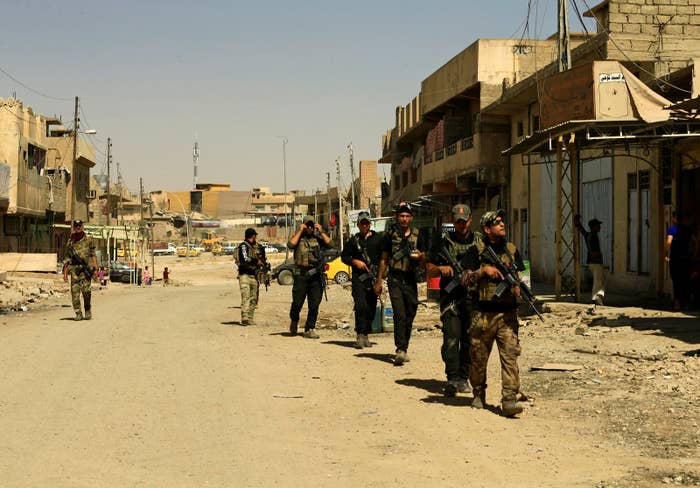 In the two weeks since Iraqi forces declared victory over ISIS in Mosul, local and international media have told a grim counterstory to the scenes of celebration — a rash of extrajudicial killings of suspected ISIS members at the hands of Iraqi security forces.
The killings are no secret. Videos of Iraqi soldiers executing ISIS suspects have been posted to social media. Human Rights Watch and other watchdogs have issued reports. Iraqi military officers have openly discussed their participation in torture and revenge killings with reporters.
Yet US troops embedded with the Iraqi military have reported seeing little of this, a US military official told BuzzFeed News — fewer than five instances. The lack of US reports raises an uncomfortable question: Have US forces simply been absent when the most horrific abuses have taken place or are they ignoring them?
"My presumption would be that they don't want to know that all the forces they are supporting have to go on the blacklist," Belkis Wille, senior Iraq researcher for Human Rights Watch, told BuzzFeed News. "The vast number of abuses we are seeing in Mosul are by Iraqi government forces."
A Kurdish security official watching the post-Mosul fallout from the nearby regional capital of Erbil told BuzzFeed News he agreed with that assessment.
"I think they're ignoring it," he said. "It's no secret. The bodies are turning up in the Tigris River. They're being shot on the roadside. Groups are going around at night and taking people out. This is what post-Mosul is. This is just the beginning."
The Kurdish official noted that US policy in Iraq now has different goals from when the US first occupied the country hoping to turn it into a model democracy.
"Remember the US is not here for nation-building," he said. "It's not 2003. I think their singular objective is to take out ISIS. And if that means the Iraqis are going to take part in extrajudicial killings, I don't think it's their place to get involved. What can they do? I think they find themselves in a very difficult position."
The US military rejects suggestions it doesn't care about abuses by Iraqi forces, noting that US troops are instructed to report what they see. But Army Col. Ryan Dillon, the Baghdad-based spokesperson for the US-led coalition fighting ISIS in Iraq, noted that US advisers are largely working at a headquarters level, not on the front lines, where they would be more likely to see day-to-day actions of Iraqi forces.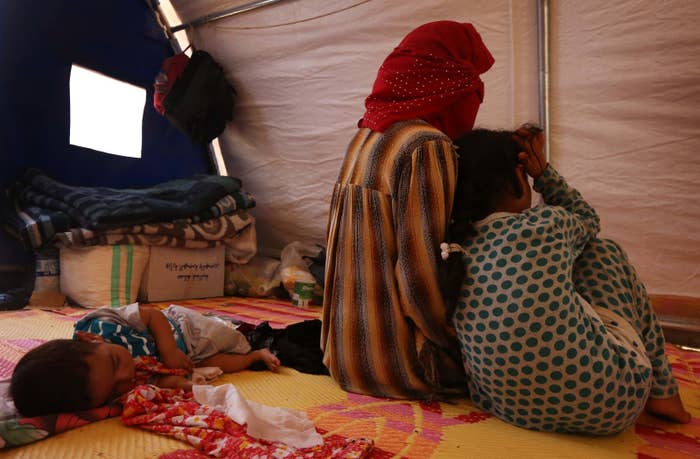 Under the laws of war, US military personnel are obligated to report abuses they see to the authority in charge of the suspected troops, in this case to the Iraqi government.
Dillon said that US troops have reported "less than five first-person accounts" of potential abuse by US-trained Iraqi forces.
A US defense official told BuzzFeed News that one of those cases involved a relatively minor offense in which a US service member saw an Iraqi soldier mistreating a detainee during transport. All were far less serious than what has been documented elsewhere, the defense official said.
"None of the incidents that coalition forces have observed include extrajudicial killings or any of the alleged abuse that's recently been reported in and around Mosul," Dillon said.
From the time the US military overthrew Saddam Hussein until the US occupation ended with the Obama administration's withdrawal of the last combat troops in 2011, ferreting out abuse by Iraq's largely Shiite Muslim police and military was a common US theme. In one instance in 2009, US forces discovered a secret prison where 170 mostly Sunni Muslim detainees were being tortured and abused. Most of them were blindfolded when the Americans stumbled on the facility, and many were dehydrated and unable to walk.
But such an activist role isn't part of the US mandate in the current Iraqi fight. While US military officers privately express outrage at the killings, there has been no official expression of concern from the United States. Neither the Defense Department nor the White House has put out a statement condemning the abuse. There's been no public protest to the Iraqi government.
Furthermore, after years of emphasizing the US military's partnership with its Iraqi counterpart — and a current Pentagon budget that allocated $1.17 billion for training and equipping the Iraqi military — the US military has shifted to highlighting the gap between its forces on the ground and their Iraqi counterparts.
The situation in Mosul reveals how little control the US has over the forces that it has spent so much time training and so much money arming. An anonymous activist who runs a blog, Mosul Eye, said that residents feel trapped between ISIS and the soldiers who came to free them.
"When you have no options, you shall accept everything," he said by chat. "I do not say that all the [Iraqi security forces] are bad, but, when it comes to describing [their] behavior toward the people in Mosul, I won't say it is good. But the people accept it as they cannot compare them to ISIS."
He said he believed the role of Iraqi security forces in extrajudicial executions could pave the way for ISIS's eventual return – or the birth of a similar group.
"I think that the mistakes made by ISF and Intl coalition would give IS good reasons to recruit more and more fighters in the near future," he said.
That's a concern of US military officials as well. They worry that retaliatory killings by the Iraqi forces will only feed a cycle of violence that allows for the rise of ISIS 2.0. For US military veterans of the Iraq War, such attacks after the purported defeat al-Qaida in Iraq in 2007 and 2008 contributed to the rise of ISIS in 2014.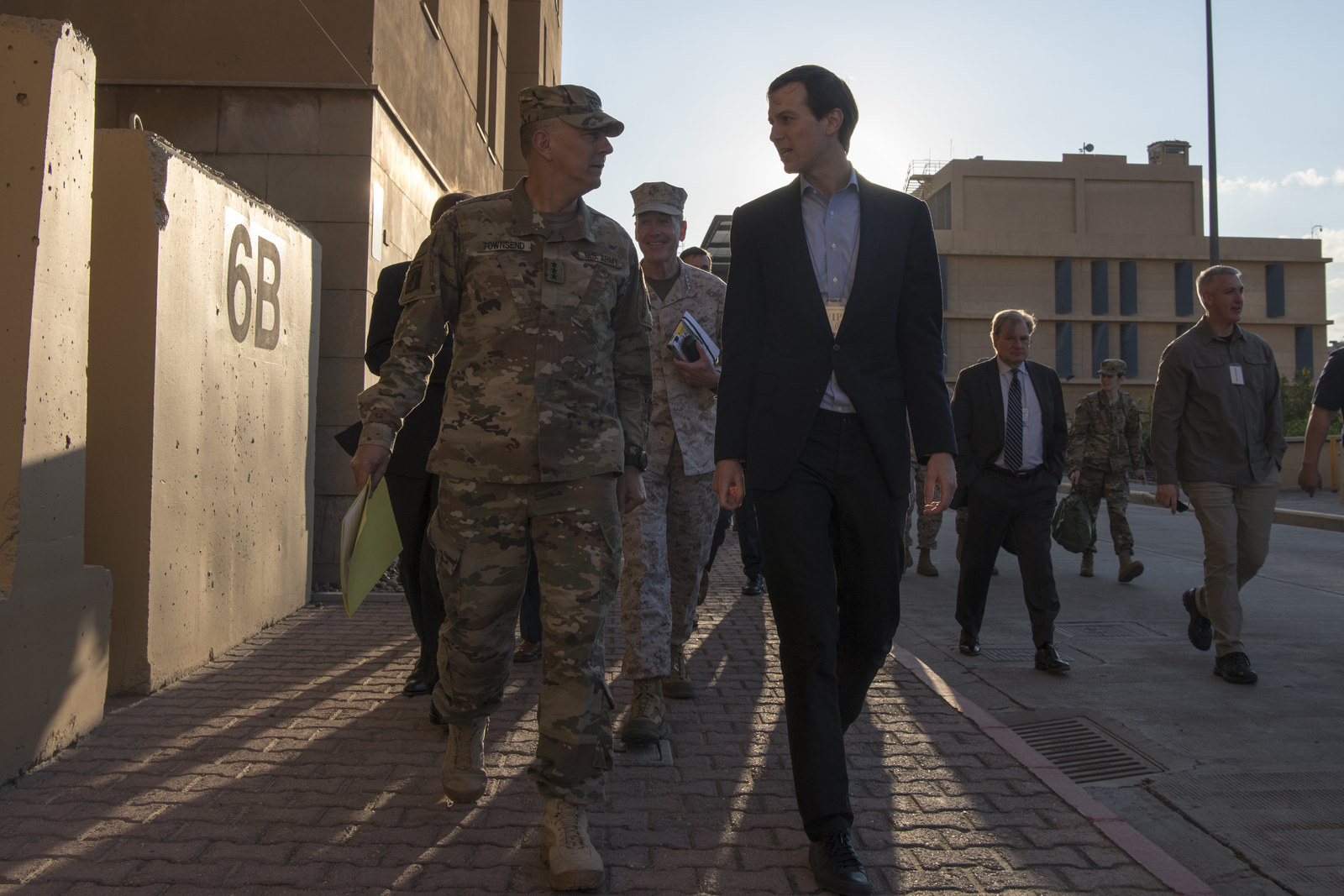 Army Lt. Gen. Stephen Townsend, who leads the US war against ISIS in Iraq, said at a Pentagon briefing earlier this month that friction between Sunni Muslims and the Shiite-led government in Baghdad had been "the primary condition that caused the rise of ISIS."
"A significant portion of the Iraqi population, in this case the Sunnis, felt disaffected. They felt like Baghdad was not their government; didn't represent their interests," Townsend said.
"What will happen after the defeat of ISIS rides not on whether there's a coalition presence or not, in my view, but predominantly rides on whether there's a political reconciliation" between Sunnis and Shiites, he said. "And we've got to make sure — the Iraqis have to make sure after ISIS is defeated, that all Iraqis view the government in Baghdad as their government."
US silence on the post-Mosul killings is unlikely to promote that. US spokesperson Dillon noted that the Iraqi Ministry of the Interior had created a committee to investigate the allegations, but Wille, of Human Rights Watch, said she held out little hope for that probe. Since 2003, there are no known instances of a committee investigation leading to a conviction for abuses, Wille said.