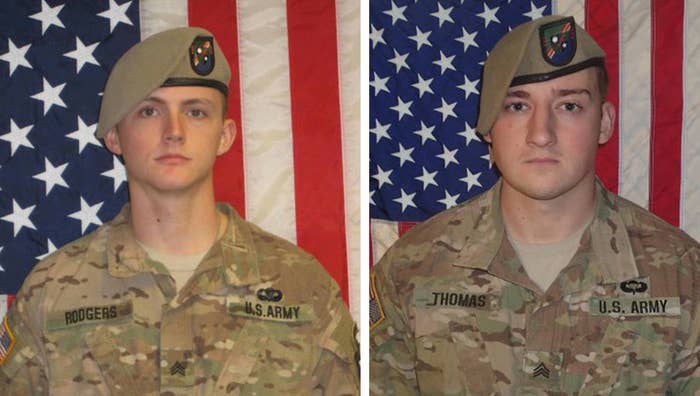 Two US troops were killed and a third was wounded in eastern Afghanistan during a raid against the local ISIS affiliate, the latest casualties in what appears to be a ramped up US military campaign against the militants.
The troops conducted the raid Wednesday night against the group known as ISIS-Khorosan (ISIS-K), according to a US military statement released on Thursday. On Friday, the Department of Defense identified the two soldiers who died as Sgt. Joshua Rodgers, 22, and Sgt. Cameron Thomas, 23.
On May 7th, US and Afghan armed forces confirmed that the April 27 raid led to the death of numerous high-ranking ISIS affiliates, in addition to Abdul Hasib — the head of ISIS-K.
Defense Secretary Jim Mattis praised the two men in a statement Friday, saying they "proved themselves willing to go into danger and impose a brutal cost on enemies in their path."
"Our nation owes them an irredeemable debt, and we give our deepest condolences to their families," Mattis said.
Wednesday's deaths were the second and third combat deaths for US troops in Afghanistan this year.

Army Staff Sgt. Mark De Alencar, 37, of the 7th Special Forces Group, was killed earlier this month by small arms fire while conducting anti-ISIS operations. All three died in Nangarhar province, where ISIS controls three of the province's districts.
On Wednesday, the troops killed were part of partnered operations with their Afghan counterparts when they came under attack, according to a Pentagon statement. A US military official said at least 18 ISIS fighters were killed in the raid.
"The fight against ISIS-K is important for the world, but sadly, it is not without sacrifice," Gen. John W. Nicholson, Commander, US Forces-Afghanistan, said in the statement. "On behalf of all U.S. Forces and our coalition partners, I offer our deepest sympathies to the families, friends, and fellow service members of our fallen comrades."
Rodgers was from Illinois and Thomas grew up in Ohio. Both men were on their third deployments to Afghanistan.
Over the course of the US's longest war, the fight in Afghanistan has shifted. Nicholson has called the war against the Taliban in a "stalemate," but promised to rid Afghanistan of the hundreds of ISIS fighters there in 2017, even as US officials have said the Taliban is a bigger threat to Afghan security.
The result is the roughly 8,400 US troops in Afghanistan have increasingly stayed behind the wire and let their Afghan partners confront the Taliban threat. Instead, in recent weeks, US forces have increasingly engaged in fighting ISIS-K, as Nicholson has called for an increase in troops at his disposal.
That shift could be seen when Nicholson made the decision earlier this month to drop the aptly nicknamed 21,000-pound conventional "Mother of All Bombs" on a suspected ISIS underground network earlier this month.
Both threats have posed challenges this month. Last week, both the Taliban and ISIS claimed responsibility for a bevy of men dressed as Afghan soldiers who stormed an Afghan base and killed at least 140 local troops, the deadliest attack on those forces in the 15-years of the war. US military officials have said they suspect the Pakistan-based Haqqani network was actually behind the attack.
Earlier this week, during a visit with Secretary of Defense Jim Mattis, Nicholson said the ISIS had hoped to build a stronger network in Afghanistan but so far had failed. Rather than join the terror group, wannabe insurgents instead are joining other local groups, the general said.
A US military official said roughly 500 ISIS fighters had been killed so far this year, leaving just 800 in country.
"Coalition forces already have reduced the group by about two-thirds in size and "reduced their fighters by about half," he said. "It should be very clear to ISIS main, there is no space in Afghanistan."