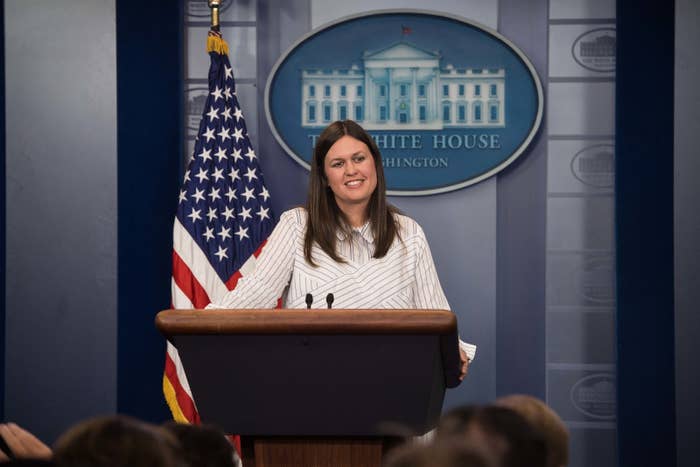 The most perplexing question about Russia this week, say US national security experts, isn't whether the Trump election campaign colluded with the former Cold War rival, but how does the White House view Russia now?
Three times this week, on Monday, Tuesday, and Wednesday, a White House spokesperson could not say whether the Trump administration considers Russia a friend or foe.
"I believe the same question was asked of you yesterday. You said you'd get back to us," a reporter asked Sarah Huckabee Sanders during the White House off-camera press briefing Wednesday. "And I think it's a pretty basic question as to whether or not the president views Russia as a friend, a partner, an ally, or an adversary. Do you have an answer yet on that question?"
Sanders offered a two-word reply: "I don't."
The lack of an answer is frustrating many within national security circles who say the inability or the unwillingness of the White House to settle on a view of Russia has paralyzed policymaking.
Is the former Cold War adversary now an ally? Is it an arms-length strategic partner on only certain issues, like managing airstrikes in Syria? Or is it actively working against US interests across the globe?
"The Trump administration defines a good relationship as the goal of their Russian policy. And that's backwards. The focus should be what the US's national security and economic interest is and how do you achieve that," Michael McFaul, who served as US ambassador to Russia from 2012–14, told BuzzFeed News. Without a clear policy, "your government doesn't know what it is supposed to be achieving and it leads to everyone doing their own thing. You have contradictions."
In the absence of guidance from the White House, the Pentagon has assembled its own decidedly ad hoc policy toward Russia, heavily dependent on avoiding accidental clashes in the skies over Syria, where the realities of war have outpaced White House policy.
That approach is consistent with how the department defined US–Russia relations in its 2014 Quadrennial Defense Review, the last formal document on the subject. "The United States is willing to undertake security cooperation with Russia, both in the bilateral context and in seeking solutions to regional challenges, when our interests align, including Syria, Iran, and post-2014 Afghanistan," that document concluded. "At the same time, Russia's multi-dimensional defense modernization and actions that violate the sovereignty of its neighbors present risks. We will engage Russia to increase transparency and reduce the risk of military miscalculation."
Other agencies have drafted their own definitions of the US–Russia policy. FBI Director designee Christopher Wray, during his confirmation hearing this week, said, "I think Russia is a foreign nation that we have to deal with warily."
Secretary of State Rex Tillerson has expressed several views on US–Russia relations. In April, he said that the Russians had a choice in Syria: continue to align themselves with Syrian President Bashar al Assad, Iran, and groups such as Lebanon's Hezbollah, or join with "the United States ... other Western countries and Middle East countries who are seeking to resolve the Syrian crisis."
Yet after a meeting between Trump and Russian President Vladimir Putin at last week's G20 summit in Hamburg, Germany, Tillerson saw few differences. "I would tell you that, by and large, our objectives are exactly the same," he said.
Allies have said they are struggling to identify a US policy toward Russia. Earlier this week, Gernot Erler, a German coordinator for relations with Russia, told Reuters: "We are witnessing an indecisive back and forth in America's policy toward Russia."
The only part of the Russia policy the White House has publicly sought to put its imprint on is US sanctions put in place at the end of the Obama administration to protest Russian meddling in last year's election. Trump campaign officials allegedly discussed those with Russian diplomats.
The US announced this week it had scheduled a meeting Monday in Washington between Undersecretary of State Thomas Shannon and Russian Deputy Foreign Minister Sergei Ryabkov to discuss "so-called irritants" in their relationship, including sanctions.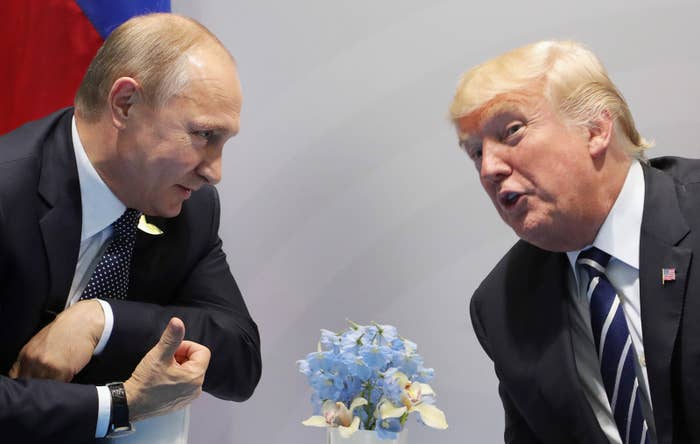 This week, the president's son Donald Trump Jr. tweeted images of emails between him and a publicist for a Russian singer whose family had interacted with the Trump family. The publicist said he wanted to arrange a meeting between the campaign and a Russian lawyer who had damaging information about Clinton. "If it's what you say I love it," the younger Trump responded. He then set up a meeting with that lawyer; the president's son-in-law Jared Kushner, who was a top campaign adviser; and Paul Manafort, who was then managing Trump's presidential campaign.
The emails don't prove that anything illegal took place. But they do show, for the first time, that the Trump campaign was willing to work with Russia to defeat Hillary Clinton. They also provide the first concrete evidence that someone in the Trump camp knew early in the campaign that the Russian government favored Trump's ascent to the White House.
Republican operatives acknowledge that the Russia probe has taken a toll on the White House's ability to govern.
"The White House is becoming all consumed by Russia issues. And by consumed, I mean paralyzed. They just don't know what to do and so are in a defensive crouch more than anything else," a Republican Senate aide told BuzzFeed News, agreeing to speak only anonymously.
The paralysis affects not just policy toward Russia.
A new strategy toward Afghanistan, due this week, has yet to be unveiled, and Pentagon officials have yet to say when it could be released. Afghanistan commander Army Gen. John Nicholson first publicly asked for more troops in January. The Trump administration also has yet to announce its strategy for addressing ISIS even though the Pentagon submitted its 30-day review of that war in February.
Pentagon officials don't want to pin the administration's difficulty in spelling out policy to the distraction of the Russia election meddling probe. They note that it was hard at the beginning of the administration to get on the administration's schedule to discuss changes to the policies.
But the US cannot make major policy changes in the wars in Afghanistan or against ISIS, as Trump promised, without clear White House guidance on what outcomes it wants to see from those wars. And those decisions have stalled.
"It's benign neglect," one US official concluded.
On Wednesday, Republican Sen. John McCain said he was working on an amendment to the annual Defense Department budget that would include an Afghanistan strategy, saying he was frustrated by the lack of one from the Trump administration.
"I told them months ago, unless you give us a strategy, we'll give you a strategy," McCain said.
(John Hudson contributed.)