The military will no longer announce the deaths of US troops in Afghanistan until days after they've occurred, a major change in policy nearly 16 years into a war whose end is not in sight.
Neither the Pentagon nor the US command in Afghanistan announced the change. It instead became apparent on Wednesday, when the Pentagon announced that Army Pfc. Hansen B. Kirkpatrick, 19, of Wasilla, Alaska, had died from indirect fire on July 3 in Afghanistan's Helmand province.
Until Kirkpatrick's death, commanders in Afghanistan would authorize a brief statement about troop deaths offering only minimal details about what had happened. That statement would not disclose the identity or even the service branch of the deceased. The Pentagon would release a fuller announcement 24 hours after next of kin had been notified. That second statement, from the department, would include the service member's name, age, service and rank, and hometown, as well as basic details about the circumstances of their death.
Officials in Afghanistan, however, did not release an initial announcement of Kirkpatrick's death, reflecting an intentional change in policy undertaken at the behest of Army Gen. John Nicholson, the commander of NATO forces in Afghanistan, a Pentagon official told BuzzFeed News.
Why the change is coming now remains unclear, however. US deaths in Afghanistan have been rising — nine members of the military have been killed so far this year, compared to seven in the whole of 2016. A two-day delay would eliminate real-time coverage of US operations in Afghanistan, just as the Trump administration considers sending more troops there to blunt Taliban advances around the country, particularly in urban centers.
Pentagon officials said the policy change was intended to prevent the accidental release of a fallen US service member's name before his or her family has been notified. They cited the reduced number of US personnel in Afghanistan as one factor that makes even a preliminary death announcement potentially revelatory.
But there has been no change in policy for announcing casualties among US personnel in Iraq or Syria, whose numbers are even smaller — at least 5,000 Americans have been deployed to Iraq, while 500 special operations forces are advising local fighters in Syria. The Trump administration is considering sending roughly 4,000 additional US troops to Afghanistan, which would bring the official tally of troops there closer to 13,000.
That suggests the change may be a reflection of the new autonomy that US commanders are enjoying under the Trump administration, which has devolved decision-making authority that had been held by the White House under Barack Obama to local commanders.
Pentagon spokesperson Navy Capt. Jeff Davis said the decision not to make an initial announcement was Nicholson's, though a spokesperson at Nicholson's headquarters in Kabul, who answered the phone but refused to give his name when reached by BuzzFeed News, called it "a DoD policy."
In April, Nicholson exercised his newly granted autonomy by dropping what is known as the 22,000-pound "mother of all bombs," the US's largest non-nuclear explosive, without asking for permission from the Pentagon. The targets were ISIS fighters entrenched in Afghanistan's Nangarhar province.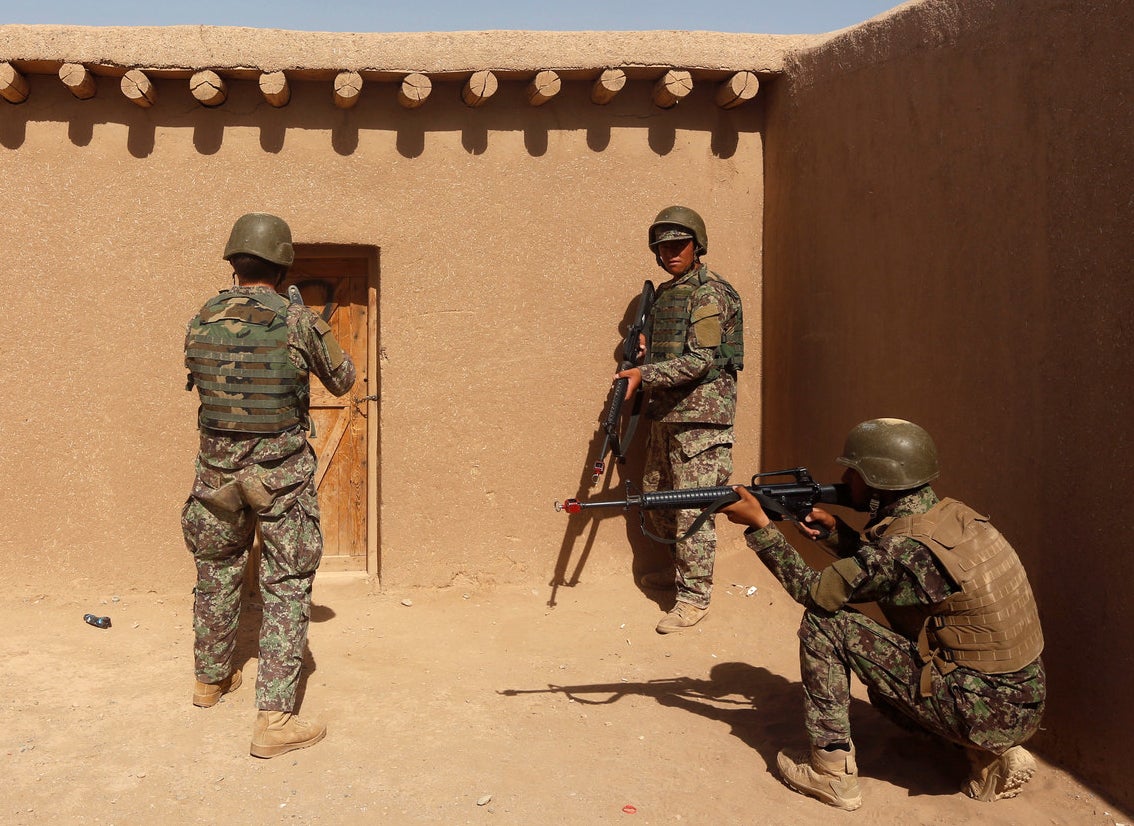 Davis said that Kirkpatrick died in Helmand's Nawah district, a historically troubled area, while he was on a joint patrol with Afghan forces. Kirkpatrick is believed to have died in a Taliban firefight, Davis said.
According to the Pentagon, two other service members were wounded, but their injuries are not life-threatening.
If the policy holds, Nicholson would be the first commander not to release initial information about casualties since the 2001 invasion of Afghanistan, or the 2003 invasion of Iraq.
The change comes amid growing tensions between the Trump administration and the news media, and represents another decrease in official information since Donald Trump became president on Jan. 20. In the months since the inauguration, Trump has sparred repeatedly with reporters, the White House has cut the number of on-camera news briefings it gives, and some departments, including the Pentagon, have reduced the number of news conferences they hold.
The first signs of a potential change in Afghanistan came last month, after an Afghan soldier killed three US troops during an insider attack. Nicholson did not release a statement about the troop deaths until days later, and spokespeople in Kabul refused to even acknowledge that troops had been killed that day. Instead, they simply said they were "investigating reports."