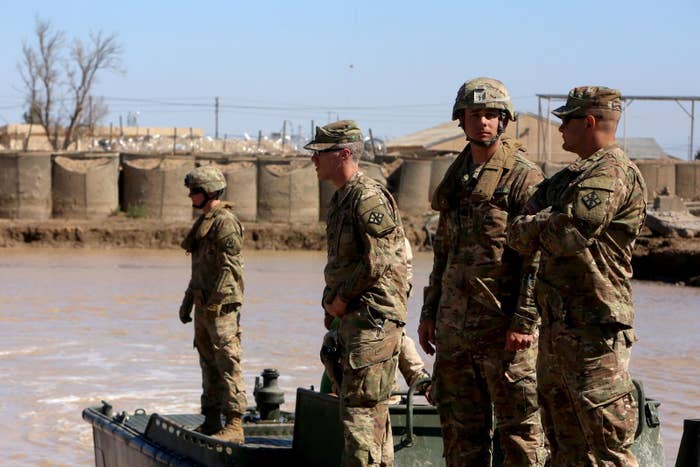 The United States and Iraq now are in talks that would allow an as-of-yet unspecified number of US troops to stay in Iraq after the presumed fall of ISIS.
Just a few years ago, US officials said the military mission was winding down in Iraq and Afghanistan. If the two nations agree on terms, Iraq would join Afghanistan in having US troops stationed there for the foreseeable future.
In Iraq, the US troops would support their local counterparts with skills where they still fall short like counterterrorism, intelligence gathering and aviation, a US defense official explained to BuzzFeed News. They also would advise and assist their Iraqi counterparts.
The US military did not have any estimates of how many troops could be stationed in Iraq. There currently are more than 7,000 troops there now. (The Trump administration is also currently considering deploying as many as 3,000 additional US troops in Afghanistan.)
The US troops would be stationed at former US bases in the cities Balad and Baghdad, a second defense official said, but that list could expand to several other smaller bases. Both nations are seeking favorable terms under a status of forces agreement, or SOFA, which would spell out legal protections for US forces stationed in Iraq.
In addition, given ISIS's surprising and swift takeover of large swaths of Iraq just three years earlier, the US troops would be there "to keep an eye on things." the second defense official explained, should ISIS or some other terror group return to Iraq.
A senior US official said in an interview with BuzzFeed News that the Trump administration appeared to be coming around to the idea that reinforcing the US partnership with the Iraqi security forces could in fact be an effective way to counter Iranian influence in the country.
In recent months, the US military has argued a residual force in Iraq would be a means to build on the goodwill and better relations in Iraq during its nearly three-year military campaign against ISIS. According to them, ISIS has so far lost more than 60% of its territory in Iraq.
Militarily, there were signs that ISIS was already preparing for an Iraq where US forces were no longer advising their Iraqi counterparts or calling in coalition airstrikes against ISIS targets. In the battle to reclaim Mosul, the Iraqi Special Operations Forces (ISOF), the country's best troops, have taken heavy casualties in facing the brunt of the ISIS defense. In March, for example, Army Gen. Joseph Votel, commander of US Central Command, which is responsible for the Middle East, said 774 Iraqi troops and another 4,600 had been killed, then five months into the battle for Mosul. In addition to Mosul, ISOF had led the Iraqi military campaigns to reclaim the Iraqi cities of Fallujah, Ramadi, Tikrit, Hit, among other places.
"ISIS knows they're going to lose Mosul," Jenny Cafarella, a Syria analyst for the Washington-based Institute for the Study of War told BuzzFeed News. "But their goal is to lose it in such a way that the elite and non-sectarian parts of the security forces are exhausted, and the Iranian and their proxies are drawn so far forward that the conditions are set in ISIS's favor to wage a new insurgency in which they can recapture Mosul faster than the three years it took them last time and hold it longer."
A depleted Iraqi force, coupled with the further emergence of Iranian militias, could see the US war against ISIS emerge as "a military win but potentially a strategic loss," Cafarella said.
Leaving some kind of residual US force in Iraq would be in tune with Trump's assertion during the presidential campaign that it was mistake for the US to not leave a residual after it 2011 withdrawal. (In making that argument, he also falsely claimed that former president Barack Obama could be considered the founder of ISIS.)
The Bush administration negotiated the 2011 withdrawal of US forces from Iraq, but the Obama administration failed to reach an agreement with the Iraqis to provide US forces with protections to stay beyond that date. At the time, the seeming end of the war was politically popular in both Iraq and the United States. Iraqis were eager to end what some saw as an occupation, and many Americans wanted to see an end to the then–eight year war.
US military officials said they are more confident they can reach a SOFA agreement this time, but any potential deal is still riddled with uncertainties. For one, it could be months or even years before Iraq is rid of ISIS. How the Iraqi government handles rebuilding the Sunni- and Kurdish-dominated city of of Mosul, for example, could either mitigate sectarian tensions or create room for another terror group to emerge.
And even if Mosul falls, the battle against ISIS does not end. Iraqi cities like al Qaim and Hawija remain under ISIS control, and the battle for such cities could further exhaust an already depleted local force.
Moreover, there is no guarantee that US troops largely stationed on isolated bases can reduce Iranian influence, which could come in the form of militias stationed beside their Iraqi counterparts. Iraq and Iran also share a religion, a long border, and in some cases, national interests in the region.
But just three years after the last US soldier left, on June 10, 2014, ISIS troops stormed Mosul, Iraq's second-largest city, and easily claimed control of the city as many of the US-trained Iraqi forces stationed there took off their uniforms and fled. The terror group's swift claim over the city contributed to the Obama administration's decision to resurrect US military action in Iraq just three months later. By 2015, US troops were back on the ground in Iraq. Those forces are operating even now without a SOFA, as their return was both rushed and unexpected.
The US State Department, Secretary of Defense Jim Mattis and top leaders in the Iraqi government are conducting the talks, according to an Associated Press report.
On Thursday, Iraqi officials said they opened a new front in their war against ISIS in western Mosul, saying troops from their 9th Division and elite forces from the Interior Ministry entered the city's northwest side.