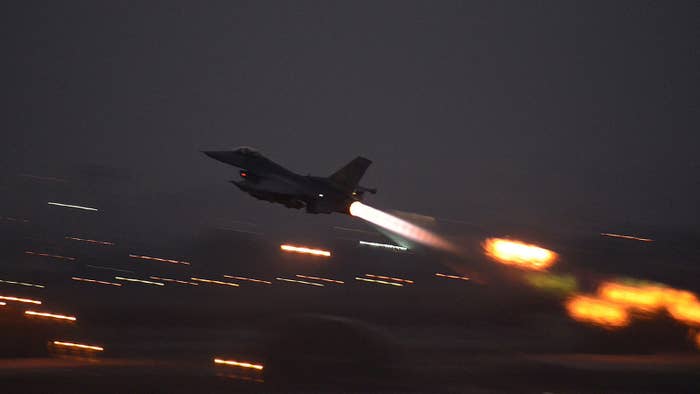 The US military launched airstrikes against pro-Assad forces in southern Syria on Thursday, three US defense officials confirmed to BuzzFeed News.
It marked the second time under the Trump administration that the US has struck out against President Bashar al-Assad's forces with airstrikes and first in the apparent vicinity of US troops operating inside Syria.
BuzzFeed News is the first to have reported US confirmation that it launched these new strikes.
The strikes were believed to have hit a regime-allied militia mixed with Syrian government forces, US officials said. They hit advancing vehicles outside a base called Tanf, near the Jordanian border. As BuzzFeed News reported last week, US Special Forces are deployed at the base with a unit of Syrian rebels. The Special Forces are training the rebels to fight ISIS — and also accompanying them on combat missions against the militants.
But the Syrian regime and its allies — including Iranian forces, Shiite militia, and Hezbollah — are also based some 40 miles outside Tanf, a rebel commander based there told BuzzFeed News last week, allowing them easy access to Tanf via a highway that cuts through the desert.
Unlike the US strike against the al-Shayrat air base in March, which the Trump administration ordered in retaliation for a regime chemical weapons attack, Thursday's strike seemed designed to protect the US forces based at Tanf.
One of the defense officials — who, like the others, spoke on condition of anonymity to reveal details that the Pentagon had yet to make public — said that the US acted to stop an advance of pro-regime forces toward Tanf. Pro-regime forces had crossed a pre-agreed deconfliction zone and continued to advance despite warning strikes, he added. The strikes destroyed several vehicles. It was unclear if they resulted in any deaths.

A statement later released from Operation Inherent Resolve, the official name of the US-led coalition against ISIS, said the airstrike came "after apparent Russian attempts to dissuade Syrian pro-regime movement south towards Al Tanf were unsuccessful, a coalition aircraft show of force, and the firing of warning shots." The statement also for the first time publicly confirmed the presence of US forces in Tanf, saying that the "agreed upon de-confliction zone agreement remains in effect."
The 5th Special Forces Group has been training and mentoring pro-Western rebel groups in and around Tanf for about six months as part of the anti-ISIS campaign developed under then-President Barack Obama and continued by the Trump administration.
While contact with ISIS units is to be expected considering the mission, this is the first instance of American air power being used against pro-Assad forces to support American troops and their rebel allies.
With a mission that focuses completely on ISIS, US troops have rarely had to worry about operating in close proximity to Syrian forces and their aligned militias. The last encounter between the groups occurred last month when Syrian troops passed near a special operations group in the Kurdish areas, but that remained peaceful. As the territory dominated by ISIS collapses in the face of advances by Kurdish forces in Syria and Iraq forces in Mosul, though, the world's most crowded battlespace further shrinks.
While the Trump administration has been firm in its opposition to ISIS, its policy towards the Assad regime has shifted rapidly at times. Prior to the chemical attack in April, Secretary of State Rex Tillerson and others indicated that Assad may remain in power as part of a deal to end the ongoing civil war. Since then, Tillerson and Trump have called for Assad's exit.
With additional reporting by Mitch Prothero in Brussels.
Outside Your Bubble is a BuzzFeed News effort to bring you a diversity of thought and opinion from around the internet. If you don't see your viewpoint represented, contact the curator at bubble@buzzfeed.com. Click here for more on Outside Your Bubble.