The Trump Administration Says It Bombed Al-Qaeda In Syria — Witnesses Say Otherwise
The Pentagon is investigating a US air strike that reportedly left dozens of civilians dead in or near a mosque, which is raising new questions about whether the US has lowered its commitment to avoiding civilian casualties.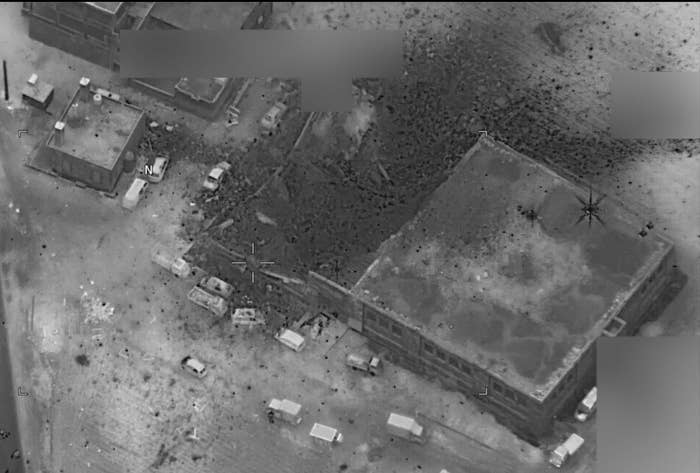 WASHINGTON — The US military said it struck a meeting of al-Qaeda leaders in northern Syria Thursday night but residents say the strikes killed scores of civilians in prayer, renewing concerns that an aggressive airstrike campaign under the Trump administration is putting more civilian lives in danger.
It was the latest example of a large, unexplainable gap between what the US military and residents on the ground said was hit in a conflict where it is impossible for independent observers to be on the ground to assess what happened. The US war in Syria is largely being fought in the air and ground troops are there to train or protect local forces, not assess strikes.
If local estimates prove correct, the strike would be among the deadliest by the US in its nearly three-year long airstrike campaign in Syria, with rising concern the Trump administration may have lowered the commitment to avoiding civilian casualties in its strikes against ISIS, al-Qaeda and other militant groups.
According to the US military, it launched strikes on a large building just 50 feet from a small mosque in the village of al-Jinah. Al-Qaeda regularly used this building to hold high-level meetings, the Pentagon said. And after watching the site for some time, the US military bombed the building around 7 p.m. local time Thursday, Navy Capt. Jeff Davis, a Pentagon spokesman, told reporters Friday. The strikes included a 500-pound bomb and at least six AGM-114 Hellfire missiles fired from drones, a US defense official told BuzzFeed News.
The US military said it purposely avoided the small mosque. But some on the ground suggested the building hit was a new, larger mosque, where as many as 300 worshippers had gathered for evening prayer. Local residents put the death toll as high as 62 and said others could be buried alive in the wreckage. Some videos that appeared online showed rescue workers pulling children out of the rubble.
"We are still assessing the results of the strike, but believe that dozens of core al Qaeda terrorists were killed," Davis said in a statement afterwards.
Davis said the military was "not aware of any credible allegation" of civilian casualties despite the emerging accounts from Syrian watch groups. But US officials said they were still investigating the allegations. The US military also has yet to determine how many were killed and whether any were high-value al-Qaeda operatives.
There was evidence minutes after the attack that something could be awry. A Reaper military drone flew over the site for 30 minutes after the strikes and did not see anyone leaving the small mosque, even though many would be expected to be at prayer during that time, a defense official told BuzzFeed News, who asked for anonymity because they were not authorized to speak to the press. Drones also showed local residents moving bodies out of the building that was hit and towards the still standing building next door. It is unclear whether that was the closest safe space to treat the wounded or an attempt by someone on the ground to make it appear the US hit another part of the building.
The US military released a photo of the strike site it says was taken five minutes after the strike occurred. The black-and-white photo showed half of a building destroyed, while the other half was seemingly not damaged. The small, nearby mosque appeared intact with only small damages on one side.
So far, the US military under both the current and former administration has struggled to quickly acknowledge possible civilian deaths, often doing so only after local residents on the ground produce photos and names. Shortly after a Jan. 29 raid on a compound in Yemen, the US military said it did not believe it had killed civilians; the Yemenis charged that as many as 30 had been killed, including 10 children. Last week, US Central Command said it had concluded between four and 12 civilians had been killed, including two children.
Al-Jinah and areas around it have been under militant control since at least 2015. In its initial statement, US Central Command acknowledged as much saying: "Idlib has been a significant safe haven for Al Qaeda in recent years." But identifying al-Qaeda in a civil war riddled with factions is not so simple. Groups change names and affiliations and individuals switch sides as the groups gain or lose territory and their status rises and falls. The US military said its strike targeted "core al Qaeda."
The Trump administration has not publicly declared a ramped up campaign against al-Qaeda in Syria or even who it considers al-Qaeda. After all, the US effort in Syria was billed as a war against ISIS, not al-Qaeda. And some of those the US now considers al-Qaeda were once backed by the US and "moderate" opposition forces to Syrian President Bashar al-Assad.
In the past, US officials have said that top al-Qaeda operatives from places like Afghanistan have moved into Syria, where they can exploit the chaos there and now operate a base.
"There has been no clear articulation of American policy toward against al Qaeda" in Syria, Jennifer Cafarella, a Syria analyst at the Washington-based Institute for the Study of War, explained to BuzzFeed News. "Without a clear and identifiable goal, this level of cost in terms of human lives becomes difficult to accept."