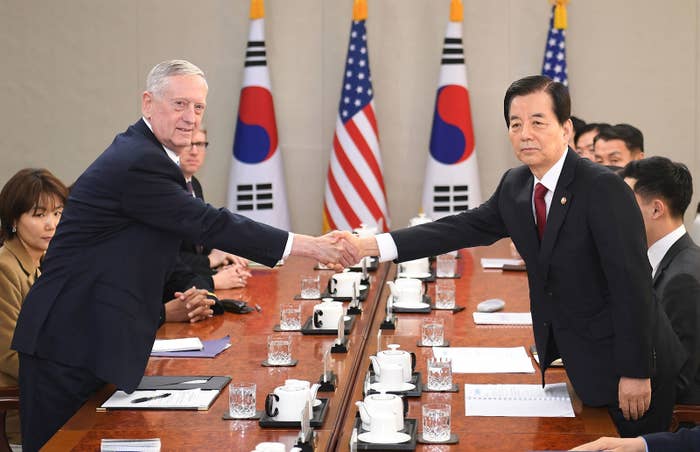 If the United States is actually planning to bill the South Koreans for an advanced missile defense system that's just been set up in Seoul, as President Donald Trump said during an interview with Reuters, someone should tell the Pentagon. Officials in the building said Friday that they had no orders to halt the transport of the system or ask their allies for a payment.
"Nobody here is making up a bill for the South Koreans," one defense official explained to BuzzFeed News.
In the Reuters interview, Trump called for South Korea to pay for $1 billion system, outraging a key US ally in the midst of a presidential election where the system known as Terminal High Altitude Area Defense (THAAD) already is politically divisive. On Friday, an adviser to the leading presidential candidate, Moon Jae-in, called paying for the US setting up THAAD an "impossible option."
There are both political and practical reasons no one in the military is in a rush to shoot off a bill for the defense system. There already are numerous treaties in place between the two that outline payments and costs for US basing and equipment. The gist: the two nations don't bill one another on a weapon-by-weapon basis. There are also treaties based on shared interests.
The 1953 mutual defense treaty between the United States and South Korea, for example, says the two nations would come to each other's aid in the event of an attack and allows the US to station troops on the Peninsula.
The South Koreans aren't keeping the THAAD system permanently — it is only being deployed there, still owned and operated by the US, leaving it seem as though Trump wanted Seoul to pay a billion dollars for a rental. US military officials have called the deployment critical to defend South Korea and the the more than the 27,000 US troops stationed there in the face of increasingly heated rhetoric from North Korea.
Pentagon officials said they did not know about the president's proposal before the interview.

The THAAD currently is being deployed to the county of Seongju, 135 miles south of Seoul. Navy Adm. Harry Harris Jr, the commander for US Pacific Command, told Capitol Hill earlier this week during congressional testimony that the THAAD "will be operational in the coming days."
None of that stopped Trump from telling Reuters that the South Korean government should pay.
"On the THAAD system, it's about a billion dollars. I said, 'Why are we paying? Why are we paying a billion dollars? We're protecting. Why are we paying a billion dollars?' So I informed South Korea it would be appropriate if they paid. Nobody's going to do that. Why are we paying a billion dollars? It's a billion dollar system. It's phenomenal. It's the most incredible equipment you've ever seen - shoots missiles right out of the sky. And it protects them and I want to protect them. We're going to protect them. But they should pay for that, and they understand that," Trump said.
Trump's comments sent parts of South Korea reeling Friday about an already controversial system. Earlier this week, as equipment moved toward the THAAD battery site, protesters allegedly threw water bottles at the vehicles.
His declaration came just a day before Pyongyang tested yet another ballistic missile, the sixth this year; early reports indicate the test failed. It's the first ballistic missile test by the North Koreans since April 4, while China's President Xi Jinping and Trump were meeting at Mar-a-Lago.

US officials had said that they believed that after that visit, China had successfully deterred North Korea from conducting nuclear or long-range missile tests. In an interview with Fox News, Secretary of State Rex Tillerson said China had threatened to sanction North Korea if it conducted such tests. It's currently unclear what size missile North Korea tested on Friday.

The test also came on the heels of a UN Security Council meeting this morning, convened by the United States, that discussed how to restrain North Korea's nuclear program.
US military officials had seen a slight thaw among some South Koreans about the THAAD system in recent weeks as the world community has grew increasingly worried about North Korea's weapons test, each suggesting it was closer to a nuclear weapons breakthrough. On Friday, the White House call for billing South Korea, pushed the topic back to the forefront of the presidential election.
Moon has said he would review the deployment of the THAAD should he win the May 9 election. For South Korea's liberal politicians, like Moon, the THAAD system is not worth agitating nations like China, which believes the deployment of the THAAD undermines its security. Conservatives, who ruled South Korea for nearly 10 years until President Park Geun-hye was impeached in March in a corruption scandal, supported the system's deployment.
The White House Friday defended the comments but stopped short of providing any specifics.
"Obviously, the President has talked a lot during the campaign about our national security and what we're doing as a country in making sure that our taxpayers and our funding is -- that we've got a lot of work to do at home, that we're spending a lot of money on other places, and we want to discuss, whether it's NATO or other places, where we're spending a lot of money and make sure that other countries are contributing equally as well," White House spokesman Sean Spicer told reporters traveling with the President to Atlanta, Georgia.