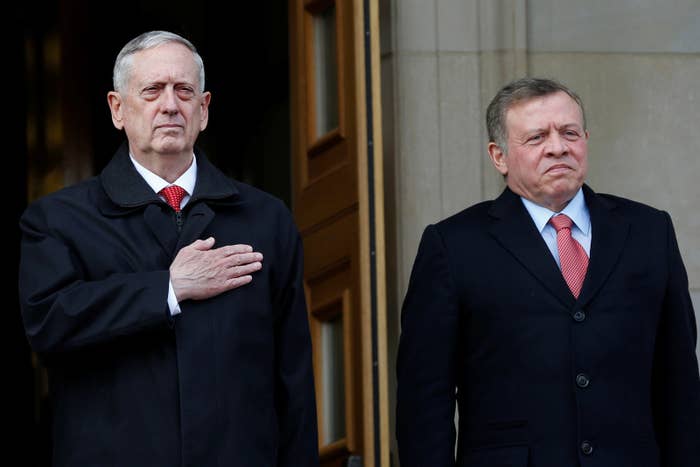 WASHINGTON — The Department of Defense is compiling categories of Iraqis who should be exempt from President Donald Trump's recent executive order, a defense official told BuzzFeed News.
Among the categories of people the Pentagon is considering outside the scope of the executive order, which bans Iraqis from entering the country for the next 90 days, are pilots training to fly F-16s and interpreters.
The scramble to identify Iraqis who should be ineligible for the exemption was among the aftershocks of the White House decision to issue the order without consulting other government agencies.

Secretary of Defense Jim Mattis, who was not consulted before the executive order, defense officials said, asked that the list be compiled. It was immediately unclear how many categories would be in the request or whether it applies to those who worked alongside US troops during the 2003–11 Iraq War or only those currently part of the US–Iraqi campaign against ISIS.
US troops are currently fighting side by side with Iraqi troops in the ISIS-controlled Iraqi city of Mosul. There also are hundreds of US Special Forces in Syria, whose citizens also are now banned from entering the United States.
Navy Captain Jeff Davis later clarified to reporters the list will include individual names as well as broad categories and would include Iraqis who aided US forces during the Iraq War. The White House offered the Pentagon the chance to make exemptions "sometime over the weekend," Davis said, after the order was signed.
He also noted that Iraqis training to be pilots have previously been issued a special visa, but the Defense Department is currently checking their status. There is at present no estimate on the number of Iraqis that could be on the full list; as described, thousands of Iraqis could eligible.
On Monday, the Iraqi parliament tabled a "reciprocity measure" in response to Trump's order, which temporarily banned resident from seven Muslim-majority countries — Iraq, Syria, Yemen, Somalia, Sudan, Libya, and Iran. It is unclear how the Iraqis plan to enforce the measure.
Despite that, defense officials insist that the order has not had a major impact on the war effort.
"In our all interactions, it is all sort of businesslike," a second defense official told BuzzFeed News.
Mattis had no obligation as defense secretary to comment about the order. But as a Marine veteran and one one-time general who worked alongside interpreters during the war, and whose troops depended on Iraqis to stay alive during the wars, his silence on the issue was notable.