Trump's Defense Secretary May Be The One Staffer He's Willing To Listen To
For now, the defense secretary is keeping the peace. "Trump needs Mattis more than Mattis needs Trump," one official told BuzzFeed News.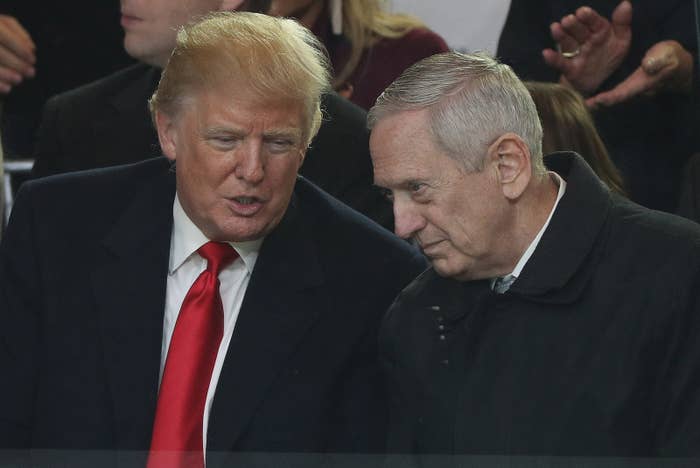 When it comes to military matters under the Trump administration, there is a big gap between what the president says and what his secretary of defense, Jim Mattis, does.
In his first week in office, President Donald Trump has sought to deliver an aggressive agenda on some of the most divisive campaign promises. But Mattis has been just as aggressive, quietly signaling to troops and allies that he will be steady in the face of uncertainty about the unorthodox US president.
Whereas Trump has repeatedly called NATO obsolete, this week Mattis reached out to NATO Secretary General Jens Stoltenberg "to reconnect and discuss the key role NATO plays in transatlantic security," according to a Pentagon readout. As Trump signed an executive action pulling the US out of the Trans-Pacific Partnership, Mattis scheduled his first overseas trip next week to South Korea and Japan, the latter a signatory of TPP. And while Trump said "torture works," he also acknowledged that Mattis's unwillingness to do the same has so far stopped him from changing policy.
"I have a general who I have great respect for, General Mattis, who said — I was a little surprised — who said he's not a believer in torture," Trump told ABC News' David Muir, using Mattis' military title, not civilian one, when speaking of him. He later added: "I will rely on General Mattis."
Trump went a step further on Friday afternoon in a press conference standing next to the UK's Prime Minister Theresa May. The president said that Mattis would "override" him on torture, adding "I've given him that power." Left unmentioned was that the previous torture programs in the US have been under the CIA — outside the military chain of command. (He also said that Mattis "doesn't necessarily believe in torture." Mattis does not believe in its efficacy.)
On Friday, Trump will make his first visit to the Pentagon to conduct a ceremonial swearing in of Mattis. (Mattis formally became secretary last Friday.) Trump will arrive at a Pentagon that doesn't feel his imprint like other federal agencies. While other parts of Washington are feeling a tsunami of change in policy personnel and even social media freedoms, the Pentagon is relatively unaffected, except for the dearth of civilian leaders.
Mattis' independent approach was one reason why the Senate confirmed him. He was named secretary not for his loyalty to Trump but for his formidable reputation as a war commander and a stern voice to push back on the more extreme elements of the administration's national security policy. The retired Marine general told Capitol Hill he had no interest in returning to public life until he got a call just weeks ago from New York.
A US official told BuzzFeed News that Mattis has worked with Vice President Mike Pence to maintain his influence over key defense department posts. So far, the Pentagon has yet to see an avalanche of political appointees.
The official speculated on the reasons why the administration has been so accommodating.
"Trump needs Mattis more than Mattis needs Trump," the official said.
But, as military officers welcome Mattis back in the building, they are quietly asking over and over again: "How long can Mattis push back?"
Mattis' approach so far has been well received within the military, which is in the midst of a war against ISIS and generally averse to sudden shifts. But it also carries a patina of uncertainty. After all, this is the US military, tasked to salute and follow the orders of its chain of command, which ends with the commander in chief — not the secretary of defense. And there are limits to what the secretary of defense can do in the face of an outspoken president.
What if Trump decides to not take the advice of his national security team? How will Mattis react? And at what cost will he take a stand on his positions?
Mattis's military history suggests he will likely not blindly carry out policy. Mattis his four-decade Marine Corps career ended in 2013 while commander of US Central Command over differences with the Obama administration's and the outspoken general over Middle East policy.
During his confirmation hearing earlier this month, Sen. Elizabeth Warren asked: "Under what circumstances will you advocate for your views forcefully and frankly?
Mattis responded: "On every circumstance, Senator."
So far, Mattis has delivered messages of defiance on matters big and small. On Monday, the Pentagon announced that Mattis had received an intelligence briefing and would "do so everyday." It was a subtle rejection of Trump's decision to only get briefings periodically during the transition. The second sentence of Mattis' first message to the department was about how eager he was work with the "intelligence community," the same group that just weeks earlier Trump compared to Nazi Germany.
But Mattis also has deferred from publicly commenting on the first national security proposals put forth by the new administration, such as draft executive orders that were leaked to the press calling for the return of black sites or the establishment of safe zones in Syria. As Navy Capt. Jeff Davis, a Pentagon spokesman, told reporters Thursday: Mattis is "primarily interested in listening and learning."
That alone is a marked difference from the commander in chief who is far more impulsive.
Davis said Mattis used an aphorism to capture the sentiment: "I heard him say this morning that, you know, "The good Lord gave me two ears and one mouth for a reason."
A team of rivals is nothing new in Washington. But rarely have the differences been so stark – and such a purposeful dysfunction built into a cabinet. President Clinton inherited Army Gen. Colin Powell, the untouchable Chairman of the Joint Chiefs of Staff. Lyndon Johnson didn't choose Robert Kennedy as his attorney general but rather was saddled with the defiant Kennedy brother after the president's assassination.
So far, Trump has embraced Mattis' opposing views on key policy changes. In a tweet during the confirmation hearings, Trump said he welcomed independent thinking.
Perhaps the clearest sign of his independence is the fact that Mattis has yet to set up his Twitter account, a sharp departure from the commander in chief, a prolific writer of 140-character observations and policy.
The Pentagon could not say whether he intended to set up an account.