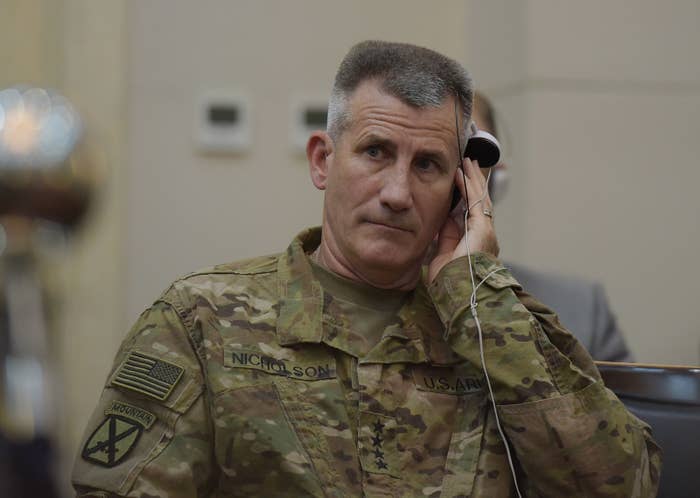 The top US commander in Afghanistan wants an additional 3,000 troops to train and advise Afghan forces, a US official told BuzzFeed News on Friday.
That number would provide enough troops to have advisers at the brigade level "as required," the official said. Gen. John Nicholson made the recommendation in his periodic mission review to his NATO partners, the official said.
The additions Nicholson has recommended would almost certainly be a combination of US and NATO troops, though the makeup of the force is still under discussion between US and NATO officials.
Many in the Pentagon understand that the American public is wary of sending in more troops into what's already America's longest war. But they hope that having US or NATO troops advising their Afghan counterparts is a smarter strategy than potentially watching local forces collapse against a resurgent Taliban and emerging ISIS threat.
Nicholson first told Capitol Hill on Thursday that he need "a few thousand" more troops to train and advise Afghan troops — less than two months after the US finished withdrawing 1,400 US military personnel.
"I have adequate resourcing in my counterterrorism mission. In my train, advise, and assist mission, we have a shortfall of a few thousand," Nicholson, commander of Operation Resolute Support, told the Senate Armed Services Committee.
He also called the war, which has dragged on since October 2001, a "stalemate."
Nicholson suggested that the additional troops could be supplied by NATO partners. But the NATO alliance came under attack from President Donald Trump, who said on the campaign trail that NATO partners needed to take on more financial responsibility in exchange for the US's commitment, making it unclear whether any nation partner would want to invest more troops in Afghanistan.
The US invoked Article V of NATO's founding document — which calls upon members to come to each other's aid if one is attacked — at the start of the war in Afghanistan, the first time it was triggered since the alliance formed.

Secretary of Defense Jim Mattis will travel next week to the NATO Defense Ministerial in Brussels, the Pentagon announced Friday.
There are currently 8,400 US troops in Afghanistan, according to the US military. There are hundreds of additional US troops not counted in the Pentagon's official tally. Trump has rarely mentioned Afghanistan itself, despite the US forces there, and there has been no indication from the White House about its war strategy in Afghanistan.
Trump also did not directly mention either ongoing war in Iraq or Afghanistan during his first visit Monday to US Central Command, which is responsible for the wars in the Middle East.
In July, President Obama announced that the US military would drawdown its forces from 9,800 to 8,400 troops by the end of 2016. Obama had hoped to only leave 5,500 troops but decided the situation in the 15-year war was "precarious."
Obama said at the time that he reached the 8,400 figure after consulting with top military leaders, including Nicholson.
Nicholson did not say precisely how many troops he wanted or elaborate on why he needed them now. He did say that he planned to speak to Secretary of Defense Jim Mattis about his request.
The Taliban has increasingly threatened to take control of Afghanistan's biggest cities and conducted more brazen attacks. On Tuesday, a suicide bomber blew himself up at the entrance to the Afghan Supreme Court building in Kabul, killing at least 19 and injuring 40 more. While the attack bore the hallmarks of the Taliban, no group has claimed credit for it yet and the government has not named a culprit. The following day, six Afghans working for the International Committee of the Red Cross were kidnapped and killed in northern Afghanistan, in an area with a strong ISIS presence.