Military Officers Aren't Happy With Trump's Tribute To A Fallen Navy SEAL
Current military officers used the word "distasteful" to describe President Donald Trump's mention of Navy SEAL William "Ryan" Owens, who was killed during a raid in Yemen, during his speech to Congress.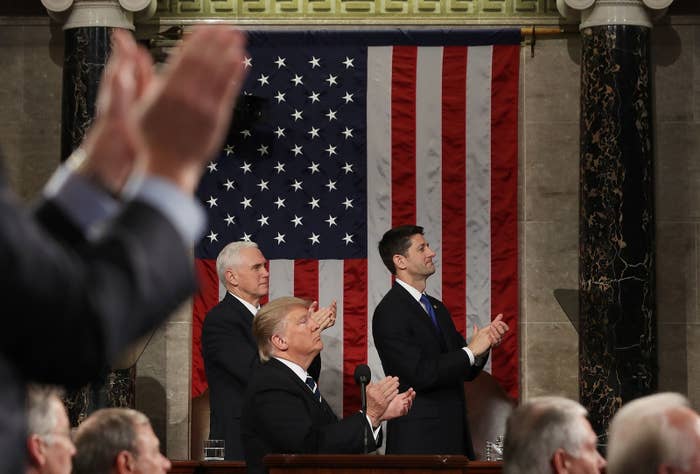 WASHINGTON — As President Trump began to speak about her loss, Carryn Owens first stayed seated in what began as a solemn tribute to her husband, a Navy SEAL killed during a Jan. 29 raid in Yemen. But as the president told the nation that Chief Petty Officer William "Ryan" Owens would not be forgotten, applause filled the room for a second time. In response, Owens looked up and repeatedly mouthed "I love you" to her husband, who was killed on his 12th deployment.
The two-minute tribute to the Owens family at President Trump's first address to Congress Tuesday was the most unforgettable moment of his hourlong speech. It was also arguably the most divisive moment between the public and some in the military. Where the public saw a touching moment, some who serve saw it as the latest instance of ongoing political exploitation of the military. By celebrating the tribute, they argued, the public, including some politicians and the media, demonstrated a lack of understanding of what it means to serve, six current military officers told BuzzFeed News.
Several used the word "distasteful" to describe what happened during the address. In the moments after the applause, #StolenValor began appearing on Twitter. Critics argued that Trump tried to steal Chief Owens' valor for his own gain.
Four service members told BuzzFeed News of their belief that those who serve are not victims, but understand the risks involved. Politicizing every death as a metric of success or failure hurts the military; it does not help win wars, they said. And the raid in Yemen has already become a political issue amid questions over whether the intelligence garnered from it was worth the risks and costs, including six injured troops, a lost V-22 Osprey, and as many as 30 civilian deaths, in addition to Owens' death.
"Yes, it was exploitative, but that certainly is not limited to Republicans," one commander said in defense of Trump's words. Others privately explained that it also feels exploitative when tributes are before cameras and have a political benefit. Troops are supposed to be apolitical, and their memory should be too, they said.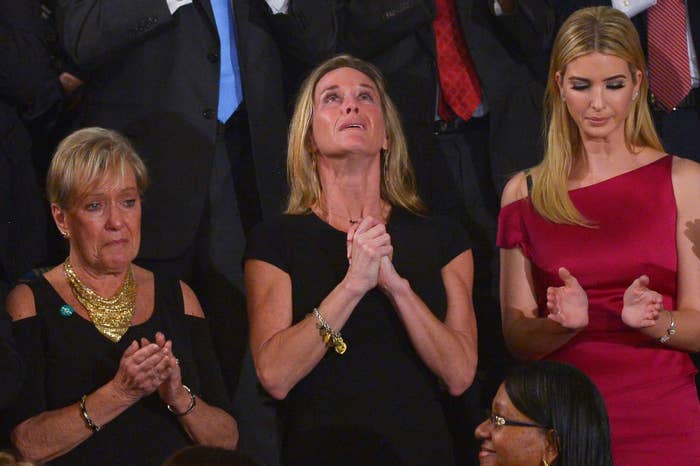 Such instances have become increasingly frequent since the Sept. 11 attacks and the subsequent invasions of Iraq and Afghanistan by an all-volunteer force. Every year since the wars began, a service member or the families of those killed in war, known as Gold Star families, have sat with the first family during the State of the Union.
But Tuesday's tribute in the House chamber was different. For some observers, it was the moment the presidential became "presidential." Shortly after the address, Van Jones, a former Obama White House official and CNN commentator, declared on CNN, for example: "He became president of the United States in that moment. Period."
But for the military it was the latest reversal on the president's ownership of the raid. Earlier Tuesday, he put the blame at the feet of military generals in an interview with Fox & Friends, saying: "They lost Ryan."
By evening, Trump had called the mission a success that yielded a lot of intelligence.
"His ownership lasts as long as it's politically expedient," an Army commander observed.
Even the Owens family seems divided about how to engage with the commander in chief who signed the order for the raid. Just days earlier, Owens' father told the Miami Herald that he had refused to meet with Trump when the president traveled to Dover Air Force Base to meet Chief Owens as his remains returned to the United States. And he pleaded to keep politics out of finding out the truth about the raid.
"Don't hide behind my son's death," William Owens said in that interview, which was published Sunday.
The use of family members in political events perhaps hits a particularly raw nerve at the Pentagon because so many who serve there have deployed to Iraq and Afghanistan and talked to their families about what to do should they die. For them, such dilemmas are not hypothetical. And most troops serving at the Pentagon have lost a comrade or met with a widow to describe their loved one's final moments. Some troops have been assigned funeral duty, in which they were part of a ceremony for either a war veteran or a recent combat death.
Trump has not always embraced Gold Star families. Over the summer, he disparaged another Gold Star family, the parents of Army Capt. Humayun Khan, after they spoke at the Democratic National Convention. Trump questioned why Capt. Khan's mother, Ghazala, was so quiet as her husband, Khizr, spoke at the convention, suggesting that her Muslim faith prohibited her from speaking. And he repeatedly attacked the Khan family in the weeks afterward on Twitter.
To be sure, not everyone in the military felt the same way. And even some who were upset about Tuesday's events were sympathetic to Trump.
"Trump doesn't have much familiarity with the military," the Army commander explained. "He will learn."
Outside Your Bubble is a BuzzFeed News effort to bring you a diversity of thought and opinion from around the internet. If you don't see your viewpoint represented, contact the curator at bubble@buzzfeed.com. Click here for more on Outside Your Bubble.