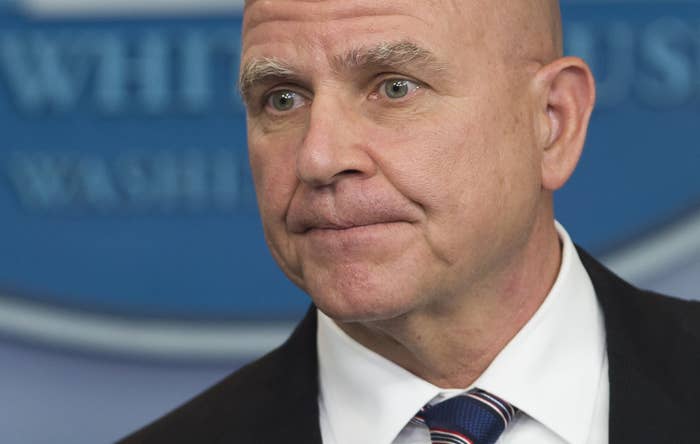 It wasn't his strained defense of the "wholly appropriate" conversations between Russian officials and President Donald Trump, or even the fact that he, a general, was standing at the White House podium that rattled longtime fans.
Rather, it was that Army Lt. Gen. H.R. McMaster, Trump's national security adviser, was a current military officer when he stood before the American public and aggressively defended a president during a political crisis — and that he leaned on his credibility as a military general to do so.
"There is no way he is going to be able to live up to the ideals he wrote in his book with this president," one longtime military observer told BuzzFeed News.

Troops — particularly veterans who remembered McMaster and his venerable reputation at the height of the Iraq War — took to Facebook and Twitter to express their sadness over the apparent degradation of their hero.
Retired Lt. Col. Paul Yingling, a former staff officer of McMaster's, told Foreign Policy on Tuesday that while his advice to his old boss is private, "an officer may not tolerate a lie."
In the 17 minutes McMaster stood in the White House Press Briefing Room to defend Trump's reasons for sharing intelligence with Russia's foreign minister and ambassador to the United States — the latter of whom is suspected of being a spy — he went, for some who'd perceived him as a steady national security hand within the turbulent White House, to looking like just another political advocate for the president.
McMaster is one of the military's most celebrated generals — so much so that every military officer has been assigned to read McMaster's book, Dereliction of Duty, about the failure of leaders to stand up to civilians in the chain of command during the Vietnam War — multiple times in his or her career.
"We need leaders who have physical and mental courage on the battlefield, of course, but also the courage to speak their minds and offer respectful and candid feedback to their superiors. Our leaders can't feel compelled to tell their bosses what they want to hear," he said in an April 2013 interview.
After retired Lt. Gen. Michael Flynn's short-lived, tumultuous stint as National Security Advisor ended abruptly in February, McMaster's ascension to the post seemed to signal stability, and applauded the appointment of a general with an apparent willingness to speak up to the president. That is, his credibility was as much what qualified him for the job as his three-decade long military career.
Now, less than three months in the post, McMaster has become the day's de facto White House spokesman. To be sure, McMaster was in an impossible position the day he took the job, asked to strike a balance not seen in DC since Colin Powell served Ronald Reagan in the role: an apolitical military officer at the head of the White House National Security Council.