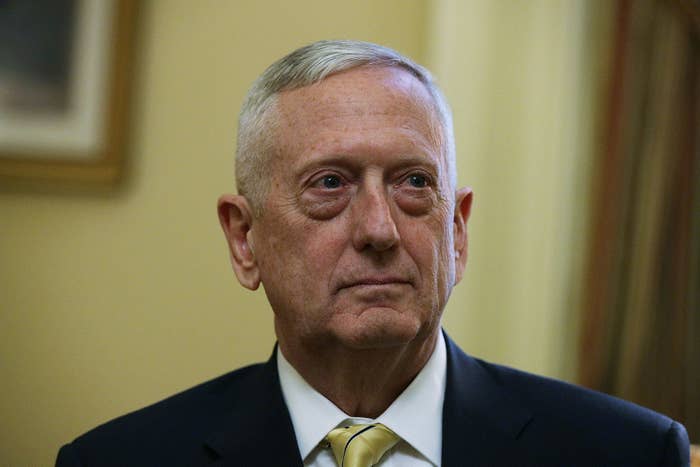 President-elect Donald Trump's nominee to lead America's military said he believed Russian President Vladimir Putin sought to "break" the US-NATO alliance and that any talks with Russia should be "realistic," statements at odds with Trump's praise for the Russian leader.
"I have very modest expectations of areas of cooperation with Mr. Putin," retired Marine Gen. James Mattis told the Senate Armed Services Committee Thursday during his confirmation hearing.
Mattis' remarks were a departure from Trump, who has said he can work with Russia and has questioned the value of the NATO alliance.
"NATO from my perspective, and I served once as the NATO alliance supreme allied commander, is the most successful military alliance in modern world history, maybe ever," Mattis said.
Mattis' distrust of Russia, however, was inline with much of the nominated national security team.
Mike Pompeo, Trump's pick for CIA director, said in another Thursday hearing that Russia had "reasserted itself aggressively, invading and occupying Ukraine, threatening Europe, and doing nothing to aid in the destruction and defeat of ISIS."
Earlier this week, Secretary of State nominee Rex Tillerson said the U.S. need to take an aggressive stance toward Russia.
Mattis sought to reassure senators that a Trump administration would damage the NATO alliance, telling them that he spoke to Trump and the president-elect was "open" to new ideas.
"I am confident the president-elect expects us to live up to our word" including on NATO alliance, Mattis said.
"I hope you are right," Sen. Bill Nelson said in response.
If confirmed, Mattis, 66, would be the first battlefield commander to head the civilian-led department. He retired abruptly in 2013 while he was commander of U.S. Central Command, which is responsible for U.S. operations in the Middle East and Afghanistan, after a disagreement with the Obama administration over Iran.
Immediately after his hearing, the Senate voted 24-3 to give the general, who wore the uniform for four decades, a "one-time waiver" to serve even though he has not been out of uniform for seven years, as the 1947 law that created the Defense Department spelled out for any former officer to serve as secretary.
While other confirmation hearings have been contentious, with repeated interruptions by protesters and aggressive questions from senators, Mattis's quick two-hour hearing was subdued. This time in a suit, and not a uniform, Mattis sought to take the tone of a manager, not a warrior. At times he succeeded, like when he spoke about cyber security, calling for a policy that works across government agencies. But when it came to matters like women in combat, he sounded more like a general ducking politics.
While he said he had "no plans to oppose women in any aspect of the military," he stopped short of embracing all combat positions now open to women, which he has publicly opposed.
"My priorities as Secretary of Defense will be to strengthen military readiness, strengthen our alliances in league with our diplomatic partners, and bring business reforms to the Department of Defense," he said.
He said he would not have signed the Iran deal and that thought it was worth considering ramping up the assault plan to retake the Syrian city of Raqqa, the capital for the self-proclaimed Islamic State.
The popular commander, who is known as much for his love of language as battlefield planning, said he never planned to come back into government until he received a call from New York. But duty called.
Known as a prolific reader who likes to coin maxims, he found a way to use the word atavistic to respond to a question from Texas Sen. Ted Cruz.
And when Sen. Elizabeth Warren asked Mattis about what issues he would speak his mind about when inside the Trump cabinet. He said all of them.
If confirmed by the Senate, Mattis would become the nation's 26th Defense chief in the department's 69-year history.