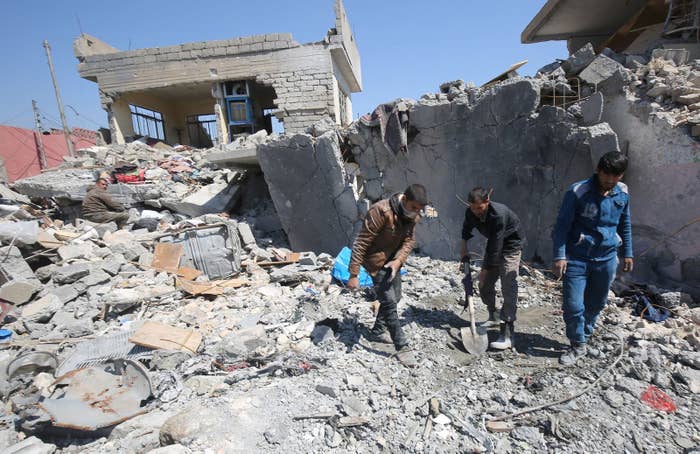 WASHINGTON — Lawmakers charged with overseeing the Pentagon and its war operations spent more time Wednesday inoculating the US military against criticism that its airstrike in the Iraqi city of Mosul may have killed hundreds than asking for details about the strike.
Multiple members of the House Armed Services Committee went out of their way during the public hearing to note that the US takes more care to minimize civilian casualties than any other nation, that ISIS often uses civilians as human shields, and that, in the long run, the US-led aerial campaign will ultimately spare civilians from more suffering.
Rep. William "Mac" Thornberry, the committee chairman, was indicative of this approach when he told Army Gen. Joseph Votel, the head of US Central Command: "In a dense urban environment there may well be some casualties and even the finest military in the world can make mistakes."
Rep. Martha McSally, a former Air Force A-10 pilot, likewise called ISIS's use of human shields the militants' "air defense system."
But few asked how a US strike targeting ISIS fighters may have killed more than 260 civilians instead, which, if true, would mark the deadliest incident for Iraqi civilians caused by the US since its 2003 invasion.
If the House is preemptively defending the strike, and the White House has taken a hands off approach to the war, who is watching over the Pentagon, particularly when it comes to civilian casualties? So far, it has happened through self-reporting by the Defense Department, watchdog groups, and the press, the latter of which first alerted the world to the deaths potentially caused by a US strike.
The lawmakers' comments echoed the sentiments of Lt. Gen. Stephen Townsend, the commander of the war against ISIS, who told reporters a day earlier: "If these innocents were killed by the coalition, it was an unintentional accident of war, and ISIS is slaughtering Iraqis and Syrians on a daily basis."
"ISIS is cutting off heads," Townsend said. "ISIS is shooting people, throwing people from buildings, burning them alive in cages, and they are making the video record to prove it. This has gotta stop. This evil has gotta be stamped out. And in my mind any responsibility for any civilian deaths, the moral responsibility for civilian deaths in Iraq and Syria belongs to ISIS."
It is a comparison that makes some in the Pentagon privately uneasy. ISIS does not set the standard for US conduct, they argue. And Votel, the CENTCOM commander responsible for US military operations in the Middle East, appeared to move away from that comparison when he appeared before the committee Wednesday.
"We acknowledge our responsibility to operate at a higher standard," Votel said, adding: "There is a fair chance that our operations may have contributed to civilian casualties."
The US military does try to prevent civilian deaths, frequently citing a commitment to both international law and US ideals in these instances. As Votel said at the hearing: "We go to war with our values." But the dense, warren streets of Mosul, where residents have been told to stay in place, make zero civilian deaths almost impossible. ISIS is interspersed with the remaining civilians and decisions about when to launch strikes often happen in real time, not as part of a long-planned operation.
And a senior defense official told reporters Wednesday that they started seeing ISIS packing explosives into the building during the battle, a tactic designed to kill civilians and prevent the coalition from launching strikes.
But depending on CENTCOM assessments alone also is not reliable. CENTCOM said on Friday that it did not know hundreds may have been killed, even after taking more than 700 weapons videos and conducting an initial assessment. Votel said the munition used on the strike should not have caused the amount of damage incurred, which eyewitnesses say flattened nearly an entire block, but did not say how the inconsistency factored into the initial assessment.
And many strikes happen in areas where press and independent witnesses cannot access. The Mosul strike was one of the first strikes that witnesses could reach, as operations to clear the city of ISIS fighters swept across Mosul.
Not every lawmaker avoided questioning the US military. When Votel said that he put his trust in the military's process and people to prevent and investigate civilian casualties, Rep. Niki Tsongas added: "Trust but verify."
Votel said US officials have arrived at the site for the first time Tuesday as part of a US military civilian casualty assessment, designed to examine whether a US strike killed civilians, and if so, how many.
Between March 17–23, the US conducted strikes in western Mosul neighborhood that may have set off truck bombs, leading to the collapse of buildings, according to local officials, and the death of hundreds of civilians. Reports of the deaths did not appear until a local news agency, Rudaw, reported Thursday that rescue workers were pulling bodies, including women and children, out of rubble. The US military acknowledged a coalition strike happened in that area Saturday.
CENTCOM officials said their civilian casualty assessment should be completed within the month.
"We want to be informed of the results of the investigation," Thornberry said.