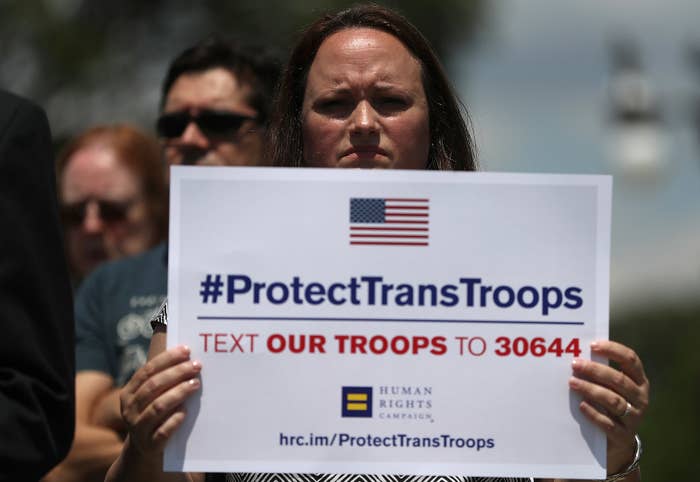 For the US military, an institution whose functioning depends on good order and discipline, President Trump's decision to announce via Twitter that he intended to reinstate the ban on transgender troops was as jarring as the decision itself, say former top Pentagon officials and retired officers.
The Pentagon bureaucracy so demands detailed guidance and consensus that there's even a contemptuous Pentagon term for what Trump did: "process foul." That's when a commander or top civilian makes a decision — even one he has the authority to make — without consulting a range of interest groups and building the foundation for it.
Trump's "process foul" so far has been ineffective. The Pentagon said Thursday it cannot begin to craft a new policy until it gets more details from the White House about what Trump wants.
"We don't have guidance. We have a tweet. We don't execute policy based on a tweet," said Navy Capt. Jeff Davis, a Pentagon spokesperson.
That was a position echoed by Marine Gen. Joseph Dunford, the chair of the Joint Chiefs of Staff. In a four-sentence memo sent to the Defense Department's 2.2 million employees, Dunford underscored that the president's tweet had changed nothing. "There will be no modifications to the current policy until the President's direction has been received by the Secretary of Defense and the Secretary has issued implementation guidance," Dunford wrote. "In the meantime, we will continue to treat all our personnel with respect."
Notably, he said nothing about his personal views on the subject.
In an institution that deploys tens of thousands of people in harm's way around the world, most major personnel decisions take months or years of wrangling before they are issued. There are no sudden proclamations. "Don't ask, don't tell" took nine years to reverse, requiring a change in the law and months to craft subsequent directives. There's an expectation within the Pentagon that policy, especially personnel policy, will be arrived at carefully and enacted only with detailed instructions to the myriad employees who must carry it out.
The president of the United States is rarely involved in crafting such instructions, which involves coming up with detailed language parsed over months by the country's five service branches. It's like a long editing process with five equally powerful editors, all with different needs and expectations for their personnel, the most critical component of their forces.
When the US military lifted its ban on transgender troops last year, it came with 17 pages of instructions that had taken eight months to write. Those instructions, known around the building as DoDI, require signoff from each of the service branches. Then the secretary of defense issued a directive announcing the change and when it was to take place, and distributed the DoDIs that explained how to make the change.
The military services "are in the business of managing people," said Brad Carson, the acting under secretary of defense for personnel and readiness from 2015–16, who helped craft the policy that ended the ban a year ago. "You have five different organizations that have veto power so the process can be very cumbersome or bureaucratic. Most of these decisions are reached by consensus, and that consensus usually takes months."
President Trump tweeted that he reached the decision after consulting "my Generals and military experts," but it was difficult to know whom he meant. The Joint Chiefs of Staff did not know about the tweet beforehand, something Gen. Mark Milley, the chief of staff of the Army, confirmed Thursday at a National Press Club luncheon. Milley said he learned about Trump's tweet from the news.
He went on to say there had been "a variety of issues," with integrating transgender troops and that the Army had dealt with them "privately and professionally."
The department appears to have interpreted Trump's tweet as an order from the commander in chief to figure out how to implement the change. But there was no indication of how quickly that might happen. The current policy is still up on the Defense Department's website.
"We went from studying the impact of transgender recruiting to banning their service altogether at light speed, or should we say tweet-speed. Regardless of how you feel about the issue, that's just not the way to set personnel policies in the greatest military on earth." ­
The defense secretary has almost unilateral authority over such changes. Barack Obama's last defense secretary, Ash Carter, issued the directive ending the ban over the objections of the US Marine Corps. And current Defense Secretary Jim Mattis, who was once a Marine general, could implement Trump's tweet immediately through a directive that essentially undoes the Carter directive, with few, if any, DoDIs. But Carson warns that while that's allowed, it would disrupt a system decades in the making, designed to make certain thousands of commanders with life-or-death authority all are following the same rules. It would be a major process foul.
"It's the way a big bureaucracy works. It operates by having rules and regulations. We don't do things in an ad hoc fashion because people have expectations built in," Carson said.
To be sure, there are Pentagon directives issued at times with little service input. Carson recalled that while he was the Army's under secretary he quickly issued a directive about how services should conduct background checks for personnel at child care facilities after investigators discovered that 31 staffers at two Army day care centers at Fort Myer, Va., had been charged with sexual assault and drug offenses. And members of the military are used to rumors and murmurs about directives that will change things as innocuous as commissary hours to orders to deploy.
But there has never been an instance before of an issue as important as who can wear the uniform being issued through a presidential tweet. With no guidance, questions arose: Is Mattis going to do it? Will there be lawsuits? Will Trump back off?
Retired Navy Adm. John Kirby, a former Pentagon spokesperson, and retired Army Lt. Gen. Mark Hertling, who served as the commanding general of US Army Europe, homed in on Trump's "process foul" in an opinion piece Wednesday that criticized the proposed change.
"Finally," they wrote, "there is the actual process ... how this whole thing came about today. In a tweet. Without, apparently, much coordination with the Pentagon. Without any heads-up to Congressional leadership. Without a statement to our troops as to what this means for them and how it was going to be implemented. There will be no thoughtful deliberation about consequences or impact, no careful planning about how to move forward one way or the other. Just a knee-jerk political decision with no input from those who must execute it. No consideration over the lives and careers it affects."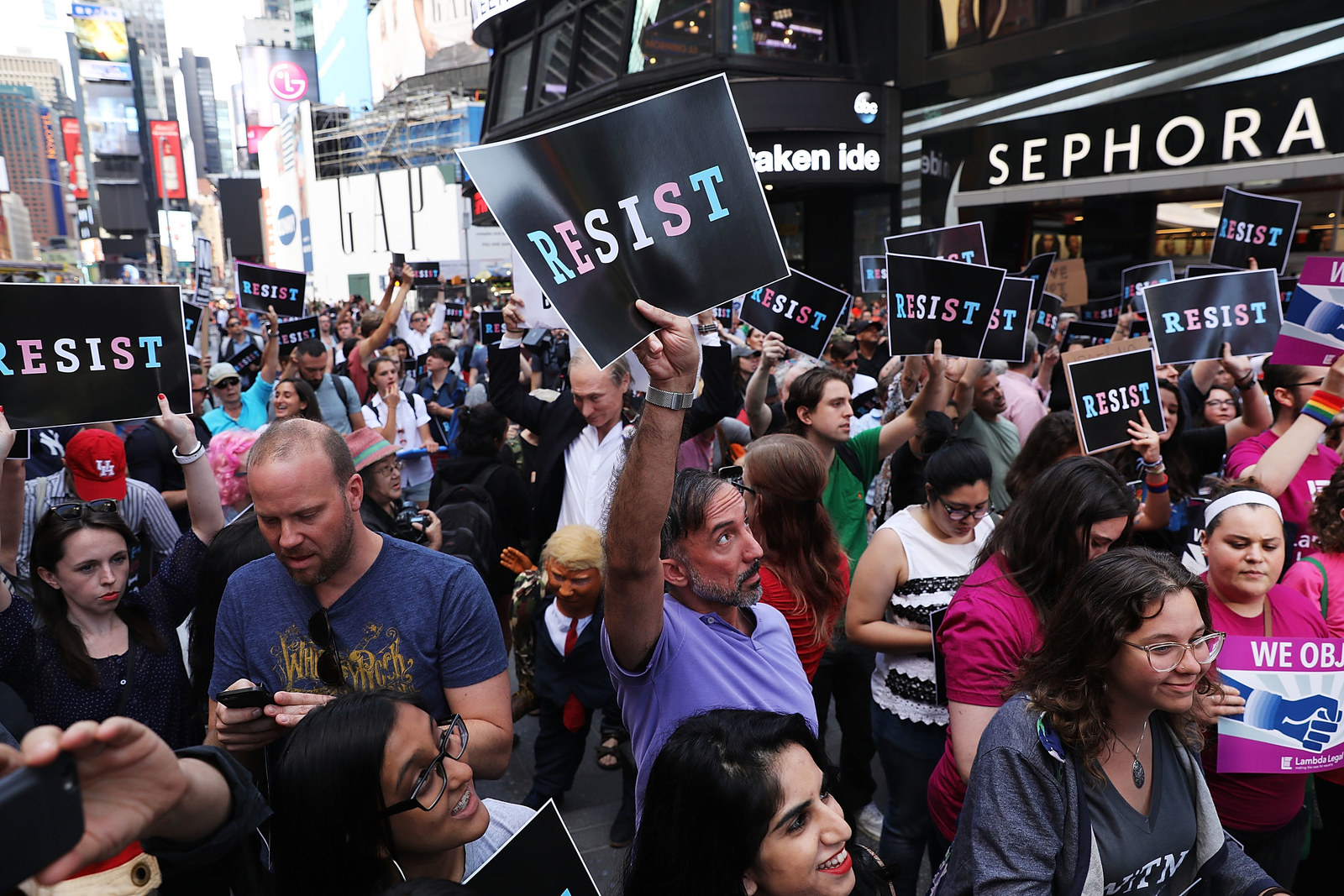 In his statement, Dunford gave no timeline for how soon the ban might be implemented. Carson said Mattis might appoint a committee to consider the effect of reimposing the ban on the military's ability to fight wars. Among the questions that might be considered: Would the US military give exceptions for certain specialties? What guidance should recruiters receive going forward?
Similar task forces were created in the run up to the end of the ban. In addition, RAND conducted an extensive study on the costs and effects of ending the ban, concluding such a change would have "minimal impact on readiness and health care costs."
While transgender troops have been allowed to openly serve since Oct. 1, the Obama administration set a July 1 deadline, under a new administration, for the services to implement the change. On that date, the Navy and Marine Corps said they were ready to implement the change while the Army and Air Force asked for two more years. Mattis gave the services six months to implement the change.
Three weeks later, Trump tweeted a new policy instead.
"We went from studying the impact of transgender recruiting to banning their service altogether at light speed, or should we say tweet-speed," Kirby and Hertling wrote. "Regardless of how you feel about the issue, that's just not the way to set personnel policies in the greatest military on earth." ­