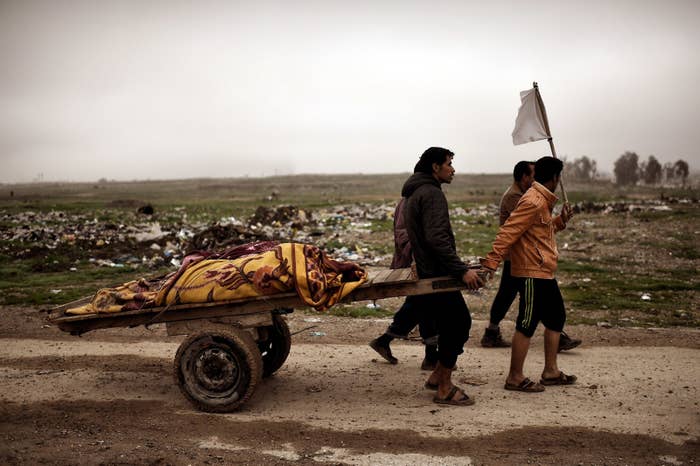 WASHINGTON — The US military says it does not know whether it conducted two air strike campaigns this week that may have killed as many as 350 civilians in Iraq and Syria in what could prove the worst civilian toll in the nearly three-year war against ISIS.
The inability of the US military or its coalition partners to say for sure what their bombs have hit is the latest fallout of the ramped-up campaign against ISIS in Iraq and Syria, where the US is conducting, in some places, 10 times more strikes than it did just six months ago, often in dense urban blocks filled with civilians who cannot escape.
If the reports of civilian casualties are true — as some eyewitnesses and humanitarian groups say — this week's strikes would be the deadliest for civilians in the aerial campaign against ISIS. Local witnesses said hundreds died in western Mosul when a coalition strike set off nearby car bombs, destroying a densely populated residential block. And on Wednesday, locals accused the US of killing at least 30 people when it struck a school where displaced residents were sheltering near the de facto ISIS capital of Raqqa.
According to Airwars.org, a non-profit which independently tracks allegations of civilian casualties, airstrikes by the US-led coalition have allegedly killed more than 1,000 civilians in 100 incidents in March alone. The casualty count includes nearly daily reports of civilian deaths around the ISIS-controlled Syrian city of Tabqa, where local forces, backed by US advisers, launched a campaign this week to reclaim the city, according to the Pentagon.
Earlier this week, US Central Command said it had opened an investigation, known internally as a 15-6, into a March 17 strike on the Syrian village of al-Jinah. US officials said the strike targeted a meeting of al-Qaeda members, but local reports say aircraft struck a mosque killing as many as many as 62 civilians who were praying.
"These reported casualty levels are comparable with some of the worst periods of Russian activity in Syria," Airwars.org said in a statement.
The Pentagon has admitted killing 220 civilians since the campaign against ISIS began in 2014.
US defense officials said they cannot say whether US airplanes conducted the latest strikes alleged to have caused civilian deaths because they are conducting an assessment on both strikes to the credibility of the reported civilian deaths.
US officials said there have been so many strikes – and so many allegations of civilian casualties – that it will take them time to determine whether their strikes indeed killed civilians. Even though the US claims to conduct precision strikes on well-surveyed sites, it can take weeks or longer to confirm allegations that often do not include precise coordinates or time frames.
For example, ISIS has been known to conduct deadly attacks immediately after a coalition strike to make the US and its partners appear responsible for civilian deaths, according to US military officials. And with no coalition troops in the area to conducted a battlefield assessment immediately after a strike, the coalition is susceptible to misinformation campaigns.
Under military guidelines, pilots are supposed to report when they think they may have killed civilians, but more often than not, civilian casualty assessments begin because local officials make a claim.
The US has acknowledged that it conducted air strikes between March 17 and 23 around the area in western Mosul where a series of explosions reduced the residential block to rubble. On Thursday, Iraqi Civil Defense said it had pulled 136 bodies from the collapsed buildings and that another 150 were believed to still be buried.
Mosul is one of the few places where independent observers can get in and see the effects of the strikes. On Friday, local officials were still pulling bodies from the residential area, including women and children, witnesses said. Photos emerged of dismembered children and piles of blue body bags.
Local observers have said the catastrophe took place when coalition aircraft launched a strike after Iraqi forces came under fire from suspected ISIS fighters hiding and shooting in residential areas. The air strike reportedly hit a truck bomb that then detonated and set off another nearby truck bomb. The two explosions leveled the block.
In additional to the United States, the nations conducting air strikes in Mosul include France, the UK, Belgium, Australia and Iraq, whose defense ministry said it too is investigating whether it conducted the strike.
Chris Woods, director of Airwars.org, said that in some instances, it can take weeks to sort out the details of a strike, particularly in parts of Syria. With so many coalition partners involved in the campaign, including national armies, Kurdish militias, and local rebel groups; conflicting allegations of civilian death, and few independent witnesses on the ground, it "can be a very confusing picture."
But determining who conducted the strike in Mosul should be easier, Woods said.
"We have very good coordinates on Mosul so between the coalition and the Iraqis, we should be able to determine who carried them out," he said.
The US military also said it conducted strikes in the area of the school outside the Syrian city of Raqqa Wednesday, that was reportedly holding displaced families. Photos from that building after it was hit point to a coalition airstrike.
"We are not aware of anyone else conducting air strikes in the vicinity that day. The damage shown to the building would appear to indicate an airstrike rather than, say, an artillery strike or indirect fire," Woods said.
The increased strikes come at a time when the Trump administration has put its trust in carrying out the details of the war plan in the field commanders, giving them more autonomy to initiate attacks than they had under the Obama administration.
The US military did not say when the civilian credibility assessments would be completed or even whether details of those assessment would be made public. At the end of each month, the military releases a summary of its latest completed civilian casualty assessments, which often are for strikes that took place months earlier. In addition, the US military releases a strike list daily, saying broadly where strikes happened and the targets of those strikes.
UPDATE
The Combined Joint Task Force behind Operation Inherent Resolve, the mission to defeat ISIS, on Saturday announced the US-led coalition, at the request of Iraqi security forces, had carried out an airstrike against militants in Mosul, where more than 100 civilians are said to have died.
The coalition is formally investigating the incident "to determine the facts surrounding this strike and the validity of the allegation of civilian casualties," the Combined Joint Task Force said in a statement.
"Our goal has always been for zero civilian casualties, but the Coalition will not abandon our commitment to our Iraqi partners because of ISIS's inhuman tactics terrorizing civilians, using human shields, and fighting from protected sites such as schools, hospitals, religious sites and civilian neighborhoods," the statement read.