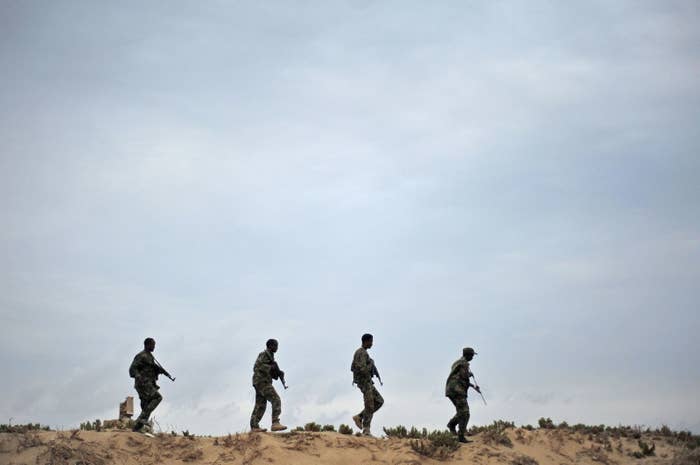 One US Navy SEAL was killed and another two were wounded when they came under small arms fire in Somalia on Friday while conducting patrols with local forces as part of an advise and assist mission.
Senior Chief Special Warfare Operator Kyle Milliken, 38, of Falmouth, Maine, was identified as the casualty by the Department of Defense on Saturday.

Milliken is the first combat casualty in Somalia since the early 1990s, defense officials said. A Somali translator was also injured, the Pentagon said.
The US troops were alongside members of the Somali National Army when they came under fire roughly 40 miles west of Mogadishu, during a Somali-led operation on a compound on Friday morning local time. The local troops were brought in using US helicopters.
When attacked, the troops were in an area where they could not immediately take cover, a defense official told BuzzFeed News. US forces returned fire but it is unclear whether they struck any of their attackers. Regardless, they were able to "suppress" the attack, the Pentagon said.
"U.S. forces are assisting partner forces to counter al-Shabaab in Somalia to degrade the al-Qaeda affiliate's ability to recruit, train and plot external terror attacks throughout the region and in America," US AFRICOM said in a statement.
US forces are in Somalia to train local forces to combat the terror group, al Shabab, an al Qaeda affiliate that carried out the 2013 attack on Westgate Mall in Nairobi, Kenya killing 60 and injuring another 175. More recently, al Shabab has ramped up attacks against local forces since Somalia's president, Mohamed Abdullahi Mohamed declared war on the terror group last month. Since then, al Shabab has declared responsibility for several attacks targeting local forces at their bases and convoys.
Al-Shabaab said the raid, which took place in Darusalam village, took place around 1 AM local time. That village is believed to be where Shabaab's deputy leader Abdirahman Mohamed Warsame, known as Mahad Karate, has been in hiding, according to Reuters.
In March, President Donald Trump relaxed rules designed to limit civilian casualties during military operations in Somalia, which some interpreted as a sign of a ramped up military campaign against militants there. In April, the US military announced it was sending roughly 40 counter terrorism troops to the east African nation to support the 50 advise and assist troops already there. The US has been partnering with local forces there since 2013, a defense official said.
Friday's incident appears to be the first US combat death in Somalia since the infamous downing of two Black Hawk helicopters in 1993, that resulted in the death of more than a dozen US soldiers and the eventual withdrawal of American forces fighting there.
The Navy SEAL's death marks the fourth US service member death this week. Two Army Rangers died a week ago in Afghanistan during a raid targeting the emir of the ISIS affiliate there, or ISIS-Khorasan. The US military is investigating whether friendly fire killed those troops. The following day in Iraq, a US service member died from an improvised explosive device while supporting local troops there in their ongoing battle to reclaim the Iraqi city of Mosul from ISIS.