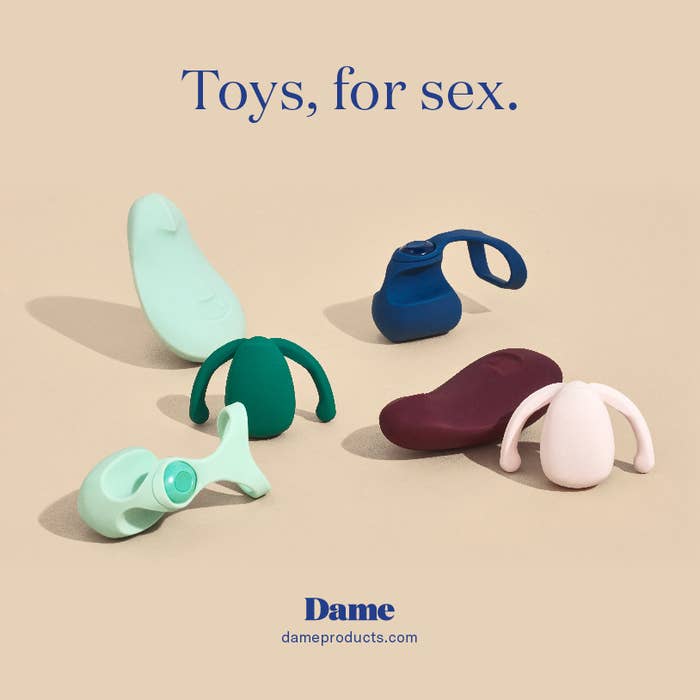 A women's sex toy company has decided to sue the New York Metropolitan Transportation Authority after its ads were abruptly rejected from running in subway stations across the city.
Dame Products, a startup founded by CEO Alexandra Fine and CTO Janet Lieberman in 2014 that they say aims to "close the pleasure gap," said in a legal complaint that the suit targets the MTA's sexism and violations of "free speech, due process, and equal protection under the First and Fourteenth Amendments."
In the document, filed Thursday with the US District Court of the Southern District of New York, the company said it had been in negotiations with the MTA since July 2018 on approving its ads to be posted throughout New York's subway stations. The advertisements were going to include a range of vibrators and other sex toys in various shades of blue, green, pink, and burgundy with headlines like "91% of men get where they're going while 60% of women…don't" and ''thank you from the bottom of my vulva."
But in December 2018, the MTA unexpectedly denied the company's request, citing new additions to its advertisement policies as seen on its Frequently Asked Questions page. "The MTA Advertising Policy prohibits any advertisement that promotes a 'sexually oriented business,'" the page reads, noting that "advertisements for sex toys or devices for any gender fall within this category."
This came as an initial shock to the company, which said in its lawsuit that it had spent "approximately $150,000 of its scant resources to incorporate the MTA's feedback, submit revised advertisements, and order additional inventory, all in reliance on the MTA's representation that it would accept Dame's materials."
The company had submitted various rounds of edited advertisements to the MTA, but the final version was ultimately rejected, labeling Dame as a "sexually orientated business, which has long been prohibited by the MTA's advertising standards," the transit organization said in a memorandum that was forwarded to Dame.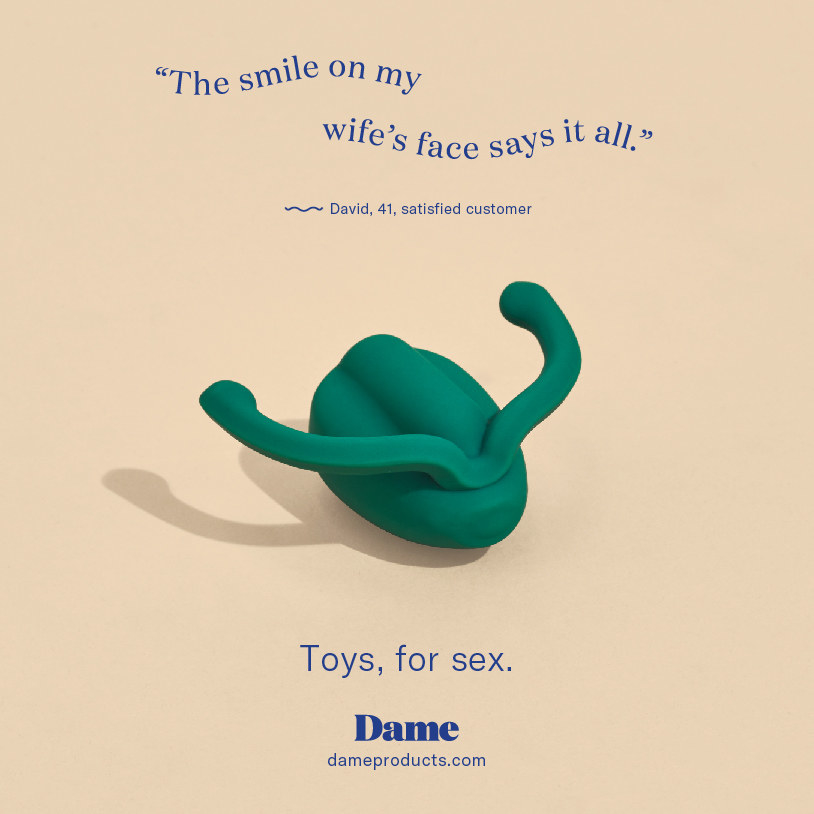 In response to the lawsuit, Maxwell Young, MTA's chief external affairs officer, provided a statement to BuzzFeed News saying that Dame's claims are "are clearly inaccurate as the MTA's advertising is in no way gender-based or viewpoint discriminatory."
"In its proprietary capacity as the operator of a transit system used by all New Yorkers, the MTA is constitutionally entitled to draw reasonable content-based distinctions between different types of advertisements and to consider its diverse customers," Young's statement continued.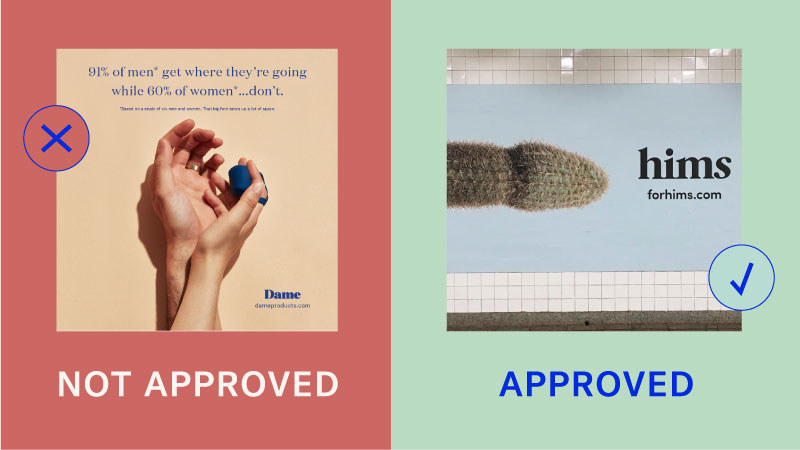 Fine said in response to the MTA's statement that its policy shows "confusion" on how to properly speak on the topic of sex.
"The MTA's policy represents a discomfort with sexual pleasure, and I think just a real confusion — that's honestly what I think," she told BuzzFeed News during a phone interview. "I think that it represents that we do not know how to talk about sex. ... And I feel like Dame Products could help fight these rules."
The MTA's choice to reject Dame's ads was a complete reversal from last year. Back then, it told the New York Times that it was willing to work with another sex products company, Unbound, toward "a resolution that is agreeable to all parties and allows their ads on the system," after the business accused it of setting a gendered double standard by rejecting its advertisements. However, Unbound's ads never ran, after the MTA later demanded that the company change the "phallic symbols" in its ads.
It is unclear exactly how the MTA defines a "sexually oriented business," as it has repeatedly approved of images to advertise for erectile dysfunction medication, condoms, HIV prevention medication, birth control and libido medication for women, menstruation products, the Museum of Sex, a dating service, and breast augmentation. Many of these ads include explicit and implicit references to sex while showcasing images that can be described as sexual in nature. An advertisement for Hims, a company that markets erectile dysfunction medication, uses a cactus to symbolize an erect and flaccid penis. The "phallic symbol" was approved for a campaign that ran across New York City.
The MTA's history of scandals regarding what can and cannot be publicized on its subways is lengthy. Back in 2015, Thinx, a business that sells period-proof underwear, had proposed ads to the MTA that were deemed "inappropriate" by Outfront, the agency that handles the subway system's advertisements. After media outcry, the ads were ultimately given the green light.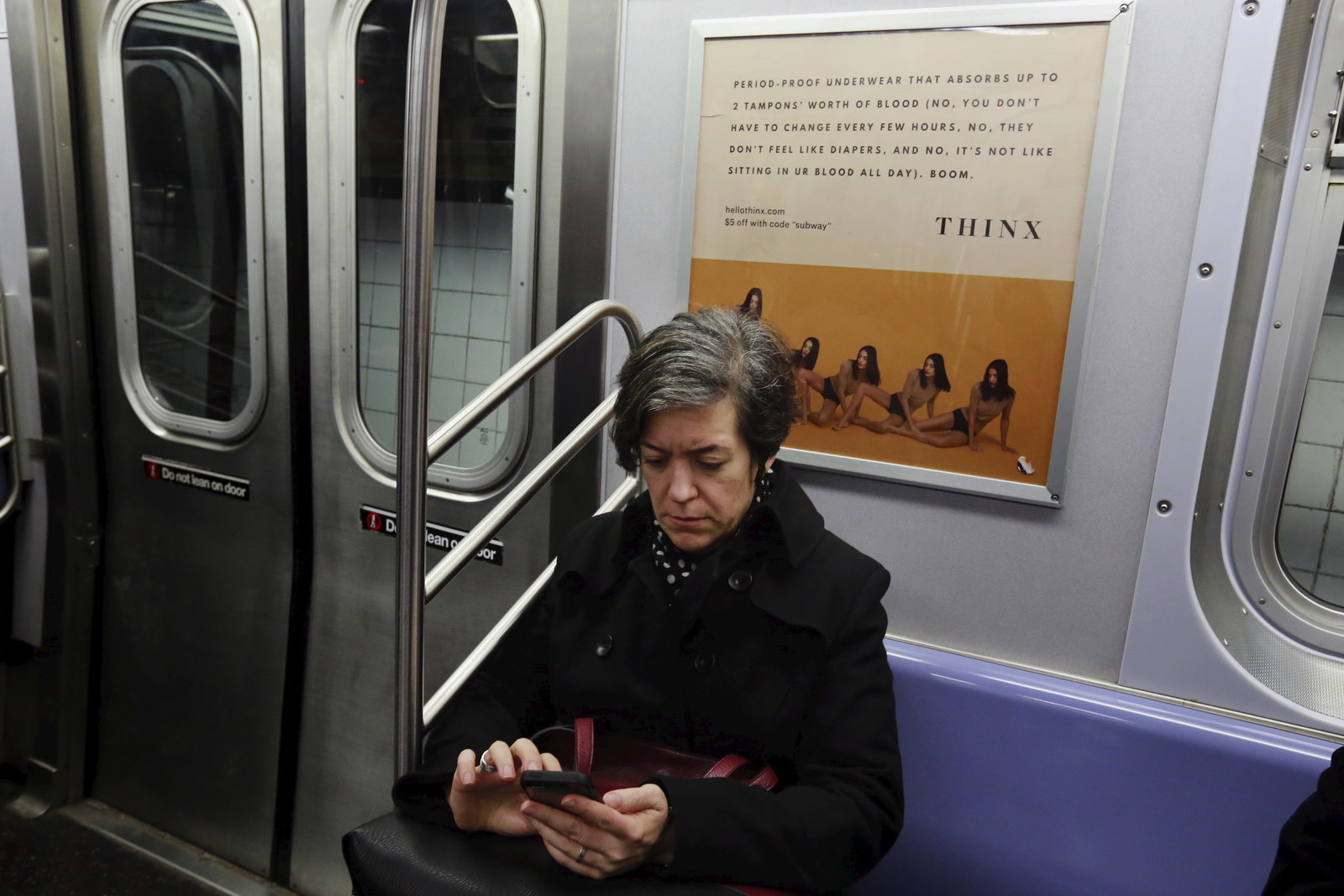 Fine said that the MTA's policy language is "unclear" and unevenly applied for different companies.
"Yes, we are talking about pleasure, but we are doing it, I think, in a way that's straightforward, honest, and nonsalacious," the CEO told BuzzFeed News. "We're just talking about, what I would argue, is a healthy version of sex, and not an excessive amount of sex. I think there are a lot of ads on the subway that give you much more visceral responses than our advertisements that we were proposing. ... So how can you have an issue with us, and not an issue with them?"
She also said that there is "bias" in the determination of sexual "health concerns" at play with the MTA's decision.
"I do think that there's a really implicit and subtle bias to feeling like men need erections," Fine said. "It's a health concern if men can't get an erection, but it's not a health concern if women aren't having pleasure."