Vice Principal Dismissed For Marrying Same-Sex Partner Sues School And Seattle Archdiocese
The suit alleges that the school's website formerly had a section saying that it "does not discriminate based on marital status or sexual orientation."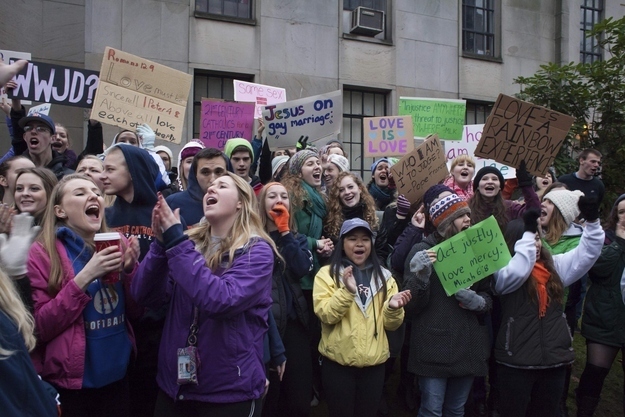 Mark Zmuda, the vice principal fired by a Seattle-area Catholic high school after he married his same-sex partner, filed a lawsuit against the school and the Seattle Archdiocese Friday. He is seeking financial damages from both institutions for discrimination and wrongful termination.
The suit alleges that prior to Zmuda's dismissal Eastwood Catholic School's website said that "ECS does not discriminate based on marital status or sexual orientation." According to the suit, ECS has since removed this statement from the website.
The suit alleges that Sister Mary Tracy, the president of the school, asked Zmuda to get a divorce when she found out that he had gotten married.
Trustees of ECS sent a letter to parents and students on Thursday warning them of Zmuda's suit and saying that they would file a motion to dismiss the complaint.
According to King 5 News, the school's dismissal claims the court doesn't have jurisdiction to hear the case without violating the First Amendment.
"The court would be forced to delve into catholic doctrine on the definition of marriage. Such action would violate the first amendment's free exercise and establishment clauses."
ECS students have been protesting Zmuda's firing, staging a sit in in December and circulating a Change.org petition that garnered more than 48,000 signatures. In January, BuzzFeed reported that the school president, Sister Mary Tracy, resigned.
An email sent to parents at the time said that the decision was "necessary" so that "a new leader can be brought in to ensure the entire Eastside Catholic community is on a positive path forward."