The New York Times Is Tearing Itself Apart So You Will Pay Attention
What happens when the paper of record becomes an app folder?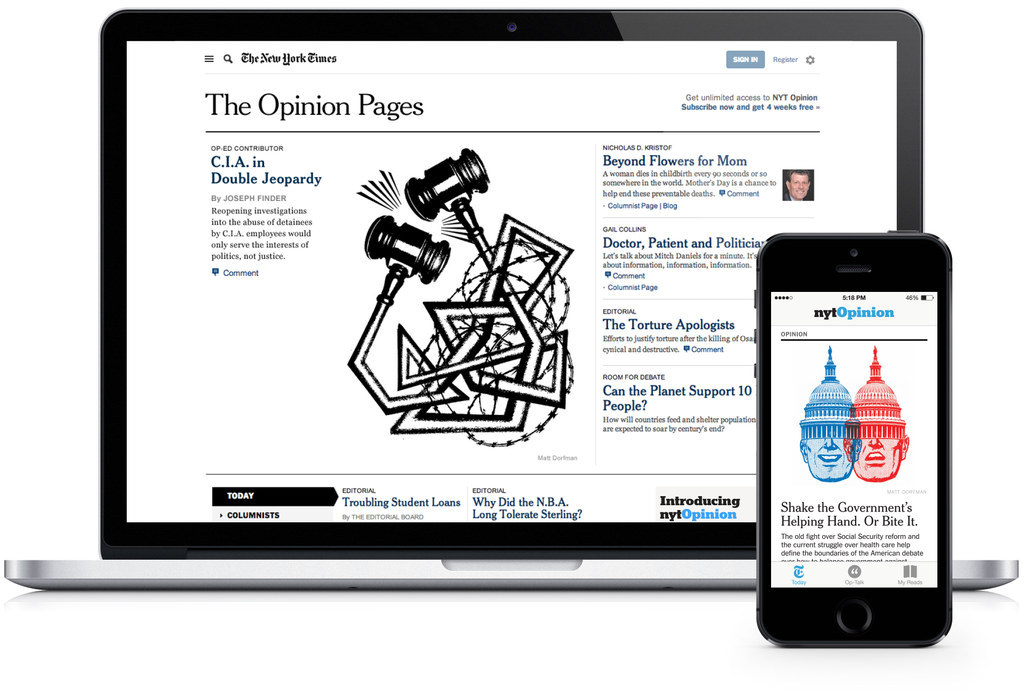 Tech's great unbundling has reached newspapers.
Today, the New York Times released NYT Opinion, which, for $6 per month, will give subscribers access to the day's opinion columns as well as other op-ed pieces and links from across the web, as curated by NYT opinion editors.
It's a similar offering to NYT Now, the Times' general news aggregation and recommendation app that launched in April and is a clear indication that the legacy news organization is following in the footsteps of the tech giants by unboxing their best features into single functioning products.
Last April, Facebook separated its chat platform, Messenger, into a stand-alone app. Google has split up its Drive app into stand-alone apps. And just last month Foursquare tore itself in half, spinning off a check-in app called Swarm to pair with its recommendations platform, which kept the original app name. In all cases, the choice to break apart into smaller products is a direct response to user experience in a changing mobile landscape. Before the spilt, only 5% of Foursquare users had been opening the app to use both of the app's functions.
And while it may be hesitant to admit it, the New York Times appears to be doing the same thing.
"There does seem to be this qualitative trend," Times Executive Vice President of Digital Products Denise Warren told BuzzFeed. "There are these single purpose products. Like Facebook's [Messenger] and Paper. I think you could potentially put it in this bucket."
At first glance, NYT Opinion seems like a direct appeal to critics who say the Grey Lady doesn't understand digital. The app is nice to look at and does its one job — delivering opinion pieces to your mobile device — capably. What's less clear, though is whether there's an audience for this kind of specific content.
Times Opinion Page Editor Andrew Rosenthal points to the paper's previous paywall experiment, TimesSelect, as evidence that people want to pay for opinion content. He said the program failed because the columnists were "too walled off." The program was shut down after lasting for two years and drawing 227,000 paying subscribers.
And then, of course, there's the issue of timing. The app comes just weeks after the leaked release of the company's internal innovation report, which, for better or worse, seems to raise the stakes for the app.
Even though NYT Opinion was in development well before the results of the New York Times' internal innovation report were released, it appears to satisfy one of the biggest requests made from the surveyed committee, namely that the paper was struggling to make a connection with the paper's readers online.
NYT Opinion's Q&A feature with op-ed columnists may help to silence those complaints. And Rosenthal added that the section is working on a way for opinion writers to host AMAs on the Times site similar to ones on Reddit, to help bring readers into the conversation.
"When our columnists appear live on panels, there are only about 20 people at the end who get to ask questions, we want to make discussion possible through the Times," Rosenthal said.
When asked if more stand-alone apps were on the horizon, Warren emphasized that the app is an important part of a first push of "niche products" — including a forthcoming cooking app — from the Times.
Now with three stand-alone apps (Opinion, Now, and a crossword subscription), it's not hard to envision a future where the mobile New York Times is essentially an app folder, with each section as an app users can dip into and skim at their leisure.
And in some ways, that future makes good sense. Reading the entire paper online has always seemed like an impossible task with far too many distractions. But these new apps embrace this problem with their recommendation sections, which the Times hopes will eventually pull you back in.
More than anything else though, this new app-based strategy may be a promising sign. In a digital news environment where Page One's significance continues to wane, the Times is showing it's willing to make some changes — even if it has to tear itself into pieces.