The Great Smartphone Data Wars Have Begun In Earnest
The days of your unlimited data plan are numbered whether you like it or not.
The biggest cell phone companies — AT&T and Verizon — have been trying for years to push customers out of unlimited data plans, mostly recently with the strong arm tactic of data throttling on their heaviest users. Now Sprint is looking to take advantage of consumer resentment toward its competitors by starting a new war over data pricing.
On Monday, Sprint introduced a new set of plans designed to undercut the market leaders, in its words, a plan that "offer[s] double the high-speed data at the same or lower price as compared to AT&T, T-Mobile and Verizon Wireless." But along with promising to offer twice as much usage, the plan comes with the same obvious caveat: "To improve the data experience for the majority of users, throughout speeds may be limited, varied or reduced on the network."
It's a response to the widespread resentment over the tactic of data throttling. With more users consuming more and more data because of higher resolution screens and mobile video, unlimited plans have become less economical for carriers. Think of it like an all-you-can-eat buffet: The restaurant only makes money when there's a correct balance of people who eat one entree and those customers who endlessly gorge. If you have a restaurant filled with only people who overstuff, the model doesn't work.
Back in July, Verizon announced that it would begin throttling the data of users with unlimited plans who had used too much. When the FCC issued concern about the changes, Verizon said that it was a practice being conducted by all other carriers too. And just this week, two AT&T customers with unlimited data plans told BuzzFeed they received warning messages about their data usages — one saying that his service was going to be throttled due to his high usage.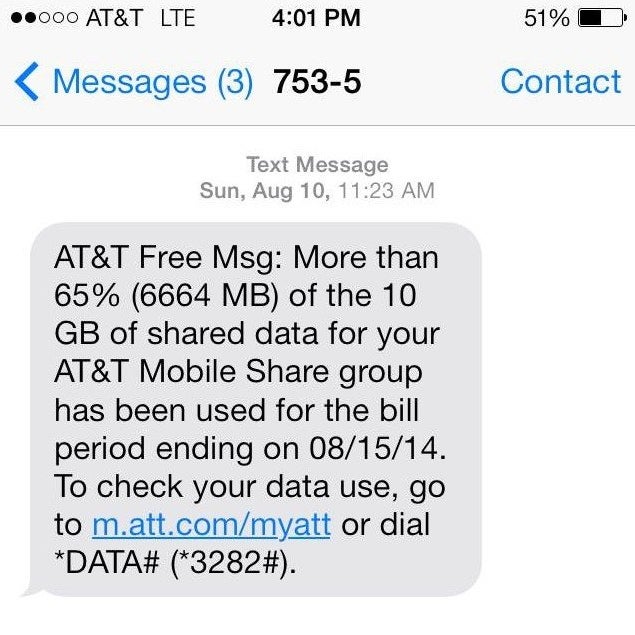 Two AT&T unlimited plans customers forwarded these alerts to BuzzFeed
All this is is an effort to get people away from unlimited plans and to move on to shared data plans, said Jan Dawson, the chief analyst at Jackdaw Research, a telecommunications consulting company. Data throttling, he said, is a sign of these companies using "a stick instead of a carrot" to get users to move to shared plans. "There's an active objective to get people off unlimited data plans, but that's no secret," he said.
In a July earnings call, the President and CEO of AT&T Mobility Ralph de la Vega, in addressing the successes of the last quarter, bragged about the number of subscribers the company was able to coax off an unlimited plan. Per a transcript of the call:
We're continuing to see customers choosing Mobile Share Value plans in unprecedented numbers. In just five months about 24 million smartphones or about 44% of our postpaid smartphone base have moved off the subsidy model. That includes about 2 million subscribers on unlimited data plans who chose to move to Mobile Share plans. We now have less than 10 million subscribers on unlimited plans, our lowest level in years.
In May 2013, the CFO of Verizon Communications Francis J. Shammo also expressed his company's desire to get move customers with unlimited plans to move onto shared plans. "We have some carriers still unlimited, but most are going to have to pay for consumption because there's not unlimited spectrum; there's not unlimited network. You have to get to a model that says you have to pay for what you consume."
Dawson explained that it doesn't actually cost these companies any more money when you go over your plan; it only matters if everyone goes over. "The 'individual user on that network; is theoretical," he said. "They don't cost anything. If you use 20 GB versus 10 GB it doesn't actually cost them more — it's just an accounting thing, an estimate. It doesn't actually cost them any more to give you that extra 10 gigs of data, but if everyone on the unlimited plans starts behaving that way it will matter."
The undercutting is a bold step for Sprint, but one that is probably in vain. Last year a UBS analyst found that about 1% of AT&T and Verizon customers actually leave their carriers every year and the customers who left most often just flip-flopped between the top two companies.
Either way, it's time to protect that unlimited plan while you still can.