Before his Q&A with Tumblr founder David Karp, president Obama reassured people that he knew what Tumblr was.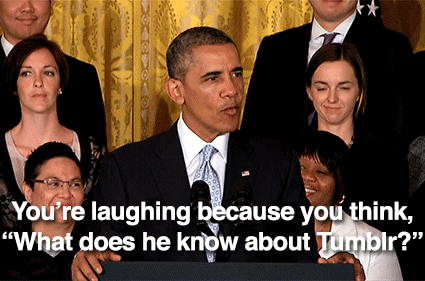 The event almost finished without a single problem!
That was until Karp accidentally revealed that — if she's on Tumblr — Sasha Obama wasn't following the site's terms of service until today.
Karp: Now that she's 13, according to Tumblr's terms of service, she's officially old enough to use Tumblr.
Obama: She wasn't old enough before that?
Karp: We can let this one slide.
Obama: I'm going have to talk to somebody about that.
You have to be at least 13 years old to use Tumblr. We're serious: it's a hard rule, based on U.S. federal and state legislation. "But I'm, like, 12.9 years old!" you plead. Nope, sorry. If you're younger than 13, don't use Tumblr. Ask your parents for a Playstation 4, or try books.