News' Next Big Obsession Is To "Win The Couch"
The endless search to break away from the feed.
Even with Facebook and Twitter and legions of newsreaders and apps, news organizations are still grappling with and working feverishly on new publishing technologies and resurfacing old content to siphon the glut of content and bring the news to new audiences. Their latest obsession: becoming the friend who knows what all your friends are talking about. Feeling overwhelmed? They're here to sit with you on the couch and catch you up on what everyone is talking about.
In just the last week, the New York Times has updated its apps to include an "In Case You Missed It" section. The Times' R&D Lab also updated Vellum, a tool that scans your Twitter timeline for the links that have been shared by your friends the most. It's similar to Digg's new product, a relaunch of News.Me called Digg Deeper. It does practically the same thing as Vellum but will send you push notifications based on its findings. And Atlantic Media will soon be launching "This.," a social platform that will attempt to serve up newsy, heavily recommended links to content that's floating around the web.
"I think there's a snapback from a couple years ago where people were pushing content and data as fast as possible to a few key influencers," David Weiner, the creative and editorial director of Digg, told BuzzFeed. "There are times when I've missed something and I'll find it three days later. I think there's a lot of value in these products that slow down the web and point you to where the conversation is. If your friends are talking about something, there's value in you knowing it."
It's been a longtime struggle for news organizations to get content to a more leisurely newsreader — the ones who are overwhelmed by Twitter's continuous feed or unable to park themselves in front of a constantly refreshing monitor all day. The most ambitious news apps are experimenting with micro stories inside larger threaded topics like Circa, or playing around with editor curation from around the web and read-it-later tools, like NYT Now. But the "bored at work" news reading crowd isn't going away anytime soon, and with most news being curated and disseminated through the algorithms of the Facebook News Feed behemoth, news organizations are trying to steal back some autonomy and win back casual news readers.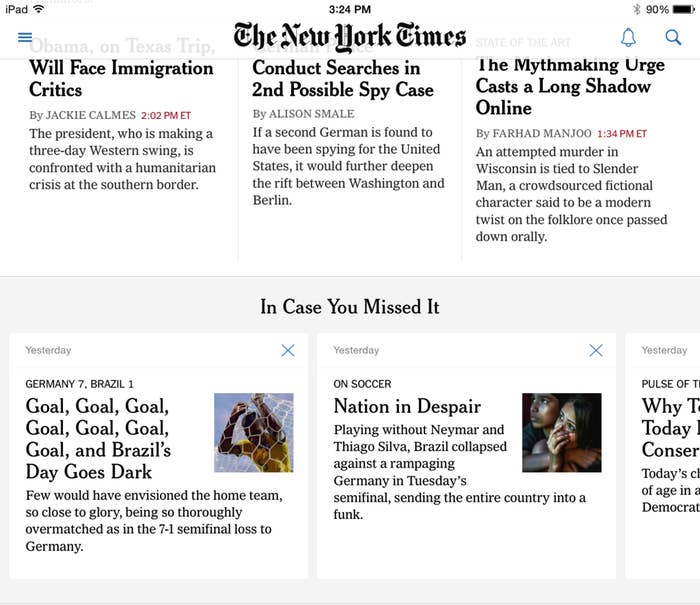 Alexandra Hardiman, the executive director of mobile products from the New York Times, said that's exactly why the Times implemented the "In Case You Missed It" feature. The feature is a scrollable list of stories that you can dismiss. It feels game-like, which was the intent of the designers, who also considered the use of a Tinder-like card system for the feature. "We hear a lot from our users that they miss important or popular articles from the Times," she told BuzzFeed.
Although he would not discuss specific details of "This.," which is still operating in private beta mode, The Atlantic's Andrew Golis says the soon-to-be-released social platform was inspired by this reasoning as well. While working at his previous job at PBS Frontline, Golis observed that Twitter and Facebook didn't make much sense for circulating their kind of documentary shorts, but he learned that there's an audience out there looking for that content.
"The dominant consumption has been the "bored at work" crowd — they're looking at Twitter and Facebook," he said. "But a lot of consumption happens when you're sitting on your couch. Maybe that's an opportunity to jump in with a kind of community that makes sense for those people."
Discovery is a problem has plagued Twitter for years. While its real-time feed is arguably the preferred source for news obsessives, there's no official way for Twitter users to save stories for later (apps like Pocket and Instapaper work as third-party solutions), forcing users to use favorites as an ad hoc "read later" button. The company has beefed up its Discover tab, which pulls in popular tweets from those you follow as well as big stories, but it's far from perfect, which explains Twitter's aggressive attempts to use push notifications to show users what they're friends are talking about. Similarly, the company has experimented with email alerts, which can feel so behind the news cycle that they're almost comic.
In media circles, many colleagues have expressed their love for what's commonly referred to as "Night Twitter" to find and catch up on links they've missed during the day. In some newsrooms, it's new social strategies like the NYT's motto: "If a tweet worked once, send it again." And now, this new fleet of news products is trying to fill a gap that savvy reporters and social media managers have tried to occupy for some time.
"Timing is everything, including on social media," said Fusion's Margarita Noriega, who told BuzzFeed she uses the evening as a valuable time to reach new audiences. "Time zones and online habits help determine who and in what context people see a news story on their Facebook or Twitter feed. I take advantage of timing gaps I see in coverage areas specifically on Twitter to help break through the noisy hours of the day. Why stand, whispering, in a crowd at noon, when you can sing a solo at 2 a.m.?"
The lean-back strategy appears to be working for certain styles of news, proving that the half-life of content online might be longer than expected. New York Magazine social media manager Stefan Becket has been reposting archival content on the weekends for over a year now and saw a huge traffic boom this week from reposting a 10-month-old story about leaving New York. He says the move is to show its new followers content they haven't seen before. "Our Facebook audience was and is growing at a fast clip, and we realized we have a huge amount of archival content that most of our followers might not have seen when it was originally published. These stories are the kind of thoughtful, long, reported stories on timeless topics that might not have a particular news peg, but can have a very long shelf life on social media," Becket told BuzzFeed.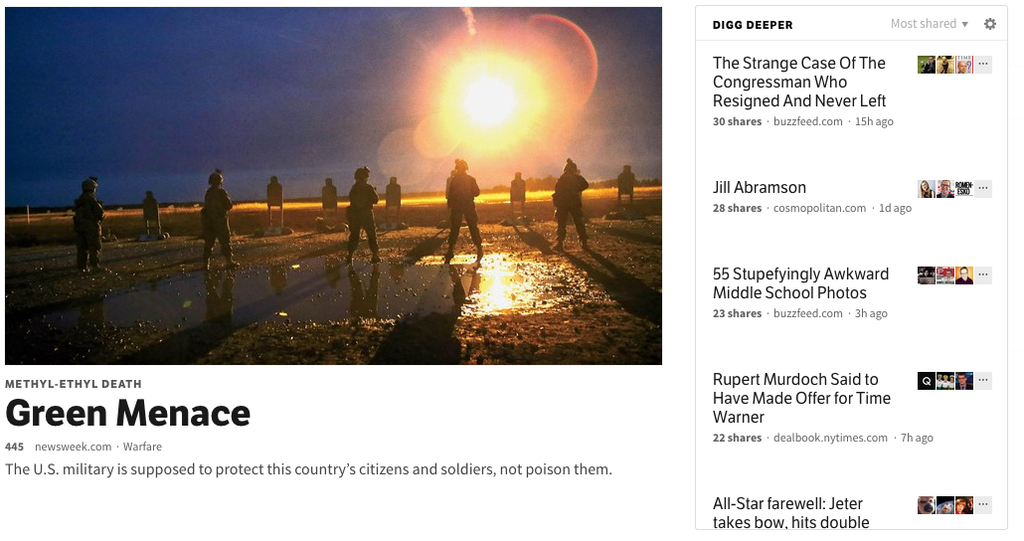 In many ways, this renewed fight to be your preferred news recommendation engine is the captive publisher's response to the algorithm-driven news discovery landscape — a little bit of agency that allows them to fight algorithms with, well, more algorithms (and, in some cases, real, live editorially minded humans), only this time they're homegrown.
Of course, Twitter and Facebook could render all of these products completely useless with their own internal feature, though in many cases, it's not clear they need to. Facebook is already plenty powerful and basically ubiquitous; Twitter has proved lately with moments like the World Cup that it is still invaluable when it comes to live events, but both suffer from the volume problem, leaving a small, but meaningful, opening — a final frontier of sorts, at least for right now.
"I think we're in this era where it's like, 'Let's make sense of this shit,'" Digg's Weiner said. "There is a thing as too much. How do we hone that signal and make this better?"