Growing Pains In The Movement For Black Lives
Everything and nothing has changed since the death of Michael Brown one year ago.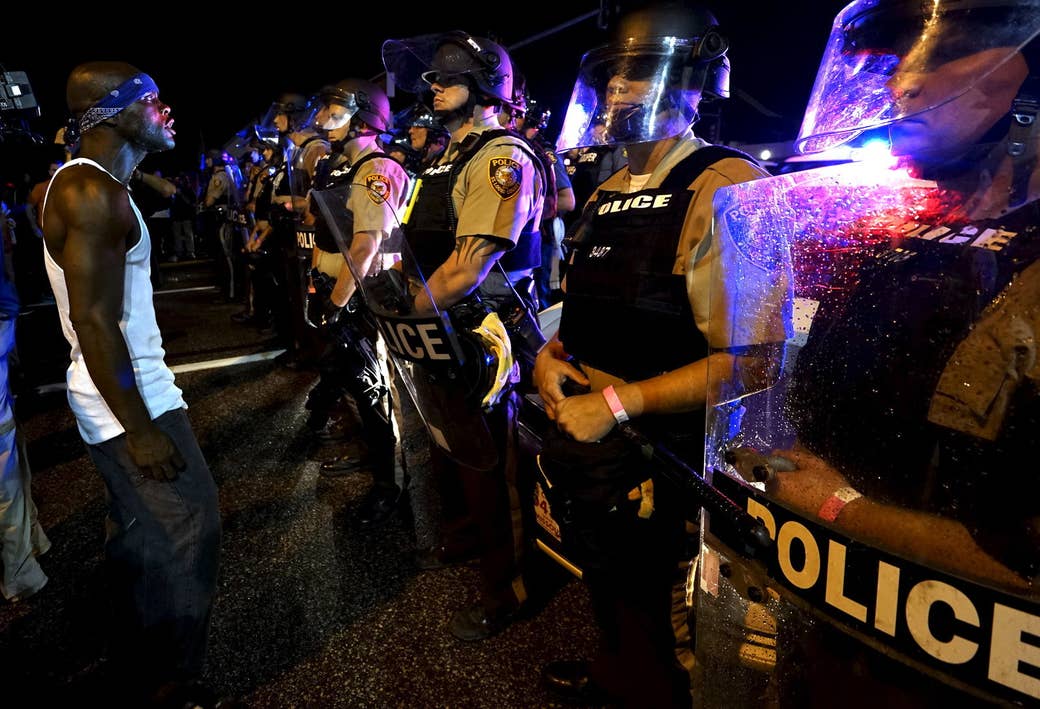 Resistance is messy. As my T-shirt, shorts, and once all-white sneakers can attest, I mean that literally.
I was sprinting through the dirt-turned-mud that separated the sidewalk from West Florissant Avenue, away from the advancing police, slowing only to make sure my phone was still in my pocket. I had thought the torrential downpour a few hours earlier meant the anniversary of Michael Brown's death would be a relatively quiet night in Ferguson, Missouri. Then the police shot Tyrone Harris Jr.
The roots of resistance are often as messy as resistance itself. The chatter that led me to West Florissant was that the police had killed another young black man, not too far from where Darren Wilson shot and killed Brown. The police blocked cars from driving toward the scene of the shooting, and there were rumors that it was a little girl who had been shot. Nearby, a couple hundred people were out, surrounded by police officers in riot gear, some holding batons, others M16s, with several military-grade Humvees behind them.
At the time, it wasn't clear whether Harris had a gun, or whether he was shooting at police, or if a police car had been shot multiple times, as the police said. At the time, none of that really mattered to the folks gathered in the street. One year to the day an 18-year-old black boy was shot and killed by police on the streets of Ferguson, it seemed to be happening again. For all the weekend was supposed to represent — how far we'd come — things felt eerily, infuriatingly, exactly the same.
Things are different, though. The one-year anniversary of Michael Brown's death marked a year of sustained protest, now known to most as Black Lives Matter of the Movement for Black Lives. This new racial justice movement aspires to end police violence and dismantle the institutional racism at the core of America's identity. But while the country familiarizes itself with the names, faces, and Twitter accounts of its victims, the reality on the ground is that this movement cannot be summed up in a hashtag, a tweet, or an article. Like any movement toward justice, it's grappling with the world as it exists: less than revolutionary gender politics, sympathetic but clueless politicians, police officers who think they cure everything with a smile.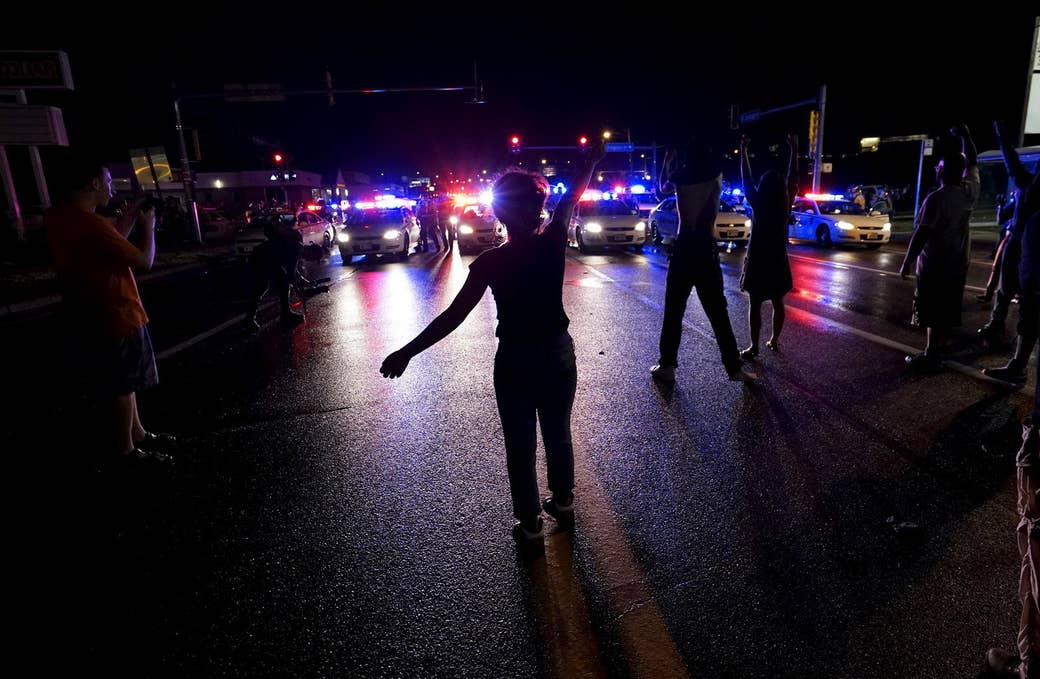 In the Movement for Black Lives, protest is often coordinated, organized, and tactical. But there is little thinking involved in running from police, only instinct. The same can be said about confrontations with the police. Resistance is governed mostly by the energy of the moment.

Near the police line, a tall, wiry young man with a messy high-top fade and bare, tattooed chest dared the police to shoot him. "C'mon, motherfuckers, do it! I thought so! Fuck y'all!"
Several ambulances rolled past, their purpose unclear.
"What y'all got ambulances for, so y'all can shoot somebody else?!" a woman asked.
More than a few young men walked right up to the riot-gear-clad police officers, yelling different versions of "Fuck the police!" One of my friends got close enough to capture it on video. I stood back, wanting desperately to pull all of them away with me. The protesters had words and cell phones; the cops had batons and guns and, if the events of one year ago were any indication, little regard for whether they lived or died.
In fact, a year after they captured the world's attention for their brutal treatment of protesters, the Ferguson and St. Louis County police departments resorted to the same tactics — the Humvees rolling down the street with shooters on top, a line of police dressed in riot gear — producing the same terrifying visuals. An M16, even pointed downward and dangling from an officer's shoulder, is a scary sight. The proliferation of military-grade weapons among the nation's police is an immediate visual representation of the threat the law enforcement and criminal justice systems pose, the threat hundreds of people gathered to resist.
It's tempting to say the police didn't learn their lesson. I'm more inclined to say they just don't care.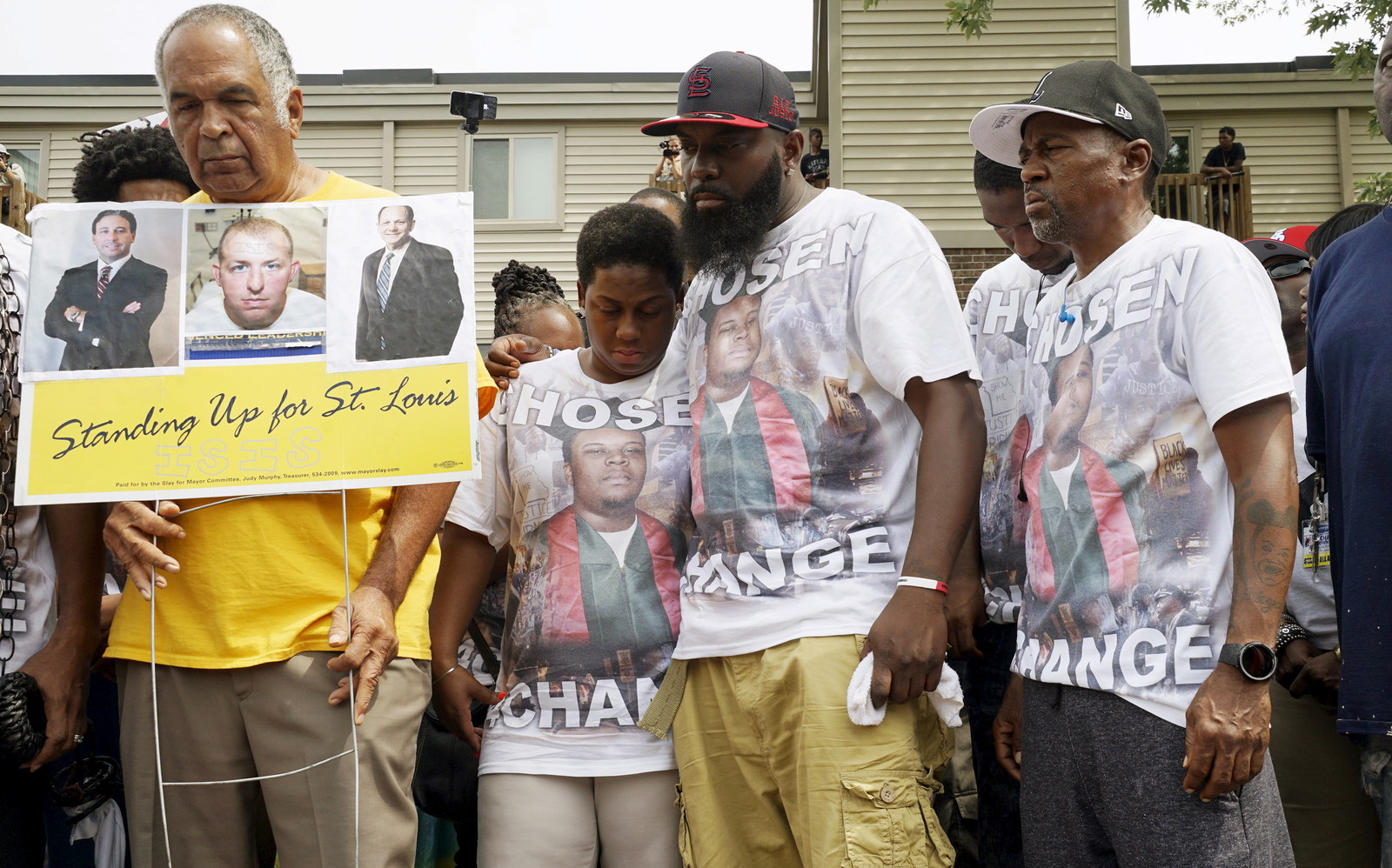 One day earlier, a police officer smiled at me. I was walking to Normandy High School, where Michael Brown (and as I'd later learn, Tyrone Harris) had attended school for a block party held by Michael Brown Sr.'s organization, Chosen for Change. I turned down the street that made the most sense, but a line of police cars had it blocked off. One of the officers approached me.
"How are you doing, sir? Are you trying to get down that way?"
Yes, I said.
"There's no foot traffic. We've got it blocked off for the event taking place. You'll have to walk around the high school. Sorry about that, sir."
And then he smiled. Maybe he calls everyone "sir" and always smiles when he's trying to be helpful. But it made me uneasy. To me, his smile said, "I'm not Darren Wilson. I'm a good cop." I'm most afraid of the ones who think they're good.
I walked up Martin Luther King Drive to Normandy High School, which sits directly across the street from St. Peter's Cemetery. This is the axis on which black people in America operate: death to my left, institutional low self-esteem to my right, a martyr in the fight for freedom memorialized underneath me, and the police who kill with impunity behind me. I could only look forward, but I didn't know exactly where I was going. This sounds more poetic than it actually was. I really didn't know where I was going. I followed the directions of a few black women working at the security gate and found myself walking down a street with no sidewalks, forcing me onto the road — doing the very thing that led to the confrontation between Darren Wilson and Michael Brown, and eventually Brown's death.
The block party was small but intimate. It didn't go unnoticed that the police officers who were doing security were all black, pulled from the North County and Normandy police departments. Diversifying police forces is often touted as one of the solutions to racial profiling and the disproportionate levels of violence black people face from police. The idea is that black cops come from the community and understand people's needs. They speak the language and relate better to the folks they're charged with policing.
I find black cops bring little comfort. They still have the badge, the gun, and the authority to kill, and the mission of upholding racist laws. They only alter police culture if they are derelict in their duties.
But their presence spoke to the subdued nature of the police during the commemoration events. Each day the activists wondered why the police weren't out in force, why they seemed so much gentler. Even when a group of young people stood at the barricade outside the Ferguson Police Department on Friday and Saturday night, there was no reaction.
Then the police shot Tyrone Harris. There was nothing subdued about the community's reaction, and likewise with the police reaction to their rage.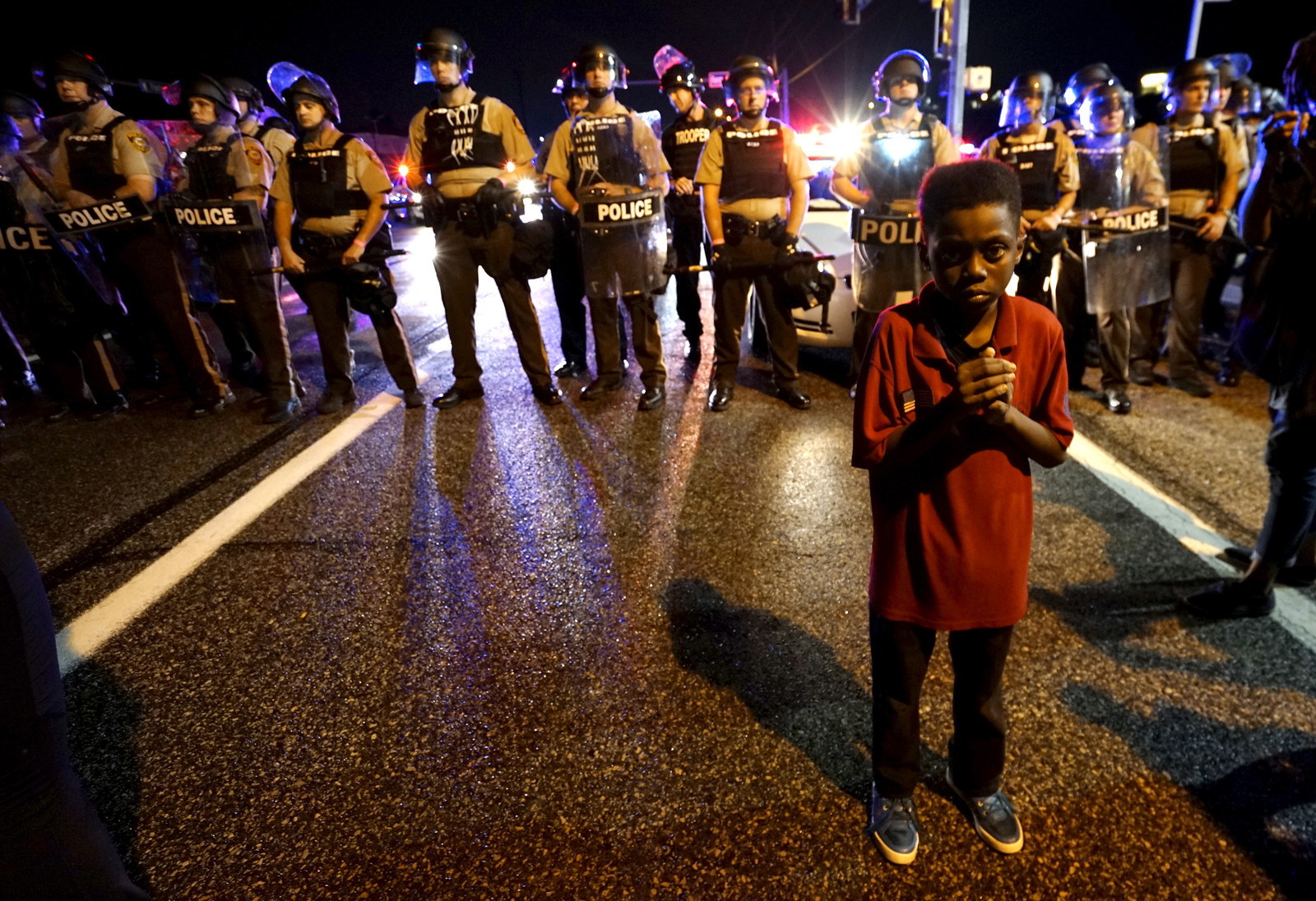 Resistance isn't scripted. People rarely say exactly the right things at exactly the right time. Facts are made up on the spot; eloquence is a luxury.

"Ayo, her last name Wilson, she Darren Wilson's wife!" one of the boys on the front line at Canfield Drive screamed. It was unclear whether the blonde woman with the badge that said "Wilson" was in fact Wilson's wife — he did marry a fellow Ferguson officer last year. At that point it didn't matter; they'd found a viable target.
"She a pretty bitch, too," one said.
These were not trained activists in organizations dedicated to feminist analysis of power structures. They were young men whose friend was shot and now they were angry and lashing out. They were young men raised on a healthy dose of misogyny. I wanted to pull them back, tell them that there were any number of reasons to confront this woman, but ugly comments about her gender were unnecessary. But what would be heard over their own messy emotions? How could teenagers, hyped up on rage and staring at police guns, be expected to resolve these contradictions when the national movement struggles with the same?
In recent months, Kendrick Lamar's single "Alright" has become the official unofficial anthem of the Black Lives Matter movement. Its refrain — "I'm fucked up, homie you fucked up, but if God got us then we gon' be alright! Nigga we gon' be alright!" — feels like modern-day gospel. It speaks directly to the desire for a life unbothered by the systems of death and destruction surrounding us.
But Lamar has been lukewarm in his embrace of this new era of activism. "What happened to [Michael Brown] should've never happened," he told Billboard. "But when we don't have respect for ourselves, how do we expect them to respect us? It starts from within. Don't start with just a rally, don't start from looting — it starts from within." Lamar is also the protege of Dr. Dre, a man with a long history of physically abusing women. How can these things be reconciled?
In the moment, on the ground, they aren't. They simply coexist. Resistance doesn't always cleave neatly along ideological lines — as presidential hopeful Sen. Bernie Sanders and his supporters are discovering. Sanders claims to be the candidate of Black Lives Matter, even as Black Lives Matter activists disrupt his campaign events. You can't expect everyone who stands by your side on one, or even several, issues to share all of your ideas. Everyone brings themselves to the fight just as they are.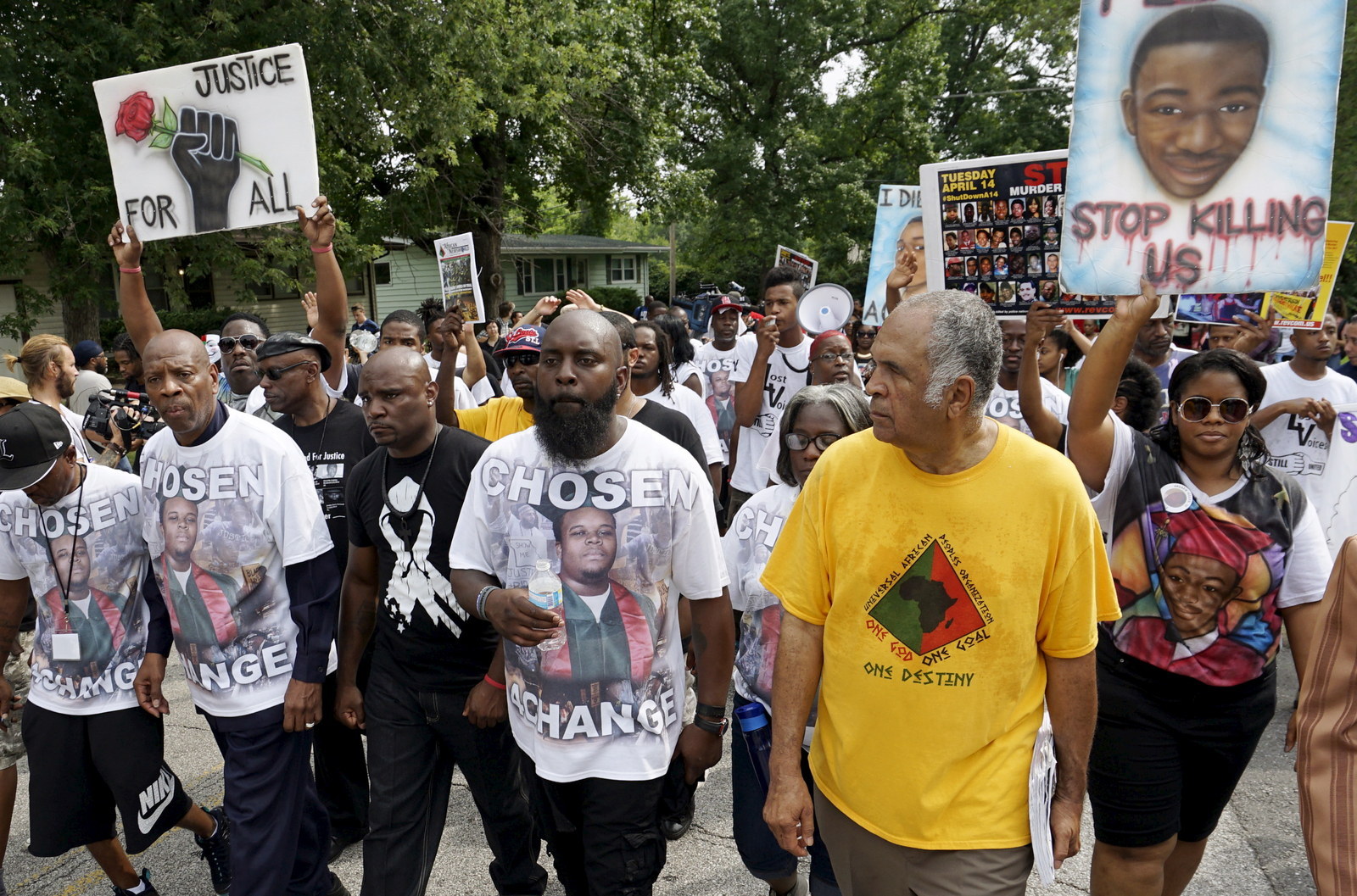 The people on West Florissant brought themselves. When the police weren't charging, folks were asking around if anyone had cigarillos to roll blunts. "'Cause when the police start tripping, I'm trying to be tripping," someone said in the thick Midwestern accent distinct to the St. Louis area. Others were cracking jokes about ugly feet. Cars pulled in blaring Lil Boosie's "Fuck the Police."
Sometimes resistance can be amusing, like when a boy who was no more than 15 years old walked right up the police line with a drum set used during the late-night marches and started banging out a rhythm right in their faces. Other teenagers grouped together beside him moved down the line, chanting in time with the drums, one by one, each officer receiving the same treatment.
"You a bitch! You a bitch! You a bitch!"
That was about when the police dispensed of their newfound cordiality and restraint. Police officers without riot gear gave orders for the rest to back up, forming a new line about 20 feet behind the original. As they retreated, the protesters gleefully tore down the yellow tape that had marked the old police line. Then the cops advanced.
Running was instinct. Everyone ran. Legs churned to escape the violence. I kept moving until it felt safe enough to check behind me. I didn't want to be trampled or tackled. I didn't want to be shot in the back. I also couldn't be anywhere else.
The police played this cat and mouse game for a while, retreating, advancing, snatching, grabbing, arresting. They pepper-sprayed a few; a water bottle flew in their direction as retaliation. The Humvees started advancing.
"This is the St. Louis County Police Department," an ominous voice said. "This is no longer a peaceful protest. This is an unlawful assembly."
I called my friends and made sure they too had kept their phones, lives, and freedom. The orders to disperse came again and again. There were no empty threats. I was back in my car, preparing to leave, when a tear gas canister landed not 10 feet away from me. Rubber bullets were fired into the crowd scrambling to escape.
Tyrone Harris was lying in a hospital in critical condition when he was charged with assault on law enforcement. The police say he shot at an undercover officer's vehicle; his girlfriend told the Washington Post he was running away from the same shooting that prompted police intervention. If he lives, he'll be able to tell his side.
Whether Harris lives or not, whether he is guilty or not, Ferguson remains ground zero in the fight for black lives because the police continue to harass, beat, shoot, and kill black people. Even when the shootings are "justified," they raise questions about the extent to which police reduce crime and violence when their only weapon is more violence. It was supposed to be a weekend of remembrance, of reflection, leading up to a day of civil disobedience. But resistance is messy, and sometimes it can't wait.