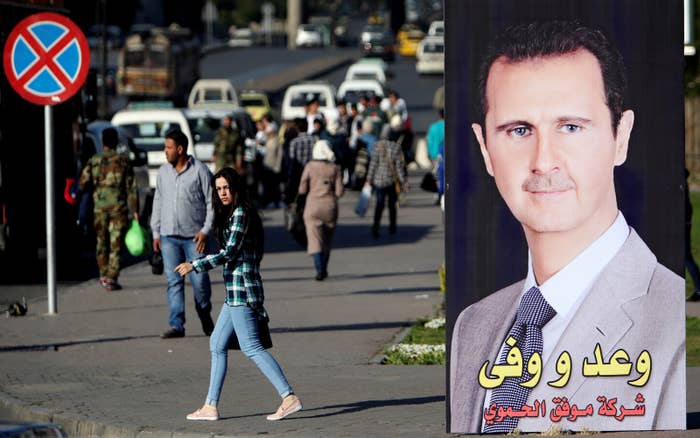 Residents in Damascus were woken up on Saturday just before 4 a.m. when a set of airstrikes launched by the United States, France, and United Kingdom began to hit their targets in Syria. But when the strikes had ended, less than an hour later, many Syrians in and outside of the country reacted with resigned despair over the use of their country as a bargaining chip in political gamesmanship.
"I saw with my own eyes the people's reactions — everyone rushed to the rooftops or watched from the windows of their houses," Rami al-Sayyed, a freelance photographer in Damascus's al-Yarmouk camp for displaced people, told BuzzFeed News. "We expected military action to be much stronger, but it was much less than expected. This is why many people feel sad — when they felt great joy at the start of the strike."
The airstrikes came after an alleged chemical weapons attack on April 7 in Douma, a suburb of Damascus, that killed at least 40 civilians. The Trump administration spent the next week debating the United States's response. President Donald Trump tweeted several times about the situation in that time, warning Syrian President Bashar al-Assad and Russia that military action would soon be coming. As a result, Syrians on the ground were braced when the US and its allies began its bombardment of military sites connected to the country's remaining chemical weapons program on Saturday morning.

But many Syrians who spoke to BuzzFeed News said they felt the strikes had targeted only empty facilities, already cleared out by the regime, and therefore were ultimately worthless. They also all pointed out that chemical attacks were hardly the only weapon used by Syrian, Russian, or pro-government forces against civilians in rebel-held areas.
"Much tweeting about nothing," Wissam Zarqa, a former teacher from Aleppo, told BuzzFeed News via WhatsApp. He said he was disappointed "but not surprised" by the limited strikes.
"Destroying some empty buildings can't help people suffering here in Syria," Zarqa, who did not give his current location to BuzzFeed News, said. "The biggest weapon Assad has had against Syrians wasn't barrel bombs or the other stupid weapons he used. It was recognition from Western nations."

Despite his disappointment, Zarqa feared what would happen were Western nations to not intervene: "Nothing will change. More fighting, displacement and refugees."

"I was a little bit optimistic before the strikes, but now I am pessimistic, frankly speaking — and it is not only me, most people are disappointed," Syrian activist Adulkafi Alhamdo, 32, told BuzzFeed News. "The future is darker."
Syrian rebel leaders were also unconvinced that the airstrikes had much of an effect. "I think that the strike will not change anything on the ground because it targeted sites that were known in advance, so it did not cause such massive destruction or weaken the regime's power," Col. Ahmad Othman, commander of the Sultan Murad Division of the Free Syrian Army, told BuzzFeed News.
"They said they targeted chemical weapons manufacturing sites, but there are hundreds of military sites where they can manufacture chemical weapons ... nor have they targeted airports or air forces that are bombing civilians and mass destruction," Othman said. "I think this strike is to save face."
Brig. Gen. Ahmad Rahal, a former rebel commander and one-time adviser to the Syrian defense minister, agreed that the strikes would not change the situation on the ground, but tried to look for a silver lining. He pointed to the lack of UN Security Council approval as a sign that the US, France, and the UK would no longer hold back for fear of upsetting Russia, Syria's ally.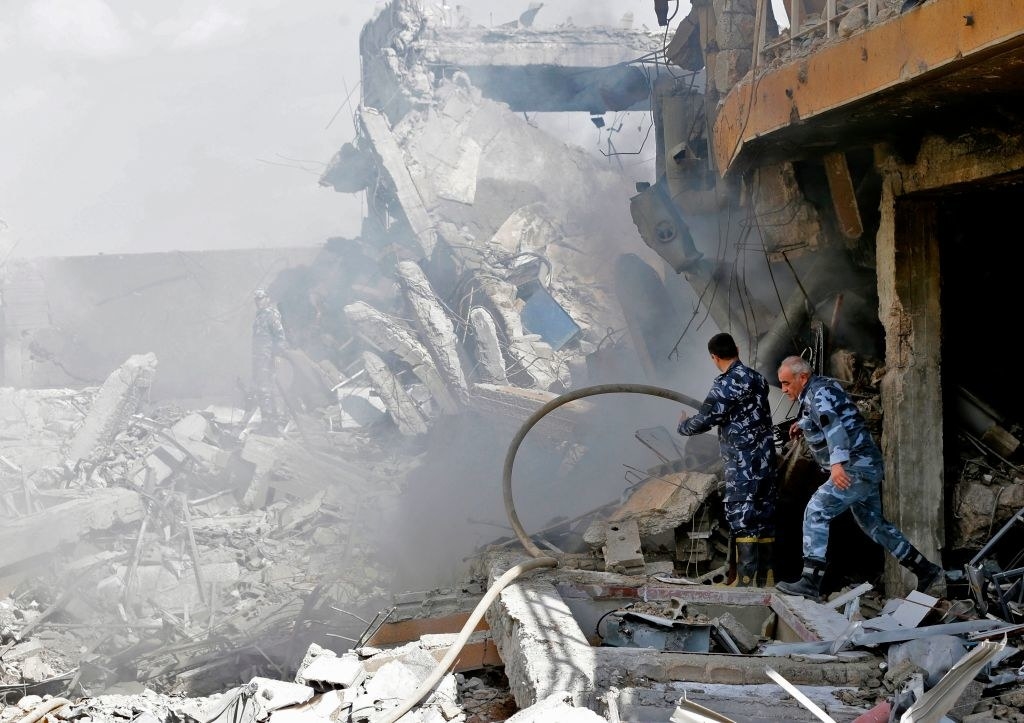 But civilians remained concerned that Assad would be instead emboldened by the limited nature of the strikes. "The international community are allowing the Syrian regime to kill us, to destroy us, to bomb us with all kinds of killing machines — but not chemical weapons," Alhamdo, the activist from Aleppo, said. "This means that this is not a red line, it is a green line for another wave of attacks."

"We are in danger," he said. "I'm sure now [the] Syrian regime will do more massacres because he [Assad] knew that nothing worse will be done than what happened, so it's ok."
Najm Khaled, a 31-year-old Syrian activist who fled the country over fear for his safety, likewise told BuzzFeed News that the low number of targets "encourages" Assad to launch another chemical attack.
"At first everyone believed that the strike could hurt the regime, but after the military action ended 50 minutes later people started wishing it did not happen, because the strike that does not kill your enemy would give him more power," Sayyed, the freelance photographer, said. "Now there is a fear in the ranks of the people that the regime will retaliate against civilians."
"The message that Assad understood from this strike is that they do not mind if Assad continues to kill his people with all kinds of weapons, but he is not allowed to use chemical weapons," Sayyed continued.
"I personally would like to send a message to the world through your website: if I can choose between death under explosive barrels or missiles, or when floors house falls on me and on my family, or die suffocating from chemical gas, I prefer death by chemicals. Because I may die while I am asleep. It's euthanasia."