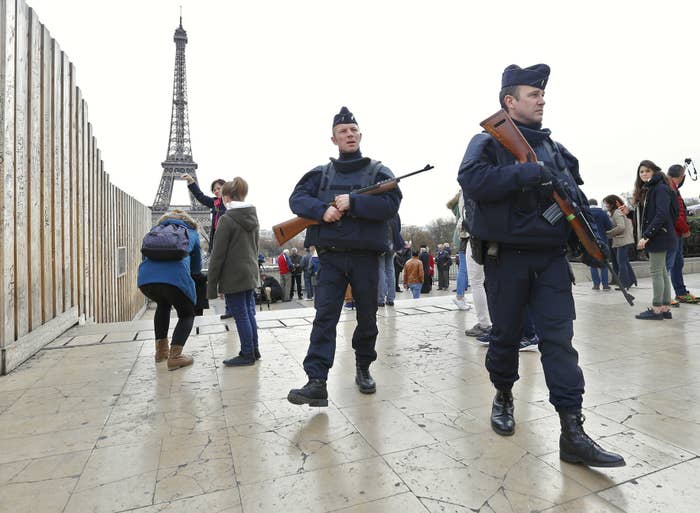 ISTANBUL — Syrians who fled a brutal war and often undertook deadly sea journeys to settle in France reacted with horror to Friday's terror attacks in Paris, and said they recognized the enemy all too well. "Syrians left Syria in dangerous ways to live in peace, but the killers followed them to Europe," said Moaz Shaklab, a businessman from the Syrian city of Homs who settled in France two years ago as a refugee.
The Paris attacks could spark new waves of Islamophobia in France and beyond — and with it fear of the refugees pouring into Europe from Syria and other countries. This is exactly what ISIS wants; the group has vowed to make it impossible for Muslims to exist peacefully in the West. Yet citizens in France share an ally against Islamic extremism in most refugees settling there. Many newly arrived Syrians sought to escape the terror of ISIS and other jihadi groups, in addition to the brutal campaign being waged by Bashar al-Assad.
Many worked against ISIS and other jihadi groups before leaving or have friends and family doing so now. "We're united with the French people against terrorism," Shaklab said. "And we don't forget that they are united with us to get our freedom."
French police officials told the AP on Saturday that they had found a Syrian passport at the scene of an attack that they believed belonged to an assailant. But because of the refugee crisis, fake Syrian passports are now prevalent and easy to obtain. Whether or not the passport is authentic, news of its discovery promised to help to fan refugee fears — which may have been the intent of the man who brought it to the scene.
Sakher Edris, a journalist and political organizer who worked against both ISIS and the Syrian government before fleeing to France this summer, said he expected a backlash against refugees following the attacks. "We are really scared," he said. "French people are kind, and it's understandable to have some backlash, but we want them to know that we are with them against terror."
A 35-year-old Syrian woman from Damascus took a refugee boat to Europe in August and came to France "to look for peace and a new future," she said. "But it seems terrorism is everywhere and does not distinguish between Muslims and Christians."
The woman asked to remain anonymous to protect her family members still living in Syria. "My condolences to the French people and we are united with them," she said. "I hope they understand us and stay calm, because the backlash should be against terrorism, not people who ran away from terrorism."
France has taken in far fewer Syrian refugees than top destinations like Sweden and Germany at more than 5,000 since 2012. It has also pledged to accommodate 24,000 new refugees in total over the next two years.
Syrians in other countries, though, were braced for backlash as well. "Things like that will happen. ISIS wants people to be against Islam itself," said Lawand Kiki, a Syrian activist who received asylum in Germany. "But hopefully people in Europe will understand that the refugees who came to Europe came because of people like them."